Lauren Elizabeth Brown aka SomeBitchIKnow is a far-right, fascist propagandist associated with the QAnon and StopTheSteal movements.
Lauren, like other far-right propagandists, spreads anti-vaxx / anti-mask messaging, which is the opposite of guidance provided from most doctors, scientists, and public health officials. Lauren portrays herself as an expert in research and analysis, which make her claims more easily digestible to her social media audience.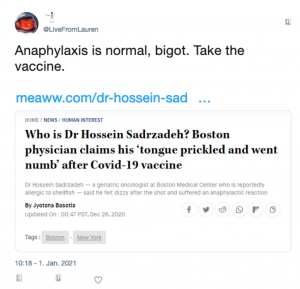 Lauren spearheaded the #MaidenGate conspiracy theory; part of "The Big Lie", to keep Donald Trump in office. #MaidenGate was a claim that the maiden names of married women had been registered to vote across key swing districts for the 2020 US Presidential Election. This real campaign of fake information was embraced by far right pundits, conspiracy theorists and QAnon. The claim was definitively fact checked as completely false by reputable outlets.
Lauren participates in the creation of propaganda and conspiracy theories, while encouraging real-life action, which she boosts via social media and hashtag trending (where influencers with large follower counts get topics to "Go viral").
Lauren Elizabeth Brown uses the strategy of creating as many similar user names, avatars and images as possible to leapfrog bans and be recognized by followers – a common far-right tactic. This behavior pattern enabled her to consistently disseminate mass amounts of hate propaganda while maintaining/building followers. A steady goalpost of creating US conflict and division.
Lauren pushes messaging advocating or threatening anti-left violence – for example, posting, or amplifying murderous dictator Pinochet's; "Throw commies out of helicopters" (in reference to his frequent ordering of extrajudicial killings)
Lauren sends and amplifies messages containing racist and homophobic messaging.
Lauren appears to be a proud daughter of the confederacy. Her grandfather was a Commander of the Sons of Confederate Veterans according to his 2019 obituary, and the SCV membership database provided by Atlanta Antifascists.
Gallows, nooses and hangings are a horrifying but undeniable part of the so-called United States of America's past. This imagery is associated with both lynchings, as well as, the "Day of the Rope", a white supremacist concept from "The Turner Diaries". It is commonly used by the KKK, neo-Nazis, confederate supporters, violent right-wing extremists, and was seen at the J6 insurrection. Racists use it as a murderous threat primarily directed at Black people.
Lauren has participated in creation and distribution of antisemitic and QAnon propaganda for more than one occasion. She has amplified and intensified this over the last two years.
Lauren appears to be a large proponent of lies and spin tactics. In 2017, the alt-right used memetics to accuse the left of "Everyone who doesn't agree with you is Hitl*r". In 2020-2021's political climate, the same group of people and politicians evoke horrific antisemitism and comparisons to basically a victim statement equating their political opposition to the 1933-1945 German Nazi Party.
As part of Lauren's propaganda and conspiracy theory contributions to the Stop The Steal and Trumpism movement, she has had a lot to say about vaccines, COVID-19, and masks. Virtually all of which defy science and encourage people to put their lives and those of whom they care about at risk of contagion, while she increases her follower counts on Twitter and Gab.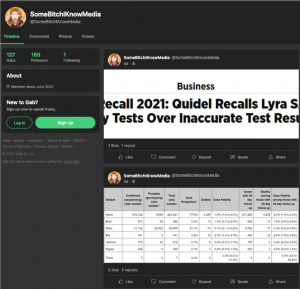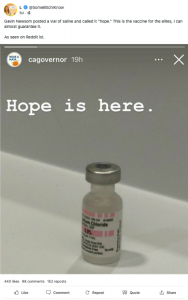 Lauren was given a team of "assistants" by Ali Akbar Alexander, official leader of the Stop the Steal movement, because of her fake and debunked research regarding #MaidenGate. Lauren also accepted an invitation from Ali to speak at Atlanta, GA's Day 4 Stop the Steal rally on November 21st, 2020 (video below).
Read more from Atlanta Antifascists about the collection of Groypers, White Nationalists, etc, in Atlanta for that same rally.
Lauren seemingly cheered on and encouraged the January 6th insurrection at the US Capitol in Washington DC, both through direct posts and amplifications of Nazi collaborators and other far-right personalities.
The Path of Finding Lauren
Cataloging the social media contents of "somebitchiknow" social media turned up a TikTok account under the same username. In the video, it has the watermark of an account called "@OnlineLauren"
The same cat appears multiple times in the same channel. Using OSINT, OnlineLauren was found to also be an e-mail address from a major US e-mail provider, and was found to be the e-mail address associated with Gab account @SomeBitchIKnow
@OnlineLauren also was found to be a previous username of a twitter account renamed @__laureneliz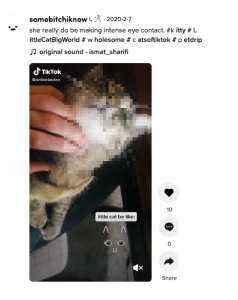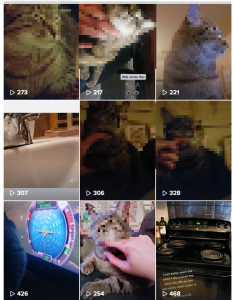 A small tweak in username (0 vs. O), @0nlineLauren, led to a Pinterest page. The avatar is almost identical to the one used in June 2020, on Twitter, by @SomeBitchIKnow, interacting with a Patriot Front account
Lauren's twitter post indicates she's graduated from Auburn University, which mirrors a LinkedIn profile attained for Lauren B. in Huntsville, Alabama with an identical avatar. A Facebook account @LaurenElizabeth FBID: 1004910158 (which was deactivated in the last 24 hours), had a cover video vs. photo. Freeze frame, and Lauren's face can be seen jumping into the spotlight.
@Onlinelauren, on Reddit has been active for years, and very online, especially on the r/HuntsvilleAlabama subreddit. The account has been open since 2013 and was readily identifiable through a variety of comments and links, a few of which are shared below. Anti-marxist comments, location provided in Alabama, close to where her grandfather lived (and where she was born), as well as her desire to move to New York City.
Twitter usernames @OnlineLauren and @0nlineLauren were suspended when we checked. Lauren claims to have lived in Alabama her entire life on Twitter, and specifically references Huntsville as the city.
Finally, looking at the original Twitter account's history, seemingly personal and familial connections were located.
Franklin_Keri was reassigned to a new user after the previous one Lauren was addressing departed. See Keri Franklin and Lauren in Panama City Beach 3y ago
The other account listed belongs to Lauren's Sister-in-law, Courtney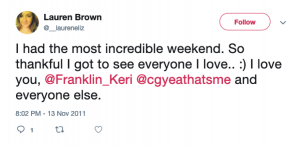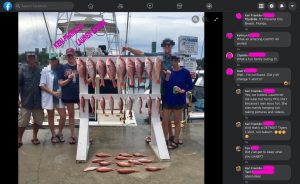 While reviewing mutual friends and facebook profiles, we noticed a link to the Sons of Confederate Veterans (SCV) FB page. We identified via obituary of her grandfather, that he was a commander of the SCV, and that brother is also on the membership roster.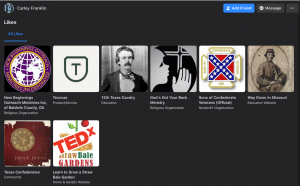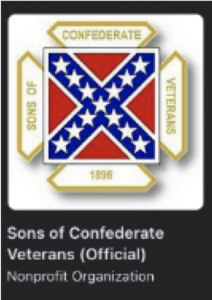 Several other items contributed to the identification of Lauren Elizabeth Brown of Huntsville, Alabama as @SomeBitchIKnow. Here are a few of them. Prior to the January 6th insurrection, Lauren was talking up the event on multiple platforms, encouraging attendance, perpetuating violence and amplifying conspiracy theories derived from QAnon. One of the most helpful things she did to validate her own location, was to argue with another conspiracy theorist account, that "Washington DC had been taken offline from Apple Maps" as a location you could map to. Lauren wanted to prove them wrong, and she sure did.
Below are two different (yet the same) maps to Washington, DC from Huntsville, AL. Lauren's simply lists the travel time and mileage from an unknown place (Huntsville, AL). When Google maps routes the same location as of 2021-07-16, from Huntsville, AL to The White House, it provides the exact same distance in mileage, and duration of travel (a 10 hour and 31 minute car ride).
Lauren's LinkedIn profile validated that her job history mirrored the majority of her personally details, disclosed via public comments across various social media platforms. Some comments did not match, but are in direct conflict with others. Lauren creates propaganda and conspiracy theories, so lies were certainly expected.
Her current employer is listed as SAIC (Science Applications International Corporation), one of the US' largest military and defense contractors. She claims to work as a financial data analyst. She also claims to be employed, while being laid off from work due to COVID downsizing. She lies frequently. SAIC was recently awarded a $3.6 Billion Army Contract. If Lauren is employed there currently, we are going to hedge our bets that it'll be extraordinarily short lived. Many positions at contractors require Secret or Top Secret security clearance.

Only a few of many from Lauren's AVI choices:
In our assessment, Lauren's behavior and actions demonstrate she is a threat to safety and human life. She has influence that she uses to confuse and convolute information. She has many connections in the confederate, alt-right, and far-right world that include members of known and documented hate groups, politicians who aided in the January 6th insurrection, and online personas that boost the racist, fascist hate that leads to polarization.
Here is a list of some* of the social media accounts we have found attributed to Lauren:
Twitter: SomeBitchIKnow, somesneakyb, __laureneliz, LHatesYouALot, LiveFromLauren, PunishedLIsBack, sadiesayswhatup, Sambee55788257, ShaladyYa, SomeBeepIKnow, SomeBitchIKnew, SomeBitchIKnow2
Pinterest: 0nlinelauren
Bitchute: somebitchiknow
Reddit: OnlineLauren
Internet Archive: SomeBitchIKnow
Instagram: somebitchiknow
Linktree (not linking due to a current redirect): SomeBitchIKnow
Parler: SomeBitchIKnow
Tiktok: somebitchiknow
Telegram: SomeBitchIKnow
Keybase: SomeBitchIKnow
Facebook: LaurenElizabeth
FOLLOW-UP & ACTION ITEMS
Ask
SAIC Inc
if Lauren Elizabeth Brown still works for them & if so, whether they support her stand against Democracy.
Ethics and Compliance Hotline: 800-760-4332
They can reference this dossier for details.