Content Warning: Transphobic Hate
Disclaimer: The information contained in this entry is for documentation purposes, not any other use. Users of social media accounts frequently use pseudonyms and false identities on Facebook to bypass their security processes, terms of service, and not get fired from their jobs for being hateful bigots (in many cases). The URLs for each user are a link to their current Facebook profile, for further review, if needed.
Context for post:
After a rash of far-right propaganda, in-person demonstrations attacking trans people, the LGBTQIA community, and bigots literally posting videos on social media sites of hunting down others based on their gender identity, we've decided to take further action to disrupt fascist organizing.
We've infiltrated facebook groups filled with transphobes, where users spend their time creating the most hateful memes, posts, images, and advertizing real-life events.
Our first release on the topic is from a Facebook group titled "Excuse me sir but your pronouns are hanging out of your skirt."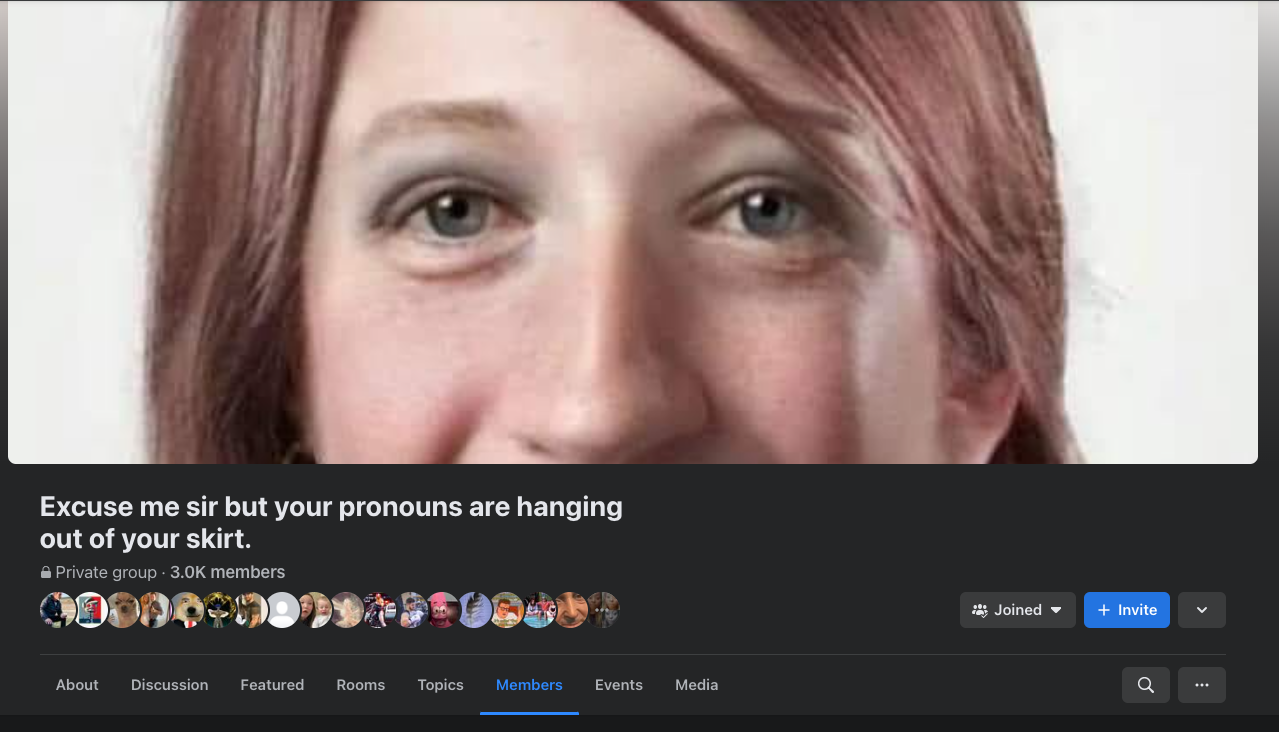 The front post of this facebook group is from one of the moderators "Justin Ray", hosting a moment of silence for a previous (exactly the same) group that was booted after 14 months and growing to 7.3 thousand members.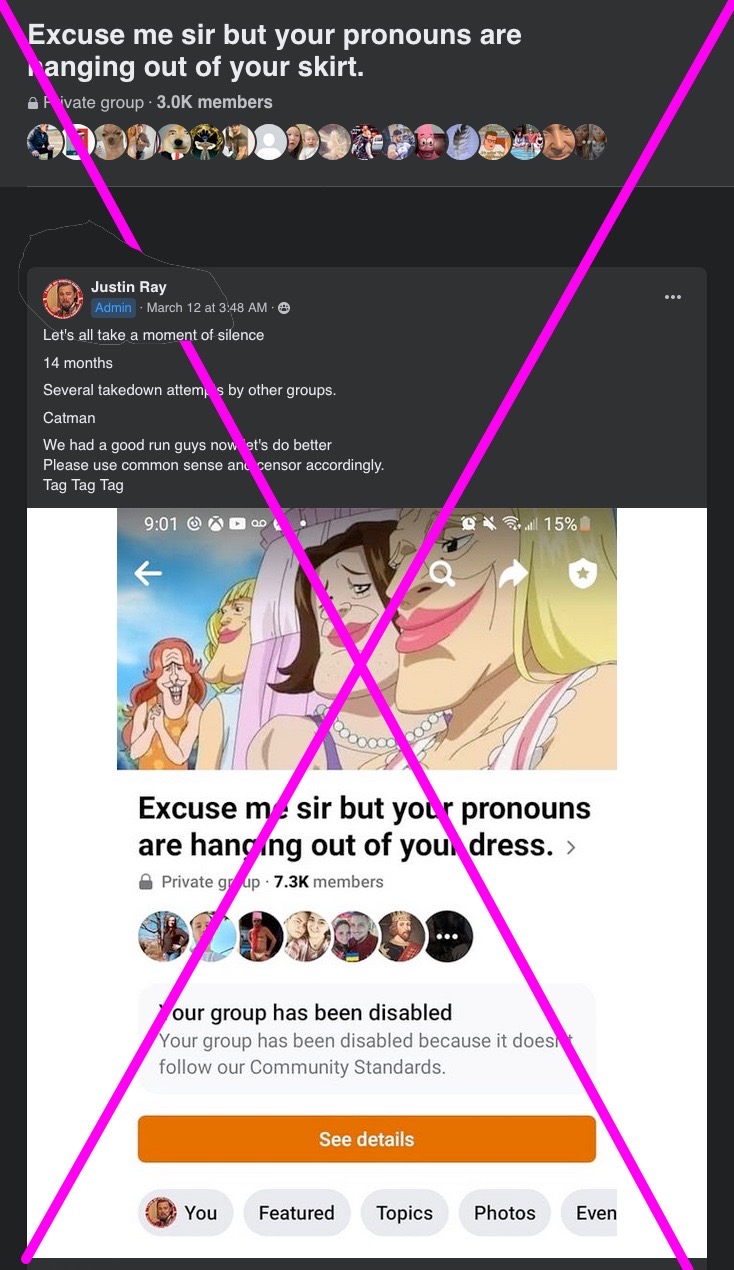 The administrators and moderators: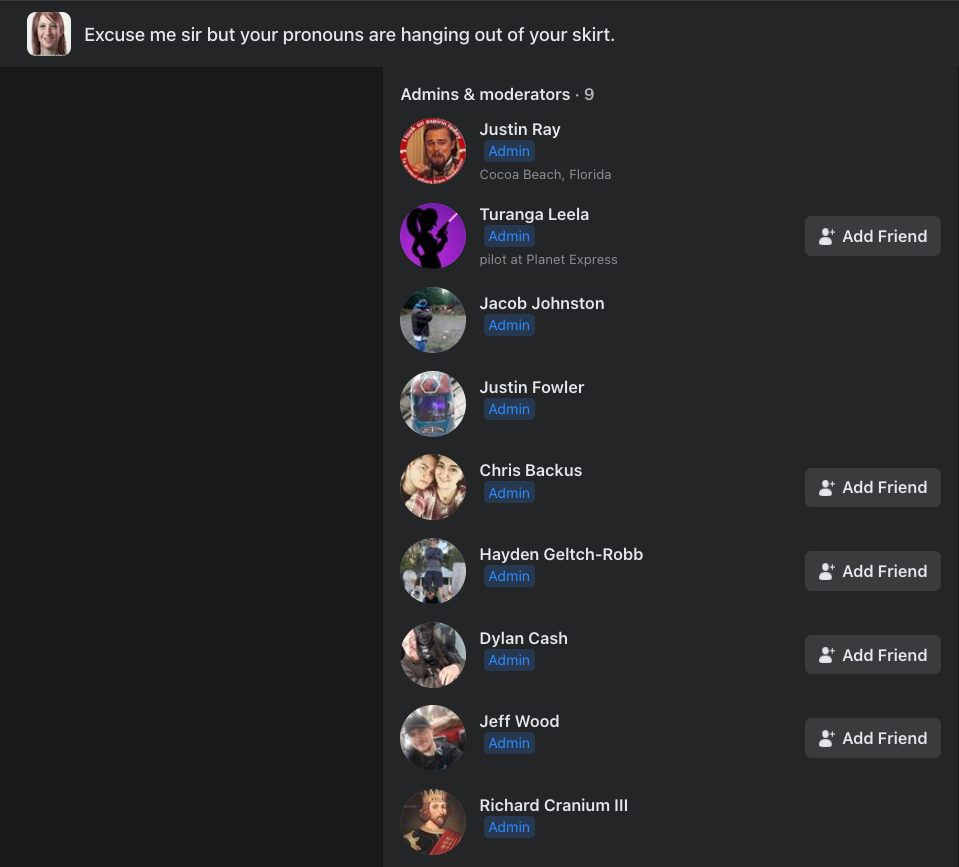 The Admin's Facebook Info
| | | |
| --- | --- | --- |
| Facebook Display Name | Stated Location | Facebook URL (and ID) |
| Justin Ray | Cocoa Beach, Florida | https://www.facebook.com/100066659356858/ |
| Turanga Leela | pilot at Planet Express | https://www.facebook.com/100065251474863/ |
| Jacob Johnston | | https://www.facebook.com/100043202824193/ |
| Justin Fowler | | https://www.facebook.com/100007760046369/ |
| Chris Backus | | https://www.facebook.com/100005162283227/ |
| Hayden Geltch-Robb | | https://www.facebook.com/100001730636111/ |
| Dylan Cash | | https://www.facebook.com/100000966337154/ |
| Jeff Wood | | https://www.facebook.com/100000030502794/ |
| Richard Cranium III | | https://www.facebook.com/1220620962/ |
The group members, and their facebook info:
| | | | |
| --- | --- | --- | --- |
| Facebook Display Name | Joined Group | Stated Location and/or employer | Facebook URL (and ID) |
| Brandon Hernandez | Joined about an hour ago | | https://www.facebook.com/100000516933547/ |
| Kamrie Bunce | Joined 10 hours ago | Missouri Southern State University | https://www.facebook.com/100003272682480/ |
| Katie Duke | Added by  yesterday | | https://www.facebook.com/100017624772780/ |
| Nasma Sh | Joined 19 hours ago | | https://www.facebook.com/100046258844856/ |
| Kipp Brotherton | Joined 19 hours ago | | https://www.facebook.com/100000652412515/ |
| Aj Giuseppe Haywood | Added by  yesterday | CNC Machinist, Fabricator, Paul Bunyan at Mechanical Mercenary | https://www.facebook.com/736131747/ |
| Alex Didenko | Joined on Friday | Portland, Oregon | https://www.facebook.com/100024089573024/ |
| Philip Dīval | Joined on Friday | Owner at インク | https://www.facebook.com/100010839614824/ |
| James Heidelberg | Joined on Friday | Works at China Wok | https://www.facebook.com/1589375978/ |
| Smitty Webernyergermister | Joined on Friday | Aircraft pilot at World Trade Center | https://www.facebook.com/100080147831812/ |
| Justin Ray | | Cocoa Beach, Florida | https://www.facebook.com/100066659356858/ |
| Turanga Leela | | pilot at Planet Express | https://www.facebook.com/100065251474863/ |
| Jacob Johnston | | | https://www.facebook.com/100043202824193/ |
| MC Zappa | | Works at CEO of Bit-Hop | https://www.facebook.com/100026333492703/ |
| Antonio Espinoza | | Atlanta, Georgia | https://www.facebook.com/767767799/ |
| Dariel Wimberly | | St. Johns River State College | https://www.facebook.com/100001556754332/ |
| Charitie Newsome | Joined on Friday | | https://www.facebook.com/100030982743223/ |
| Chris Costello | Joined on Friday | University Of Huddersfield | https://www.facebook.com/100008959980418/ |
| Zoran Nick Rebegila | Joined on Friday | carasova, romania | https://www.facebook.com/100003142181408/ |
| Derek Schmitz | Joined on Friday | Dairy Farmer at Self-Employed | https://www.facebook.com/1664449429/ |
| Maggie Rose | Joined on Friday | Registered Nurse at Self-Employed | https://www.facebook.com/509421703/ |
| Mohamed Zucchini | Joined on Friday | Works at Islamist | https://www.facebook.com/100051725846841/ |
| Keith Van Lenten | Joined on Friday | Oak Ridge, New Jersey | https://www.facebook.com/566115058/ |
| Sabbath Wood | Joined on Friday | | https://www.facebook.com/100035910608267/ |
| Teddy Garcia | Joined on Friday | Odessa, Texas | https://www.facebook.com/100024963102281/ |
| Elizabeth Covarrubias | Joined on Friday | | https://www.facebook.com/100012980617708/ |
| Kathleen C Forhan | Joined on Friday | Bishop Allen Academy | https://www.facebook.com/100010084416923/ |
| Danielson Barbery | Joined on Friday | VCR cassette rewinder at Blockbuster | https://www.facebook.com/1029431337/ |
| Mike Miller | Joined on Friday | Assembly line at Chevrolet | https://www.facebook.com/100077584328540/ |
| Χριστίνα Τετεπουλίδου | Joined on Friday | Owner and Founder at Dark Horizon X tattoo | https://www.facebook.com/100043747422093/ |
| Umabathy Suyambu | Joined on Friday | | https://www.facebook.com/100025721773447/ |
| Lucille Hutcheson | Joined on Friday | Prattville, Alabama | https://www.facebook.com/100022235212533/ |
| Timm Dow | Joined on Friday | Normandy High School | https://www.facebook.com/100008291403647/ |
| Kelly Benoit Leach | Joined on Friday | | https://www.facebook.com/1585355110/ |
| Gašpar Alapić | Joined on Friday | Universidad Autónoma de Asunción (UAA) | https://www.facebook.com/1013008120/ |
| Luis Angel Martínez | Joined on Friday | Ciudad Valles, San Luis Potosi | https://www.facebook.com/100075036576322/ |
| Jason Jennings | Joined on Friday | Mechanical Technician at Air Trans international transport | https://www.facebook.com/100000398995183/ |
| Victoria Mcgillivray | Joined on Friday | | https://www.facebook.com/1283526093/ |
| Steven Robert Estrada-Kuntz | Joined on Friday | Centennial High School | https://www.facebook.com/100009426846754/ |
| Spence Meinke | Joined on Friday | Kentwood, Michigan | https://www.facebook.com/100008924070283/ |
| Alicia Glendaruel | Joined on Friday | Dunoon | https://www.facebook.com/100002341757619/ |
| Amber Treva Whitlock | Joined on Friday | Founder, Director, CEO at Treasures by Treva | https://www.facebook.com/561231116/ |
| Khrystopher Smith | Joined on Friday | Mount Sterling, Kentucky | https://www.facebook.com/100001175749086/ |
| Justin Coltharp | Joined on Friday | | https://www.facebook.com/100000551268236/ |
| Jarrod Lanoie | Joined on Friday | Phoenix, Arizona | https://www.facebook.com/100000169645203/ |
| Marty Banaszak | Joined on Friday | | https://www.facebook.com/100000066065733/ |
| Graham Robinson | Joined on Friday | | https://www.facebook.com/1316137747/ |
| Carlos David Pando Ayllón | Joined on Friday | Works at Indecopi | https://www.facebook.com/1190125296/ |
| Lucan Dan | Joined on Friday | Liceul Tehnologic din Sebes | https://www.facebook.com/100021743869189/ |
| Andyy Price | Joined on Friday | Emergency Medical Technician-Basic (EMT-B) at Reliance Medical Transport | https://www.facebook.com/100000696721301/ |
| Debi Pasini | Joined on Friday | | https://www.facebook.com/1607087987/ |
| Dylan Mitchell | Joined on Friday | Chatham, Ontario | https://www.facebook.com/506221128/ |
| Roy Jackson | Joined on Friday | | https://www.facebook.com/100035257532041/ |
| Josh Ziolkowski | Joined on Friday | Flatbed Truck Driver at TMC Transportation | https://www.facebook.com/100003989065186/ |
| John Simon | Joined on Friday | | https://www.facebook.com/813778848/ |
| Saff Watts Deans | Joined on Friday | | https://www.facebook.com/100023166649414/ |
| Emma Black | Joined on Friday | Works at NWTF-South Carolina | https://www.facebook.com/100010574011710/ |
| Cusucu Purpetti | Joined on Friday | | https://www.facebook.com/637540148/ |
| مؤمن عباس | Joined on Friday | Riyadh, Saudi Arabia | https://www.facebook.com/100061292121204/ |
| Gregor Albescu | Joined on Friday | | https://www.facebook.com/100052929708594/ |
| Abe Logan | Joined on Friday | North Metropolitan TAFE | https://www.facebook.com/100005895637116/ |
| Ryan Johns | Joined on Friday | Melbourne, Victoria, Australia | https://www.facebook.com/1159763575/ |
| Stephen Thundakat Davies | Joined on Friday | Automotive Technician at Firestone Complete Auto Care | https://www.facebook.com/1133517727/ |
| Jontei Hanma | Joined on Friday | Production assistant at Choice Films & Choice Theatricals | https://www.facebook.com/100065998321355/ |
| Jakub Macháček | Joined on Friday | | https://www.facebook.com/100009012101422/ |
| Robert V MacQuarrie | Joined on Friday | | https://www.facebook.com/701239365/ |
| Pamma Hella | Joined on Friday | Lighthouse Christian Academy | https://www.facebook.com/638103135/ |
| Mallory Sides | Joined on Friday | | https://www.facebook.com/69400316/ |
| Joe James | Joined on Friday | Works at Data Scientist | https://www.facebook.com/100069929782527/ |
| Steve RB | Joined on Friday | Wankendorf | https://www.facebook.com/100055310654989/ |
| Emma Leigh Overstreet | Joined on Friday | Saint Cloud, Florida | https://www.facebook.com/100006005348303/ |
| Lauren Evans | Joined on Friday | Palisades High School | https://www.facebook.com/100000431162103/ |
| Tim Flynn | Joined on Friday | Works at Clean Cut Lawn Care LLC. | https://www.facebook.com/1158559985/ |
| Juan Pablo Aguilar | Joined on Friday | Works at None | https://www.facebook.com/100013296157976/ |
| Jonathan Roberts | Joined on Friday | System Administrator at TransCore LP | https://www.facebook.com/100009626739185/ |
| Gulwant Gill | Joined on Friday | Moga, Punjab | https://www.facebook.com/100005992181485/ |
| John Stranahan | Joined on Friday | | https://www.facebook.com/1217603539/ |
| Madison Rose Belardo | Joined on Friday | Works at McDonald's | https://www.facebook.com/100039282652726/ |
| Radu Bogdan | Joined on Friday | Gheorghe Asachi Technical University of Iași | https://www.facebook.com/100001399124391/ |
| Cliff Blazkowicz | Joined on Friday | | https://www.facebook.com/100001128152258/ |
| Francisco Javier Dávila Martínez | Joined on Friday | Nuestra Señora de Las Mercedes | https://www.facebook.com/100007590755733/ |
| Veronika Bergström | Joined on Friday | Works at Biljouren AB | https://www.facebook.com/100004724798118/ |
| Aimee Sisco | Joined on Friday | | https://www.facebook.com/691031736/ |
| Benjamin Coronado | Joined on Friday | Las Vegas, Nevada | https://www.facebook.com/100001455758434/ |
| Justin Albright | Joined on Friday | | https://www.facebook.com/100000743987117/ |
| Jake Salazar | Joined on Friday | | https://www.facebook.com/100000236480276/ |
| Nick Cinco | Joined on Friday | Works at Joined On August 11 2006 | https://www.facebook.com/100075352370855/ |
| Tammam Alhabib | Joined on Friday | Al-Baath University | https://www.facebook.com/100014099328817/ |
| Richard Michael | Joined on Friday | | https://www.facebook.com/100007538177272/ |
| Jared Burnett | Joined on Friday | | https://www.facebook.com/508252227/ |
| Kim Kelly | Joined on Friday | | https://www.facebook.com/100067791833133/ |
| Andrew Bryla | Joined on Friday | Wimberley, Texas | https://www.facebook.com/100005144565996/ |
| Moses Hernandez | Joined on Friday | | https://www.facebook.com/100000000308678/ |
| Shavon Kollas | Joined on Friday | Kennesaw State University | https://www.facebook.com/678103973/ |
| Aya Mo | Joined on Friday | | https://www.facebook.com/540269357/ |
| Radica Jones | Joined on Friday | Big Hoss at OSHA Certified and licensed forklift operator | https://www.facebook.com/100078086333878/ |
| Nichole Redmond | Joined on Friday | | https://www.facebook.com/100045677445759/ |
| Dylan Calicott | Joined on Friday | Paris Junior College, Paris, TX | https://www.facebook.com/100038263144573/ |
| SAmi KHan | Joined on Friday | Dhaka, Bangladesh | https://www.facebook.com/100008192641675/ |
| Howard Culbert | Joined on Friday | | https://www.facebook.com/100052246202334/ |
| René Grande | Joined on Friday | Técnico A Domicilio at Parts Plus | https://www.facebook.com/100004781192610/ |
| Michael Daniels | Joined on Friday | Universal Technical Institute | https://www.facebook.com/100000274927663/ |
| Ben Ja Min | Joined on Friday | Benito Juarez, Distrito Federal, Mexico | https://www.facebook.com/100056024480581/ |
| Cameron Welch | Added by  on April 8, 2022 | Works at Infinite Automotive LLC | https://www.facebook.com/100000169323565/ |
| Lara LaBryer | Joined on Friday | | https://www.facebook.com/773080053/ |
| Lindsay Hartley | Joined on Friday | Iron Worker Apprentice at Iron Workers Local Union #46 | https://www.facebook.com/515887078/ |
| Sania Kaiser | Joined on Friday | | https://www.facebook.com/100073283327916/ |
| Imran Karim | Joined on Friday | Melbourne, Victoria, Australia | https://www.facebook.com/218100806/ |
| Eli Daddî | Joined on Friday | Liberty, Missouri | https://www.facebook.com/100024852669946/ |
| David Wilder | Added by  on April 8, 2022 | | https://www.facebook.com/1631991425/ |
| Miguel Spence | Joined on Friday | Works at Partial landowner Tortuga Losogul | https://www.facebook.com/100031013725255/ |
| Steve Eoute | Joined on Friday | | https://www.facebook.com/100012725739722/ |
| James Ashman | Joined on Friday | | https://www.facebook.com/100005737745103/ |
| Christian Ross | Joined on Friday | | https://www.facebook.com/100000984102985/ |
| Grace Bean | Joined on Friday | | https://www.facebook.com/1003236537/ |
| Brent Garrison | Joined on Friday | Salesman/Owner at CBD Store | https://www.facebook.com/100033361310523/ |
| Tim LeClair | Joined on Friday | | https://www.facebook.com/100016676490896/ |
| Joseph S Baker | Joined on Friday | | https://www.facebook.com/548908842/ |
| Lize Viljoen | Joined on Friday | Kathu, Northern Cape | https://www.facebook.com/1034681824/ |
| Amber Brouillard | Joined on Friday | | https://www.facebook.com/100005110329957/ |
| José Luis Colón Jr. | Joined on Friday | | https://www.facebook.com/581936210/ |
| Rahul Ravi | Joined on Friday | Works at Adani Total Gas | https://www.facebook.com/100016563276683/ |
| Evan Blake | Joined on Friday | Chesterfield, Missouri | https://www.facebook.com/100005350560912/ |
| Taylor Nogle | Joined on Friday | Orlando, Florida | https://www.facebook.com/100000078136239/ |
| Syd HeHe | Joined on Friday | | https://www.facebook.com/100054672273099/ |
| Michelle Ritchie | Joined on Friday | | https://www.facebook.com/100001060406893/ |
| Emma Genevieve Jackson | Joined on Friday | Wisconsin Dells, Wisconsin | https://www.facebook.com/100000551978614/ |
| Ian Hightower | Joined on Friday | Works at Walmart Neighborhood Market Pineville | https://www.facebook.com/100003319464032/ |
| Tristan Simonson | Joined on Friday | Works at U.S. Army | https://www.facebook.com/1783784650/ |
| Mary Andrews | Joined on Friday | | https://www.facebook.com/100041242507295/ |
| Jefferson Steelflex | Joined on Friday | | https://www.facebook.com/100024962445677/ |
| Nathan Fields | Joined on Friday | | https://www.facebook.com/100007607521849/ |
| Derrick Thibert | Joined on Friday | Ludington High School | https://www.facebook.com/1048894317/ |
| Jesika Gonzalez | Joined on Friday | | https://www.facebook.com/100016927960755/ |
| Ashwin Thomas Mathew | Added by  on April 8, 2022 | | https://www.facebook.com/100003636427438/ |
| Clem Mnr | Joined on Friday | | https://www.facebook.com/1209860316/ |
| Benjamin Lõser | Added by  on April 8, 2022 | | https://www.facebook.com/100053950604065/ |
| Kiernan Easton | Joined on Friday | | https://www.facebook.com/100034806410521/ |
| Connal Morrison | Joined on Friday | | https://www.facebook.com/667681898/ |
| Сергей Довровыч | Joined on Friday | Works at US Government | https://www.facebook.com/100079441736199/ |
| Linards Smagins | Joined on Friday | Riga, Latvia | https://www.facebook.com/100072887020151/ |
| Amanda Taylor | Joined on Friday | Works at Self-Employed | https://www.facebook.com/100039010095589/ |
| John Black | Joined on Friday | | https://www.facebook.com/100003775640085/ |
| Richard McGowan III | Joined on Friday | Aiken Technical College | https://www.facebook.com/732659127/ |
| Chad Dayton | Joined on Friday | | https://www.facebook.com/9612353/ |
| Jennifer Rose | Joined on Friday | | https://www.facebook.com/100078832352751/ |
| Ben Bauer | Joined on Friday | | https://www.facebook.com/100072619263746/ |
| Konrad Slomkowski | Joined on Friday | | https://www.facebook.com/100021550009522/ |
| Sui Psy Doll | Joined on Friday | | https://www.facebook.com/100010049294763/ |
| Jorden Wienckoski | Joined on Friday | | https://www.facebook.com/100021875260440/ |
| Cat Marie Summers | Joined on Friday | Warren G. Harding High School | https://www.facebook.com/100021566222474/ |
| Cheryl Janiszewski | Joined on Friday | | https://www.facebook.com/1166405468/ |
| Andy Hubbell | Joined on Friday | Senior Automotive Associate at Blain's Farm & Fleet | https://www.facebook.com/100003392205522/ |
| MyBackis Aiken | Joined on Friday | | https://www.facebook.com/100062779959076/ |
| José Ortiz | Joined on Friday | | https://www.facebook.com/100003692049880/ |
| Kommissar Fartzz | Joined on Friday | Works at Schwing-Stetter Russland | https://www.facebook.com/100023912479864/ |
| Lauren Elizabeth LaMarsh | Joined on Thursday | Owner/Artist at Conservatively Crafted | https://www.facebook.com/100003213798480/ |
| Roy Nasser | Joined on Thursday | | https://www.facebook.com/769790525/ |
| Evan McClernan | Joined on Thursday | Loss Prevention at Homesense | https://www.facebook.com/100038013540832/ |
| Noelle Zimmerman | Joined on Thursday | Omaha, Nebraska | https://www.facebook.com/100002378230690/ |
| Cameron Anthony | Joined on Thursday | Conestoga College | https://www.facebook.com/100001252701100/ |
| Dustin Conner | Joined on Thursday | | https://www.facebook.com/1663322821/ |
| Misty Parker | Joined on Thursday | | https://www.facebook.com/100002075810120/ |
| Tania d'Anconia | Joined on Thursday | Charlotte, North Carolina | https://www.facebook.com/1397520080/ |
| Mark Harrell Jr. | Joined on Thursday | Sacramento, California | https://www.facebook.com/1064184367/ |
| Trenton Quinn | Joined on Wednesday | Installer at 3 Day Blinds | https://www.facebook.com/100000914419098/ |
| Mary M. Burn | Joined on Wednesday | | https://www.facebook.com/100017251868890/ |
| Geddy Johnsn | Joined on Wednesday | | https://www.facebook.com/100026272987066/ |
| Piotr Pietruszewski | Joined on Wednesday | Administrator at Producent tag grupek | https://www.facebook.com/100008844787377/ |
| Karolina Todorska | Joined on Wednesday | | https://www.facebook.com/1517773519/ |
| Travis Pace | Joined on Wednesday | Fleet manager at Jacksons of Kingfisher | https://www.facebook.com/697245279/ |
| Othman Berrada | Joined on Wednesday | | https://www.facebook.com/702866474/ |
| Dan Mandaliti | Joined on Wednesday | Elephant Island, Antarctica | https://www.facebook.com/100041174837416/ |
| Edoardo Krotchy Palumbo | Joined on Wednesday | Sjel at Fyrnir | https://www.facebook.com/1059812420/ |
| Elena Maria | Joined on Wednesday | | https://www.facebook.com/100000575003990/ |
| Bogdan Salgau | Joined on Wednesday | Barman at Phoenix Bar & Grill | https://www.facebook.com/1683424106/ |
| Tia Diana | Joined on Wednesday | | https://www.facebook.com/100024332376807/ |
| Sarah Donofrio | Joined on Tuesday | | https://www.facebook.com/100039643685582/ |
| Jessia Alexander | Joined on Tuesday | | https://www.facebook.com/100002381911714/ |
| Wren Kokoska | Joined on Tuesday | | https://www.facebook.com/519881834/ |
| David Harper | Added by  on April 5, 2022 | Helper/Driver at Phoenix Bar & Grill | https://www.facebook.com/100080159826862/ |
| Lisa Gia | Joined on Tuesday | Stray Cat at Prowling | https://www.facebook.com/100048332528582/ |
| Sean Smith | Joined on Tuesday | Brewster, Massachusetts | https://www.facebook.com/511985252/ |
| Alex Aronsky | Joined on Tuesday | | https://www.facebook.com/1303591435/ |
| Kate Dutcher | Joined on Tuesday | | https://www.facebook.com/676840973/ |
| Nicholas Hagel | Joined last Sunday | | https://www.facebook.com/100000087200976/ |
| Dustin Hermosura | Joined last Sunday | | https://www.facebook.com/100052794770908/ |
| Isaac Wright | Joined about a week ago | Adelaide, South Australia | https://www.facebook.com/100004234053254/ |
| Lleyton Pere | Joined about a week ago | kinross college | https://www.facebook.com/100000486923358/ |
| Lim | Joined about a week ago | | https://www.facebook.com/1746380569/ |
| Isobel Bell | Joined about a week ago | | https://www.facebook.com/100004340733096/ |
| Sidney Hein | Joined about a week ago | Works at Phoenix Bar & Grill | https://www.facebook.com/100079771339484/ |
| Toby M. Striegel | Joined about a week ago | | https://www.facebook.com/100000946316387/ |
| John Breach | Joined about a week ago | | https://www.facebook.com/621139089/ |
| Claire Tourigny | Joined about a week ago | | https://www.facebook.com/100002655185027/ |
| Richard Rambo | Joined about a week ago | | https://www.facebook.com/687725021/ |
| Grzegorz Panciszko | Joined about a week ago | Raciborowice Górne | https://www.facebook.com/100004343050942/ |
| Emil DW | Joined about a week ago | | https://www.facebook.com/1356841800/ |
| Nellie King | Joined about a week ago | | https://www.facebook.com/100000620863765/ |
| Angela Champagne | Joined about a week ago | | https://www.facebook.com/100001293452218/ |
| Matthew Alexander Scott | Joined about a week ago | | https://www.facebook.com/1481400425/ |
| Jarrod Irwin | Joined about a week ago | | https://www.facebook.com/1553957104/ |
| Samantha Richardson | Joined about a week ago | Larkhall | https://www.facebook.com/100040749045972/ |
| Agathe Cambuzat | Joined about a week ago | Assistant clown at Cirque Pinder | https://www.facebook.com/100007065722905/ |
| BJ Kyzar | Joined about a week ago | | https://www.facebook.com/54100671/ |
| Destiny Kay Ahmad | Joined about a week ago | Pharmacy Technician (Pharmacy Tech) at CVS Pharmacy | https://www.facebook.com/100004107572793/ |
| Abby Mitchell | Joined about a week ago | | https://www.facebook.com/100010575818802/ |
| Ethan Phill | Joined about a week ago | Palm Beach State College | https://www.facebook.com/100000094749944/ |
| Stephanie Rios | Joined about a week ago | Driver at the wheels on the bus go 'round and 'round | https://www.facebook.com/100001119482795/ |
| Alankrita Dey | Joined about a week ago | | https://www.facebook.com/100001047304948/ |
| Martynas Butkevičius | Joined about a week ago | | https://www.facebook.com/100001806315390/ |
| Beth Jones | Joined about a week ago | | https://www.facebook.com/100000119895948/ |
| Brittany Bennett | Joined about a week ago | Housekeeping Staff at Moors Resort & Marina | https://www.facebook.com/754425184/ |
| Drew Lawrimore | Joined about 2 weeks ago | | https://www.facebook.com/1445229426/ |
| Reb Schmidt | Joined about 2 weeks ago | Seattle, Washington | https://www.facebook.com/100066865296751/ |
| Amy Covert | Joined about 2 weeks ago | | https://www.facebook.com/100073166568201/ |
| Morgan Le Fay | Joined about 2 weeks ago | Las Vegas, Nevada | https://www.facebook.com/100055758907466/ |
| Sooper Straight | Joined about 2 weeks ago | | https://www.facebook.com/100064698522787/ |
| Cole James Cantrell | Joined about 2 weeks ago | Works at Arrowhead Customs | https://www.facebook.com/100066854500184/ |
| Emma Gold | Joined about 2 weeks ago | | https://www.facebook.com/659765413/ |
| Florian Mdk | Joined about 2 weeks ago | | https://www.facebook.com/100018468455169/ |
| Harry Paranuts | Joined about 2 weeks ago | | https://www.facebook.com/100078119906306/ |
| Geoffrey Herrick | Joined about 2 weeks ago | Nashua Community College | https://www.facebook.com/100053833363353/ |
| Justin Garrett | Joined about 2 weeks ago | | https://www.facebook.com/100025820049131/ |
| Janett Centeno | Joined about 2 weeks ago | | https://www.facebook.com/100001669516121/ |
| Asaad Al Haj | Joined about 2 weeks ago | Damascus, Syria | https://www.facebook.com/100054326449808/ |
| Kristopher Lakso | Joined about 2 weeks ago | | https://www.facebook.com/100035678590998/ |
| Alessandro Panico | Joined about 2 weeks ago | | https://www.facebook.com/100010784222655/ |
| Danielle Dominguez | Joined about 2 weeks ago | | https://www.facebook.com/100000081166074/ |
| Anna Kelsey | Joined about 2 weeks ago | | https://www.facebook.com/100066379788645/ |
| Damster Eiw | Joined about 2 weeks ago | Singapore | https://www.facebook.com/100025117970794/ |
| Adam Winslett | Joined about 2 weeks ago | Crewman at Osmose Utilities Services, Inc. | https://www.facebook.com/100032593384549/ |
| Dar Benudiz | Joined about 2 weeks ago | Modi`in | https://www.facebook.com/100007155610688/ |
| Ruban SriramBabu | Joined about 2 weeks ago | | https://www.facebook.com/100000438130660/ |
| Jessica Robichaud | Joined about 2 weeks ago | Dallas, Texas | https://www.facebook.com/100000729303937/ |
| Ahnaf Abtahi Omio | Joined about 2 weeks ago | | https://www.facebook.com/100013510331383/ |
| Aubrey Wade | Joined about 2 weeks ago | | https://www.facebook.com/100013115587272/ |
| Candy Zimmerman | Joined about 2 weeks ago | | https://www.facebook.com/100000619496513/ |
| Whitney Edmonds | Joined about 2 weeks ago | Bartender at Phoenix Bar & Grill | https://www.facebook.com/100072045511914/ |
| Joey Kingston | Joined about 2 weeks ago | Tacoma, Washington | https://www.facebook.com/100009066712429/ |
| Stephen Aponte | Joined about 2 weeks ago | | https://www.facebook.com/839206099/ |
| Nick Rogoß | Joined about 2 weeks ago | | https://www.facebook.com/100001664851770/ |
| Amy Oakley | Joined about 2 weeks ago | | https://www.facebook.com/751810290/ |
| Joshua David | Joined about 2 weeks ago | | https://www.facebook.com/100010769112272/ |
| Rory Upton | Joined about 2 weeks ago | | https://www.facebook.com/100010645422947/ |
| Jordan Porter | Joined about 2 weeks ago | Team leader at Inoac Group North America | https://www.facebook.com/100001333387168/ |
| Lauren Tull | Joined about 2 weeks ago | Philadelphia, Pennsylvania | https://www.facebook.com/100022915812960/ |
| Luke Bower | Joined about 2 weeks ago | | https://www.facebook.com/100026244891151/ |
| Travis Phillips | Joined about 2 weeks ago | Cumberland Perry Area CTC | https://www.facebook.com/100008335717514/ |
| Nikko Mirchev | Joined about 2 weeks ago | | https://www.facebook.com/100003853871693/ |
| Soroo Gonad | Joined about 2 weeks ago | | https://www.facebook.com/100054840303887/ |
| Joel Ibarra | Joined about 2 weeks ago | | https://www.facebook.com/714634223/ |
| Jason Duval | Joined about 2 weeks ago | NHCTC Laconia | https://www.facebook.com/100001644381594/ |
| David Clements | Joined about 2 weeks ago | Cape Town, Western Cape | https://www.facebook.com/755615626/ |
| Bryan Snyder | Joined about 2 weeks ago | | https://www.facebook.com/100000352543586/ |
| Ulla Britta | Joined about 2 weeks ago | | https://www.facebook.com/100070717166999/ |
| Dianne Landy | Joined about 2 weeks ago | Timbuktu | https://www.facebook.com/100069707947531/ |
| Ethan Anderson | Joined about 2 weeks ago | Southeastern Louisiana University | https://www.facebook.com/1650080138/ |
| Anja | Joined about 2 weeks ago | | https://www.facebook.com/100007028866573/ |
| Josh Kotkin | Joined about 2 weeks ago | | https://www.facebook.com/510716016/ |
| Jai Balaji | Joined about 2 weeks ago | | https://www.facebook.com/1521152159/ |
| Cliffton Couch | Joined about 2 weeks ago | King of Games at Shadow Realm (Yu-Gi-Oh!) | https://www.facebook.com/100052548623884/ |
| Mark Anthony | Joined about 2 weeks ago | | https://www.facebook.com/100015429766662/ |
| Robert Moore | Joined about 2 weeks ago | | https://www.facebook.com/100004062671127/ |
| Tyler Updike | Joined about 2 weeks ago | Diversity Consultant at Phoenix Bar & Grill | https://www.facebook.com/100001220356625/ |
| Balasree Viswanathan | Joined about 2 weeks ago | | https://www.facebook.com/1537718928/ |
| Waqar Javed | Joined about 2 weeks ago | | https://www.facebook.com/1142024164/ |
| Ken Kennison | Joined about 2 weeks ago | | https://www.facebook.com/100004346738764/ |
| Abu Bakar Siddique Alvi | Joined about 2 weeks ago | Medical Documentation Specialist at Augmedix Bangladesh | https://www.facebook.com/100002054073695/ |
| Jizzica Megatt | Added by  on March 24, 2022 | | https://www.facebook.com/100079875902495/ |
| Sariah Bertrand | Joined about 2 weeks ago | | https://www.facebook.com/100000522406553/ |
| Ruben Galvan | Joined about 2 weeks ago | Works at Memes | https://www.facebook.com/100009534311765/ |
| Muhammad S. Bderi | Joined about 2 weeks ago | Accountant at Al-Etihad Hospital | https://www.facebook.com/100079030824717/ |
| Rob Hunt | Joined about 2 weeks ago | Webster University | https://www.facebook.com/1705680666/ |
| Dej Marie | Joined about 2 weeks ago | Bartender at Phoenix Bar & Grill | https://www.facebook.com/100003475074920/ |
| Kelsey Nunn | Joined about 2 weeks ago | Works at The Krusty Krab | https://www.facebook.com/100006898003990/ |
| John Pecora | Joined about 2 weeks ago | Dubuque, Iowa | https://www.facebook.com/1264648418/ |
| Kitty Levy | Joined about 2 weeks ago | | https://www.facebook.com/1523211965/ |
| Corin Harrison | Joined about 2 weeks ago | | https://www.facebook.com/1054142587/ |
| Matt Schnitzius | Joined about 2 weeks ago | Summerville, South Carolina | https://www.facebook.com/100007182788962/ |
| Cole LaMoreux | Joined about 2 weeks ago | Richmond, Virginia | https://www.facebook.com/503683818/ |
| Vygandas Valantiejus | Joined about 2 weeks ago | | https://www.facebook.com/100001551847832/ |
| Gary Congleton | Joined about 2 weeks ago | | https://www.facebook.com/100000416907182/ |
| Mirko Tofanicchio | Joined about 2 weeks ago | Scienziato at Umbrella Corporation | https://www.facebook.com/100000603483192/ |
| Stefan Raul | Joined about 2 weeks ago | Fort Worth, Texas | https://www.facebook.com/1832997331/ |
| Brittany Rogers | Joined about 2 weeks ago | Lewisburg, Kentucky | https://www.facebook.com/100010636113168/ |
| Jessica Gruenfelder | Joined about 2 weeks ago | Works at Strikeforce | https://www.facebook.com/100011406434109/ |
| Julian Bintulan | Joined about 2 weeks ago | | https://www.facebook.com/100013090803524/ |
| Mark Gofman | Joined about 2 weeks ago | | https://www.facebook.com/1270997169/ |
| Cujo Cardella | Joined about 2 weeks ago | United States Army Ordnance Center and School | https://www.facebook.com/100062151625087/ |
| Brayden Oliver | Joined about 2 weeks ago | | https://www.facebook.com/100045910964367/ |
| AlQaholic Houdini | Joined about 2 weeks ago | | https://www.facebook.com/100024909076010/ |
| Aaron Grant | Joined about 2 weeks ago | | https://www.facebook.com/1001933058/ |
| Carlos Stiven Dimey Parra | Joined about 2 weeks ago | Instituto Tecnico Industrial | https://www.facebook.com/100002630948870/ |
| Will Strehl | Joined about 2 weeks ago | Facilities Maintenance Manager at Thomas Landscapes | https://www.facebook.com/100002182931737/ |
| Zoie O'Polka | Joined about 2 weeks ago | | https://www.facebook.com/100022953571858/ |
| Sarah Zbar | Joined about 2 weeks ago | | https://www.facebook.com/100003655443859/ |
| Kathy Sparkle Schwerthoffer | Joined about 2 weeks ago | | https://www.facebook.com/1780454978/ |
| Richard Pound | Joined about 2 weeks ago | Works at Bussy Driver | https://www.facebook.com/100066979330751/ |
| Maddy Sun | Joined about 2 weeks ago | | https://www.facebook.com/100001687266609/ |
| Adam Payne | Joined about 2 weeks ago | | https://www.facebook.com/501094325/ |
| Grant Scott | Joined about 3 weeks ago | | https://www.facebook.com/638956509/ |
| Frank Sirman | Joined about 3 weeks ago | | https://www.facebook.com/100016213236927/ |
| Anna Alrand | Joined about 3 weeks ago | Waitress/Bartender/Hostess at Phoenix Bar & Grill | https://www.facebook.com/100013642719377/ |
| Allen LeCardo | Joined about 3 weeks ago | Yakutsk, Russia | https://www.facebook.com/100004845270256/ |
| Seth Garcia | Joined about 3 weeks ago | Soldier at Heavan | https://www.facebook.com/100009634054282/ |
| Anthony Niemiec | Joined about 3 weeks ago | | https://www.facebook.com/100062239333951/ |
| Hank Dee Ell | Joined about 3 weeks ago | | https://www.facebook.com/100001206514512/ |
| Soham Halder | Joined about 3 weeks ago | Rig specialist, Miner at Crypto mining specifically etherium | https://www.facebook.com/100007221751479/ |
| Jay Zee | Joined about 3 weeks ago | Data Analyst at Harvard Medical School | https://www.facebook.com/100077506777147/ |
| Ahmed Ali | Joined about 3 weeks ago | Software Development Engineer at Libyana | https://www.facebook.com/100036971912531/ |
| Radwan Loulou | Joined about 3 weeks ago | Te Herenga Waka—Wellington Uni | https://www.facebook.com/100003276081888/ |
| Morgan Trial | Joined about 3 weeks ago | Chesterton Senior High School | https://www.facebook.com/100000549455329/ |
| Brendan Casey | Joined about 3 weeks ago | Surfside, Florida | https://www.facebook.com/100001852698215/ |
| Darren Lim | Joined about 3 weeks ago | | https://www.facebook.com/100005957142494/ |
| Madeline Jeffries | Joined about 3 weeks ago | Works at Phoenix Bar & Grill | https://www.facebook.com/100041151815533/ |
| Daryl Bowler | Joined about 3 weeks ago | Scoundrel at Galactic Empire | https://www.facebook.com/1195395154/ |
| Natalie O'Brien | Joined about 3 weeks ago | | https://www.facebook.com/1155511301/ |
| Anthony Schir | Joined about 3 weeks ago | | https://www.facebook.com/100007274988452/ |
| Matthew Jakimczyk | Joined about 3 weeks ago | Works at Jakimczyk & Son Handyman Services LLC | https://www.facebook.com/100003818970395/ |
| Tish Deskins | Joined about 3 weeks ago | Works at none of your business | https://www.facebook.com/100009941769562/ |
| Deven Dobbins | Joined about 3 weeks ago | Cartersville, Georgia | https://www.facebook.com/100024365031473/ |
| Zohar Rafter | Joined about 3 weeks ago | ‎אוניברסיטת בר-אילן‎ | https://www.facebook.com/100000065570383/ |
| Fabien Monegrino | Joined about 3 weeks ago | | https://www.facebook.com/1836727230/ |
| Brynna Ogle | Joined about 3 weeks ago | Midwestern State University | https://www.facebook.com/100052923666603/ |
| Summer Slate Marshall | Joined about 3 weeks ago | | https://www.facebook.com/619485123/ |
| Corline van Breugel | Joined about 3 weeks ago | Tilburg, Netherlands | https://www.facebook.com/100001279171424/ |
| Raf Villanueva | Joined about 3 weeks ago | Lake Taylor | https://www.facebook.com/100000833253157/ |
| Albert Davis | Joined about 3 weeks ago | Co-founder, Senior Editor at Mind over Motor | https://www.facebook.com/1545450083/ |
| Crista Hall | Joined about 3 weeks ago | | https://www.facebook.com/100000314318028/ |
| Casey Patrick Clague | Joined about 3 weeks ago | CAP 2 at Walmart Avon – Chester Rd | https://www.facebook.com/100058500932490/ |
| Yuyo Paredes | Joined about 3 weeks ago | | https://www.facebook.com/100003136459746/ |
| Jenny Brown | Joined about 3 weeks ago | | https://www.facebook.com/1292291912/ |
| Ryan Link | Added by  on March 20, 2022 | | https://www.facebook.com/1755530838/ |
| Abrie Greeff | Joined about 3 weeks ago | Works at Phoenix Bar & Grill | https://www.facebook.com/100001861397386/ |
| Pea Ness | Joined about 3 weeks ago | | https://www.facebook.com/100068903378120/ |
| Dylan Ahara | Joined about 3 weeks ago | Ventura College | https://www.facebook.com/1742997531/ |
| Holly Temple | Joined about 3 weeks ago | Edward C. Reed High School | https://www.facebook.com/100070708932164/ |
| Bill William | Joined about 3 weeks ago | | https://www.facebook.com/100054249944566/ |
| Kolton Pettyjohn | Joined about 3 weeks ago | Autry Technology Center | https://www.facebook.com/100000133007531/ |
| Cassandra Hutchings | Joined about 3 weeks ago | | https://www.facebook.com/100003381800190/ |
| Полина Тодорова | Joined about 3 weeks ago | | https://www.facebook.com/100009697369492/ |
| Leroy Jenkins | Joined about 3 weeks ago | Works at PRAYERS | https://www.facebook.com/100026294138663/ |
| Nathaniel Alexander | Joined about 3 weeks ago | Eugene, Oregon | https://www.facebook.com/100002498999071/ |
| Ashleigh King | Joined about 3 weeks ago | | https://www.facebook.com/100003780582028/ |
| Eriksson Heyen | Joined about 3 weeks ago | | https://www.facebook.com/100000507247973/ |
| Shanice De Moor | Joined about 3 weeks ago | | https://www.facebook.com/100005509085573/ |
| Nisar Ahmed | Joined about 3 weeks ago | Hanover, Germany | https://www.facebook.com/100000630553584/ |
| Raphael Albaret | Joined about 3 weeks ago | Tutorat Santé Paris 12 | https://www.facebook.com/100004102456128/ |
| LilBubbz Oedoublefoe | Added by  on March 18, 2022 | Chief Executive Officer (CEO) & Founder at Cutthoat Sicknezz Ent. | https://www.facebook.com/100052082150327/ |
| Sky Hager | Joined about 3 weeks ago | Aircraft Refueler at Modesto Jet Center | https://www.facebook.com/100000615214915/ |
| Johnathan Keith | Joined about 3 weeks ago | | https://www.facebook.com/100002486931834/ |
| Melissa Oster | Joined about 3 weeks ago | Mandan, North Dakota | https://www.facebook.com/100002346058964/ |
| Jamison Carpenter | Joined about 3 weeks ago | | https://www.facebook.com/1195470317/ |
| Eduardo Felix | Joined about 3 weeks ago | Vacaville, California | https://www.facebook.com/100001687536963/ |
| Chase Murphy | Joined about 3 weeks ago | | https://www.facebook.com/1596872198/ |
| Kim Kim | Joined about 3 weeks ago | | https://www.facebook.com/1282020768/ |
| Steven Hue | Joined about 3 weeks ago | Aircraft Director at MCLA | https://www.facebook.com/649392379/ |
| Geoff Gemb | Joined about 3 weeks ago | Griffith, Indiana | https://www.facebook.com/100007928942698/ |
| Amanda Grier | Joined about 3 weeks ago | | https://www.facebook.com/100038341807032/ |
| Sean Pecker | Joined about 3 weeks ago | | https://www.facebook.com/100074475717900/ |
| Jason Button | Joined about 3 weeks ago | | https://www.facebook.com/1431133824/ |
| Jay Oh | Joined about 3 weeks ago | Barrie, Ontario | https://www.facebook.com/100062532574298/ |
| Sunny Ann | Joined about 3 weeks ago | | https://www.facebook.com/579699659/ |
| Andrew Shill | Joined about 3 weeks ago | Orem, Utah | https://www.facebook.com/100054323344528/ |
| Izabella Ashley | Joined about 3 weeks ago | | https://www.facebook.com/100027519307916/ |
| Игорь Когут | Joined about 3 weeks ago | New York, New York | https://www.facebook.com/536794973/ |
| Chlo Williams | Joined about 3 weeks ago | | https://www.facebook.com/100002327179857/ |
| Drew Schorah | Joined about 3 weeks ago | Reverend at Universal Life Church Ministries | https://www.facebook.com/100008797230964/ |
| Janice Ogden | Joined about 3 weeks ago | University of Salford | https://www.facebook.com/100009232748479/ |
| Bradley Antony | Joined about 3 weeks ago | | https://www.facebook.com/100013989166774/ |
| Tibor Heillig | Joined about 3 weeks ago | Lycée Jean Hyppolite | https://www.facebook.com/1419505993/ |
| James Tombstone Hawkins | Joined about 3 weeks ago | Leavenworth Senior High | https://www.facebook.com/1125977537/ |
| ۦۦ ۦۦ ۦۦ ۦۦ | Joined about 3 weeks ago | Works at ▁▂▃▄▅▆▇█Loding98% ♥´¨`♥•.¸¸.• ♥ ´¨`♥•.¸¸.•♥ ´¨`♥•.¸… | https://www.facebook.com/100046560720033/ |
| Shannon Weaver | Joined about 3 weeks ago | Head Waitress at Phoenix Bar & Grill | https://www.facebook.com/100074883318937/ |
| Konner McKenna | Joined about 3 weeks ago | | https://www.facebook.com/100001892146351/ |
| Jackie Bee | Joined about 3 weeks ago | | https://www.facebook.com/100000657862783/ |
| Dewayne Kelley | Added by  on March 17, 2022 | Shipping Lead at Apache Mills | https://www.facebook.com/100002538428897/ |
| Samantha Woods | Joined about 3 weeks ago | Works at Berryville Veterinary Clinic | https://www.facebook.com/100042498951271/ |
| Luis Ivan Maldonado | Joined about 3 weeks ago | Sales Representative at PLUS Racing Gear | https://www.facebook.com/100000104929383/ |
| Todd Sander | Joined about 3 weeks ago | Monroe Community College | https://www.facebook.com/100009857050599/ |
| Devarius Baldwin | Added by  on March 17, 2022 | Clinical Research Coordinator at The Children's Hospital of Philadelphia | https://www.facebook.com/100014463841387/ |
| Adrienn Nyitrai | Joined about 3 weeks ago | Budapest, Hungary | https://www.facebook.com/100002429068138/ |
| Marky Jacobsen | Joined about 3 weeks ago | | https://www.facebook.com/100007893009499/ |
| Walthorpe Faust | Joined about 3 weeks ago | | https://www.facebook.com/100023402063625/ |
| Lucas Aley | Joined about 3 weeks ago | Works at Ozarks Technical Community College | https://www.facebook.com/100011859556578/ |
| Andrew Schmidt | Joined about 3 weeks ago | | https://www.facebook.com/100003276468612/ |
| Evan Doran | Joined about 3 weeks ago | Charlotte, North Carolina | https://www.facebook.com/1471645965/ |
| Hannah Cambozola | Joined about 3 weeks ago | Works at The Joint | https://www.facebook.com/556074009/ |
| Todd Wolschlager | Joined about 3 weeks ago | | https://www.facebook.com/100002496534707/ |
| Shirley Yelrihs | Joined about 3 weeks ago | | https://www.facebook.com/100024648992733/ |
| Zach Barger | Joined about 3 weeks ago | | https://www.facebook.com/100050312284066/ |
| Tommy Hogan | Joined about 3 weeks ago | | https://www.facebook.com/608873037/ |
| Claire Kelly | Joined about 3 weeks ago | | https://www.facebook.com/1766095229/ |
| Bo Yasay Tumaliuan | Joined about 3 weeks ago | | https://www.facebook.com/100000425361449/ |
| Miyanna Marie | Joined about 3 weeks ago | | https://www.facebook.com/100005507611310/ |
| Dex Spears | Joined about 3 weeks ago | Breakfast Lead at Bohemian Grove | https://www.facebook.com/515731128/ |
| Ryan Headley | Joined about 3 weeks ago | Gamer at Gamer/Youtuber | https://www.facebook.com/1572386147/ |
| Leigh Van Den Berg | Joined about 3 weeks ago | Annandale, New Jersey | https://www.facebook.com/582986166/ |
| Daniel Simpkins | Joined about 3 weeks ago | | https://www.facebook.com/517868542/ |
| Kaine Ambrose | Joined about a month ago | Works at Self-Employed | https://www.facebook.com/100056232726401/ |
| Charlotte Peach | Joined about a month ago | Social Media Manager at Ropery Beauty | https://www.facebook.com/100000754036888/ |
| Ed Jay | Joined about a month ago | Works at The Church of Jesus Christ of Latter-day Saints | https://www.facebook.com/100004073621191/ |
| Robert Danford | Joined about a month ago | Hamilton, Alabama | https://www.facebook.com/100012846281761/ |
| James Gabriel Porter | Joined about a month ago | Earle C. Clements Job Corps Academy | https://www.facebook.com/1612605495/ |
| Ben Smith | Joined about a month ago | Gravel creation expert at Flintknapping | https://www.facebook.com/100010697025314/ |
| Debz Banks | Joined about a month ago | | https://www.facebook.com/100004472262449/ |
| Irvin Le Requin | Joined about a month ago | Université de Reims-Champagne-Ardenne | https://www.facebook.com/100006141904029/ |
| Corey Mac | Joined about a month ago | supervisor at Pride Truck Wash | https://www.facebook.com/100002207654633/ |
| Conrad Bateaux | Joined about a month ago | Mongo, Chad | https://www.facebook.com/100077427860937/ |
| Jeremie Fuller | Joined about a month ago | Mechanic at Lashway Logging | https://www.facebook.com/1448662073/ |
| Anthony Woo | Joined about a month ago | | https://www.facebook.com/100009122997393/ |
| Joe Sarmento | Joined about a month ago | Bartender at Phoenix Bar & Grill | https://www.facebook.com/1834913772/ |
| Joshua Steiner | Joined about a month ago | Ranken Technical College – West | https://www.facebook.com/100004782158036/ |
| Joe DeCarlo III | Joined about a month ago | New England Culinary Institute | https://www.facebook.com/594059324/ |
| Cécile Bénard | Joined about a month ago | | https://www.facebook.com/100006647915689/ |
| Robert Aaron DeHart | Joined about a month ago | | https://www.facebook.com/1278407782/ |
| Patthew Barthall | Joined about a month ago | Works at Retard | https://www.facebook.com/100053563522397/ |
| Owain Davies | Joined about a month ago | | https://www.facebook.com/737204472/ |
| Jonny Szewczuk | Joined about a month ago | | https://www.facebook.com/100000554618005/ |
| Matthias Pruett | Joined about a month ago | | https://www.facebook.com/100000071078931/ |
| Kate Linny | Joined about a month ago | Works at Mother of cats | https://www.facebook.com/100002847892230/ |
| Lauren Jane Horton | Joined about a month ago | Burgmann Anglican School | https://www.facebook.com/100023370822357/ |
| Lourd Glenn Tabada | Joined about a month ago | Goa, Camarines Sur | https://www.facebook.com/100008725631927/ |
| Dave Andrew | Added by  on March 15, 2022 | West Palm Beach, Florida | https://www.facebook.com/100078054574786/ |
| David Adams | Joined about a month ago | Field Service Technician at Innovative Refrigeration Systems, Inc. | https://www.facebook.com/100003549100947/ |
| Aaron Horlick | Joined about a month ago | El Paso, Texas | https://www.facebook.com/100002579433394/ |
| David Morales | Joined about a month ago | | https://www.facebook.com/1483672603/ |
| Graham Bolton | Joined about a month ago | | https://www.facebook.com/100065024358723/ |
| Clayton Repetowski | Joined about a month ago | Port Orchard, Washington | https://www.facebook.com/100004590074158/ |
| Andii Royce | Joined about a month ago | | https://www.facebook.com/100056981103336/ |
| Tanner Stevens | Joined about a month ago | | https://www.facebook.com/100002448268154/ |
| Justin Robles | Joined about a month ago | | https://www.facebook.com/100001363578161/ |
| Nel Glouri | Joined about a month ago | | https://www.facebook.com/100000559521517/ |
| Danny Flores | Joined about a month ago | Boston, Massachusetts | https://www.facebook.com/1500292426/ |
| Brady Ginn | Joined about a month ago | | https://www.facebook.com/100000938503256/ |
| Raul Ciaz | Joined about a month ago | Nanaimo, British Columbia | https://www.facebook.com/100022287383898/ |
| Jennifer Elmore | Joined about a month ago | | https://www.facebook.com/501497914/ |
| Jalisa Larae Cutler | Joined about a month ago | | https://www.facebook.com/100000062142734/ |
| Frank Ma'ae | Joined about a month ago | | https://www.facebook.com/100011186495987/ |
| John Nolte | Joined about a month ago | Texas State University | https://www.facebook.com/100001080407356/ |
| Anthony Wiesner | Joined about a month ago | Saint charles community college | https://www.facebook.com/100000354482422/ |
| Sakchana Bravo Chaimanee | Joined about a month ago | San Antonio, Texas | https://www.facebook.com/100017717105342/ |
| John Harrison | Joined about a month ago | | https://www.facebook.com/1741374933/ |
| Jared Meek | Joined about a month ago | | https://www.facebook.com/100051808215440/ |
| Michael Lancenese | Joined about a month ago | | https://www.facebook.com/100000330888844/ |
| Lio Penson | Joined about a month ago | Detailer at Enthusiast Auto Group | https://www.facebook.com/100004366692489/ |
| Shawn Hockman | Joined about a month ago | | https://www.facebook.com/1802003445/ |
| Cameron Benjamin | Added by  on March 14, 2022 | Admirer of Gadaffi at R.I.P. Muammar Gadaffi: The passing of a Martyr | https://www.facebook.com/100050349467402/ |
| Evan Everhart | Joined about a month ago | Writer at Self employed | https://www.facebook.com/100001695965105/ |
| Erik Lee | Joined about a month ago | Avondale, Arizona | https://www.facebook.com/1635785743/ |
| Owen Thomas | Joined about a month ago | Northfield Senior High | https://www.facebook.com/100022896635242/ |
| Andy Shlick | Joined about a month ago | | https://www.facebook.com/100043784173869/ |
| Joe King | Joined about a month ago | | https://www.facebook.com/690147722/ |
| Cleo Evans | Joined about a month ago | | https://www.facebook.com/599112386/ |
| Brette Smith | Joined about a month ago | | https://www.facebook.com/715613875/ |
| Derek Bridges | Joined about a month ago | Inventory Clerk/General Laborer at California Air Sales | https://www.facebook.com/1343766143/ |
| Alexander Dizzy | Joined about a month ago | Butler University | https://www.facebook.com/1564140669/ |
| Tricia Steen | Joined about a month ago | | https://www.facebook.com/1207331677/ |
| Michael Werner | Joined about a month ago | | https://www.facebook.com/1042771893/ |
| Jhonn Black | Joined about a month ago | Medellín, Antioquia | https://www.facebook.com/667761478/ |
| Emily Riederer | Joined about a month ago | | https://www.facebook.com/593622333/ |
| Devlin Richberger | Joined about a month ago | Pikes Peak Community College | https://www.facebook.com/19218837/ |
| Lexey Booth | Joined about a month ago | Product Expert at TÜV SÜD America | https://www.facebook.com/81403177/ |
| Remi Karhunen | Joined about a month ago | North Bay, Ontario | https://www.facebook.com/100019681107292/ |
| Kailei Nikkole | Joined about a month ago | | https://www.facebook.com/100035624975340/ |
| Ian Richards | Joined about a month ago | Cashier at Par Mar Stores | https://www.facebook.com/100014111445040/ |
| Sian Briggs | Joined about a month ago | | https://www.facebook.com/100006477794985/ |
| Lloyd Atkinson | Joined about a month ago | | https://www.facebook.com/100000607413161/ |
| Keith A Rasmussen | Joined about a month ago | | https://www.facebook.com/1788962634/ |
| Matthew Ryan Smith | Joined about a month ago | Cook at Mizzou Athletics | https://www.facebook.com/856164836/ |
| Tyler Terrio | Joined about a month ago | | https://www.facebook.com/100002380636618/ |
| Robert Thomas | Joined about a month ago | Bridgend College | https://www.facebook.com/100006706597271/ |
| Adam Nowell | Joined about a month ago | | https://www.facebook.com/100000204415386/ |
| Sergio Morán | Joined about a month ago | University of Wisconsin–Milwaukee | https://www.facebook.com/100002315049138/ |
| Miv Misketis | Joined about a month ago | Owner and Founder at Dark Saint Tattoo Company | https://www.facebook.com/100040200968119/ |
| Mirta Mi | Joined about a month ago | | https://www.facebook.com/100004381111912/ |
| Danielle Leen | Joined about a month ago | | https://www.facebook.com/100001086595371/ |
| Zane Springall | Joined about a month ago | Works at Commonwealth Bank | https://www.facebook.com/100013401189672/ |
| Alexander Morrison | Joined about a month ago | | https://www.facebook.com/1062165644/ |
| Tanner Roy | Added by  on March 13, 2022 | Groves, Texas | https://www.facebook.com/100061309508912/ |
| Rick Potter | Added by  on March 13, 2022 | | https://www.facebook.com/100001120375448/ |
| Donny McKnight | Joined about a month ago | Columbus, Ohio | https://www.facebook.com/535750496/ |
| Eric Draper | Joined about a month ago | Taylorsville High School | https://www.facebook.com/728782998/ |
| Torianna Maguire | Joined about a month ago | | https://www.facebook.com/100009925742845/ |
| Rob Hall | Joined about a month ago | Fitness and Nutrition Coach at Mobile Muscle | https://www.facebook.com/100000196269074/ |
| Abdo A. Anwar | Joined about a month ago | Faculty of commerce & business administration-english sectio… | https://www.facebook.com/100009765614499/ |
| Hubert Lemański | Joined about a month ago | | https://www.facebook.com/100038239974053/ |
| Martin Elsen | Joined about a month ago | | https://www.facebook.com/786759324/ |
| Mckenzie Ayre | Joined about a month ago | bede academy blyth | https://www.facebook.com/100011753741834/ |
| T.j. Martin | Joined about a month ago | Gwinn High School | https://www.facebook.com/100000410500604/ |
| Lee-Anne Beckley | Joined about a month ago | | https://www.facebook.com/1268359563/ |
| Ashley Smith | Joined about a month ago | Works at RedRock Tech | https://www.facebook.com/100075585487043/ |
| Jay Bee | Joined about a month ago | Clarksville, Tennessee | https://www.facebook.com/100056877480362/ |
| Ryley Carnie | Joined about a month ago | | https://www.facebook.com/100033533764896/ |
| Jarrett Adams | Joined about a month ago | Plano High School | https://www.facebook.com/100022107849382/ |
| Angelo Pérez Camassi | Joined about a month ago | | https://www.facebook.com/100001038958495/ |
| Subhrajyoti Das | Joined about a month ago | Executive Director at Sniffing panties | https://www.facebook.com/100013987182439/ |
| Nguyễn Trần Thanh Khang | Joined about a month ago | Student Dean at THCS Chu Văn An | https://www.facebook.com/100009236166787/ |
| Emily Lang | Joined about a month ago | | https://www.facebook.com/100002488530134/ |
| Mukens Renfort | Joined about a month ago | Harvard University | https://www.facebook.com/100002354308159/ |
| Brian Man | Joined about a month ago | | https://www.facebook.com/619477231/ |
| Shane Washington | Joined about a month ago | Auto Mechanic Apprentice at Quintana Auto & Diesel Repair | https://www.facebook.com/100031330753058/ |
| AH M AD | Joined about a month ago | Wuppertal, Germany | https://www.facebook.com/100068919592388/ |
| Marcos Morales | Joined about a month ago | | https://www.facebook.com/100011364067953/ |
| Alli Banks | Joined about a month ago | Southern Illinois University Carbondale | https://www.facebook.com/100011112962487/ |
| Doug Eckert | Joined about a month ago | | https://www.facebook.com/100001680916363/ |
| Xela Fendrazen | Joined about a month ago | HBIC at Umbrella Corporation | https://www.facebook.com/100000401462528/ |
| Johnny Huffman | Joined about a month ago | | https://www.facebook.com/100007127658568/ |
| Alen Duarte | Joined about a month ago | | https://www.facebook.com/100035645882092/ |
| Tyler Hudgens | Joined about a month ago | Desktop Configuration Specialist at Baylor University | https://www.facebook.com/100009772179549/ |
| Brandon Rikard | Joined about a month ago | | https://www.facebook.com/1290387941/ |
| Brenda Tembo | Joined about a month ago | Works at 10'eren | https://www.facebook.com/100077759286234/ |
| Pierre Neveu | Joined about a month ago | | https://www.facebook.com/100004097014773/ |
| Daniel Moore | Joined about a month ago | | https://www.facebook.com/100024746362891/ |
| Tom Blears | Joined about a month ago | Kingston upon Hull | https://www.facebook.com/1046825619/ |
| Alyssa Gudgell | Joined about a month ago | | https://www.facebook.com/100007388437398/ |
| Layla Faith Cisco | Joined about a month ago | Northland Pioneer College | https://www.facebook.com/100000053676437/ |
| Scott Kay | Joined about a month ago | Works at Pimpin Ho's | https://www.facebook.com/1498020128/ |
| John Kolka | Joined about a month ago | Listener at Dark Brotherhood | https://www.facebook.com/1482734820/ |
| Kalianne Cervantes | Joined about a month ago | | https://www.facebook.com/100042100008160/ |
| Ann Jennings | Joined about a month ago | | https://www.facebook.com/100022475074398/ |
| Matheus Vieira | Joined about a month ago | | https://www.facebook.com/100005538105048/ |
| Ben Bucci | Joined about a month ago | | https://www.facebook.com/100001567393208/ |
| Sofia Laham | Joined about a month ago | New York, New York | https://www.facebook.com/100000242146181/ |
| Eric Donch | Joined about a month ago | | https://www.facebook.com/1622752810/ |
| John Redcorn | Joined about a month ago | | https://www.facebook.com/100024675632014/ |
| Tyler Bedard | Joined about a month ago | | https://www.facebook.com/100000313225263/ |
| Jeramy Locke | Joined about a month ago | | https://www.facebook.com/754312517/ |
| Anthony Marciante | Joined about a month ago | Vocalist at 𝐿𝐼𝐹𝐸 // 𝐿𝒪𝒮𝒯 | https://www.facebook.com/100011121345692/ |
| Alin Victor Bobe | Joined about a month ago | Universitatea din Bucuresti | https://www.facebook.com/1500305715/ |
| Joey Emme | Joined about a month ago | | https://www.facebook.com/530201610/ |
| Ishan Singh Minhas | Joined about a month ago | | https://www.facebook.com/1219018481/ |
| Benjamin Haworth | Joined about a month ago | Musician at Vough | https://www.facebook.com/100024134229033/ |
| Jamie Duncan | Joined about a month ago | Works at Oh Sew Creative | https://www.facebook.com/100011144672697/ |
| Калоян Коларов | Joined about a month ago | Works at Lufthansa Technik Sofia | https://www.facebook.com/100001688841010/ |
| Kim Harmon | Joined about a month ago | Works at RedRock Tech | https://www.facebook.com/100000776764281/ |
| Tim Grady | Joined about a month ago | | https://www.facebook.com/1023404447/ |
| Rowan Pritchard | Joined about a month ago | | https://www.facebook.com/100027624679371/ |
| Rose Stanton | Joined about a month ago | | https://www.facebook.com/100025494425637/ |
| Senka Kračković | Joined about a month ago | Hokage at Naruto Shippuden | https://www.facebook.com/100004729056466/ |
| Jacob M Sandobal | Joined about a month ago | Central Texas College | https://www.facebook.com/100003243517485/ |
| Jamison Todd Simpson | Joined about a month ago | Smyrna High School | https://www.facebook.com/100002271893681/ |
| Daniel Cruz | Joined about a month ago | | https://www.facebook.com/100078418164385/ |
| AJ Affay Devine | Joined about a month ago | Truck Driver at Werner Enterprises, Inc. | https://www.facebook.com/100007936474721/ |
| Lindsay Avant | Joined about a month ago | | https://www.facebook.com/1007460027/ |
| Alexandria Smock | Joined about a month ago | | https://www.facebook.com/100002502996288/ |
| Maisa Carvalho Costa | Joined about a month ago | São Paulo, Brazil | https://www.facebook.com/608758051/ |
| Thomas Rapier | Joined about a month ago | Ratcliff, Arkansas | https://www.facebook.com/100067856194019/ |
| Margita Badi | Joined about a month ago | Univerzita Karlova | https://www.facebook.com/100008269204375/ |
| Merethe Lillith Olesen | Joined about a month ago | | https://www.facebook.com/100002353387339/ |
| Marielle Morran | Joined about a month ago | Tucson, Arizona | https://www.facebook.com/100000457528913/ |
| Wil McGrath | Joined about a month ago | Works at AgExpress Electronics | https://www.facebook.com/1776616499/ |
| Brent Eklund | Joined about a month ago | Muskegon, Michigan | https://www.facebook.com/1131556540/ |
| Chinky Chinky Ching-chong | Joined about a month ago | | https://www.facebook.com/100077552076179/ |
| Nick Reeves | Joined about a month ago | Apprentice Chef at Atherton International Club | https://www.facebook.com/100003740905877/ |
| Pedro Martinez | Joined about a month ago | | https://www.facebook.com/1144685980/ |
| Linda Hudson | Joined about a month ago | | https://www.facebook.com/1010666604/ |
| Rosie Shackleford | Joined about a month ago | | https://www.facebook.com/100042270882101/ |
| Brandon Brown | Joined about a month ago | Monroe, Washington | https://www.facebook.com/1029634696/ |
| Mike Reutter | Joined about a month ago | Denver, Colorado | https://www.facebook.com/100020230803973/ |
| Chrissy Schoch | Joined about a month ago | | https://www.facebook.com/1065117716/ |
| Ray Shields | Joined about a month ago | Works at Phoenix Bar & Grill | https://www.facebook.com/100070465474514/ |
| Myster Bungle | Joined about a month ago | | https://www.facebook.com/100060261414424/ |
| Harriet Wilder | Joined about a month ago | | https://www.facebook.com/1202408648/ |
| Wiktor Mielcarek | Joined about a month ago | Gdansk, Poland | https://www.facebook.com/100013760347596/ |
| Brycen Smith | Joined about a month ago | Meigs High School | https://www.facebook.com/100010498686420/ |
| Katrina Collins | Joined about a month ago | | https://www.facebook.com/1406821900/ |
| Jeanne Romée | Joined about a month ago | | https://www.facebook.com/100062922703591/ |
| Petrichor d'Aquitaine | Joined about a month ago | Works at Self-Employed | https://www.facebook.com/100063710447824/ |
| Alicia Marie Farmer | Joined about a month ago | Administrative Office Assistant at Prairie Island Indian Community | https://www.facebook.com/100000059252399/ |
| JD Brown | Joined about a month ago | | https://www.facebook.com/100066184010034/ |
| Jonathan Ostrander | Joined about a month ago | San Antonio, Texas | https://www.facebook.com/100064691947443/ |
| Zeth Pineda | Joined about a month ago | Owner at RatkillGaming | https://www.facebook.com/100000301332818/ |
| Mathias Kondrup | Joined about a month ago | | https://www.facebook.com/1412648570/ |
| Jar Jar O'Toole | Joined about a month ago | Works at Pissing You Off | https://www.facebook.com/100074414240627/ |
| Salma Bibi | Joined about a month ago | | https://www.facebook.com/100015811359879/ |
| Emmie Anakele | Joined about a month ago | Elyria City Schools | https://www.facebook.com/100026138681374/ |
| Gaby Jacobs | Joined about a month ago | | https://www.facebook.com/100024819041220/ |
| Charlie Miller | Joined about a month ago | | https://www.facebook.com/100078101382518/ |
| Elroux | Joined about a month ago | | https://www.facebook.com/100033834827876/ |
| Hannon Lowe | Joined about a month ago | Inman, South Carolina | https://www.facebook.com/100009262119132/ |
| Youvee Ossas | Joined about a month ago | Coburg, Oregon | https://www.facebook.com/100033730151970/ |
| Cat Tervens | Joined about a month ago | Customer Positive Experience Specialist at RedRock Tech | https://www.facebook.com/100055002922700/ |
| David Allen Jr. | Joined about a month ago | Mediapolis, Iowa | https://www.facebook.com/100014513053563/ |
| Anthony Kilbert | Joined about a month ago | Mckeesport Area Senior High School | https://www.facebook.com/100000849923110/ |
| Zach Nichols | Joined about a month ago | | https://www.facebook.com/100000077896536/ |
| Brendan Sutcliffe | Joined about a month ago | | https://www.facebook.com/100000064117145/ |
| Kristine Sawdon | Joined about a month ago | Works at Phoenix Bar & Grill | https://www.facebook.com/100078799002494/ |
| Joseph Castro | Joined about a month ago | Toronto, Ontario | https://www.facebook.com/100000414809291/ |
| Tony Salcedo | Joined about a month ago | | https://www.facebook.com/100011005023655/ |
| Kalob Steele | Joined about a month ago | Erie, Pennsylvania | https://www.facebook.com/1395963497/ |
| Rex ThainasOrace | Joined about a month ago | Miami, Florida | https://www.facebook.com/100006480006548/ |
| Jay Obie | Joined about a month ago | Janitorial Maintenance Worker at Harvard University | https://www.facebook.com/100017799732757/ |
| Justin Oliver | Joined about a month ago | | https://www.facebook.com/8336531/ |
| Robert Rivera | Joined about a month ago | Works at The Krusty Krab | https://www.facebook.com/100072218373600/ |
| Carmen Castillo | Joined about a month ago | | https://www.facebook.com/100000779297081/ |
| Seth Goff | Joined about a month ago | Birdville High School | https://www.facebook.com/100047233239779/ |
| Blythe Rodgers | Joined about a month ago | | https://www.facebook.com/629800307/ |
| Ted Rea Jr. | Joined about a month ago | | https://www.facebook.com/763875174/ |
| Hamish Dow | Joined about a month ago | | https://www.facebook.com/100002112265686/ |
| John Salem | Joined about a month ago | El Paso, Texas | https://www.facebook.com/100010574649106/ |
| Chase Bradstreet | Joined about a month ago | University of Mississippi School of Law | https://www.facebook.com/1005120276/ |
| Melissa Meyer | Joined about a month ago | | https://www.facebook.com/100001105645378/ |
| Nick Thorne | Joined about a month ago | | https://www.facebook.com/100010347485021/ |
| Aaron Grindle | Joined about a month ago | | https://www.facebook.com/100001498705646/ |
| Matt Lewis | Joined about a month ago | | https://www.facebook.com/505673566/ |
| Eve Bannister | Joined about a month ago | | https://www.facebook.com/100025357755350/ |
| Yiannis Ilias Deliannis | Added by  on March 13, 2022 | San Clemente High | https://www.facebook.com/688200983/ |
| Adam Ryan | Joined about a month ago | | https://www.facebook.com/1060633326/ |
| Kamden Dressler | Joined about a month ago | | https://www.facebook.com/100005064423556/ |
| Tyler Erpenbeck | Joined about a month ago | | https://www.facebook.com/1203090028/ |
| Dáire Ó'Nualláin | Joined about a month ago | | https://www.facebook.com/100001422100962/ |
| Brandon Nuxoll | Joined about a month ago | Clarkston, Washington | https://www.facebook.com/100001495652236/ |
| Alexander Tickle | Joined about a month ago | | https://www.facebook.com/834198116/ |
| Elisa Battaggia | Joined about a month ago | Vittorio Veneto | https://www.facebook.com/100005182898606/ |
| Melinda Sue | Joined about a month ago | | https://www.facebook.com/100009208697277/ |
| Keith Knight | Joined about a month ago | | https://www.facebook.com/100035700194280/ |
| Scott Joseph | Joined about a month ago | | https://www.facebook.com/100000221882417/ |
| Michael Ur | Joined about a month ago | | https://www.facebook.com/100000902004551/ |
| Satrohan Rai | Joined about a month ago | | https://www.facebook.com/515985964/ |
| Rachel Kurbee | Joined about a month ago | | https://www.facebook.com/575091123/ |
| Adam Smith | Joined about a month ago | Depot Manager – Home Delivery Network at Dunelm | https://www.facebook.com/580804514/ |
| Brisco Schaefer | Joined about a month ago | Concordia University, Nebraska | https://www.facebook.com/100003194580707/ |
| John Kapowie | Joined about a month ago | | https://www.facebook.com/505172847/ |
| Si Parke | Joined about a month ago | | https://www.facebook.com/100051693540117/ |
| David Caine Junior | Joined about a month ago | | https://www.facebook.com/100000162268764/ |
| Matt Dudley | Joined about a month ago | | https://www.facebook.com/100029405404204/ |
| Dao Dao | Joined about a month ago | | https://www.facebook.com/100000442915654/ |
| Pepper Flossie | Joined about a month ago | Ruthin | https://www.facebook.com/100013301731144/ |
| Ashley Gann | Joined about a month ago | Accounting Bookkeeper at CG&J | https://www.facebook.com/1357816324/ |
| Jeff Nathan | Joined about a month ago | | https://www.facebook.com/1077978998/ |
| Sarah Williams | Joined about a month ago | | https://www.facebook.com/629960564/ |
| Kal Ab | Joined about a month ago | Mekelle university | https://www.facebook.com/100019754376129/ |
| Jynifer May | Joined about a month ago | | https://www.facebook.com/100000513993484/ |
| Kayla Atkinson | Joined about a month ago | Emergency Department RN (Emergency Department Registered Nur… | https://www.facebook.com/1579579806/ |
| Stiward Mota | Joined about a month ago | Community School for Social Justice | https://www.facebook.com/100001433668937/ |
| Bart van Leeuwen | Joined about a month ago | Waalwijk | https://www.facebook.com/100006698893077/ |
| Karen Gaffney | Joined about a month ago | | https://www.facebook.com/100000132882627/ |
| Derek Klein | Joined about a month ago | | https://www.facebook.com/108001591/ |
| Jarrod Fry | Joined about a month ago | | https://www.facebook.com/100000157104398/ |
| Elizabeth May Matthews | Joined about a month ago | | https://www.facebook.com/891415640/ |
| John Johnson | Joined about a month ago | | https://www.facebook.com/100000097805579/ |
| Branden Mogg | Joined about a month ago | University of Canterbury | https://www.facebook.com/100008788984410/ |
| Michelle Nya | Joined about a month ago | Anaheim, California | https://www.facebook.com/100009266612857/ |
| Y Donchue Flunkoff | Added by  on March 13, 2022 | | https://www.facebook.com/100074355502300/ |
| Rachel Bosenterfer | Joined about a month ago | | https://www.facebook.com/100027662706535/ |
| Dana Westerburg | Joined about a month ago | Franklin Academy | https://www.facebook.com/100073785368660/ |
| Jeremy Ray | Joined about a month ago | Food Service Worker at Phoenix Bar & Grill | https://www.facebook.com/100073624962148/ |
| Olivia Cline | Joined about a month ago | | https://www.facebook.com/100017847762138/ |
| Tyler 'Hammy' Hamilton | Added by  on March 12, 2022 | Restaurant Server at Willie's Grill & Icehouse | https://www.facebook.com/1548220344/ |
| Doug Thrailkill | Joined about a month ago | Orphan Stomper at OnlyFans | https://www.facebook.com/100048313203839/ |
| Lonnie Linen | Joined about a month ago | | https://www.facebook.com/100001524305236/ |
| Zuzanna Jarecka | Joined about a month ago | | https://www.facebook.com/100023161994617/ |
| Marlene Suzuki | Joined about a month ago | | https://www.facebook.com/1143113812/ |
| Angelo F. Perfili | Joined about a month ago | | https://www.facebook.com/100066383778871/ |
| Amanda Carpenter | Added by  on March 12, 2022 | Baker College of Jackson | https://www.facebook.com/1289621821/ |
| Johnny Tenebraxis | Joined about a month ago | Pelagic Knight of Y'ha-Nthlei at Esoteric Order of Dagon | https://www.facebook.com/100002571909821/ |
| Taylor Shannon | Joined about a month ago | | https://www.facebook.com/100000222100623/ |
| Joel Blvsphemy | Joined about a month ago | | https://www.facebook.com/1584326152/ |
| Toby Anderson | Added by  on March 12, 2022 | Works at The Church of Jesus Christ of Latter-day Saints | https://www.facebook.com/100075514849325/ |
| Jules Winnfield | Joined about a month ago | Inglewood, California | https://www.facebook.com/100039150166342/ |
| Michelle Carroll | Joined about a month ago | | https://www.facebook.com/1128010449/ |
| Gorillas Centaur | Joined about a month ago | | https://www.facebook.com/100066972582348/ |
| Satyana Vijayalakshmi Singh | Joined about a month ago | Professional Vagene Inspecter at Gynecology | https://www.facebook.com/100059630357585/ |
| Andrew Wright | Joined about a month ago | | https://www.facebook.com/68126253/ |
| Dirk Strider | Joined about a month ago | Works at Saxophonist | https://www.facebook.com/100042989147254/ |
| Jared Michael Carlson | Joined about a month ago | Customer Service Representative (Customer Service Rep) at Possibilitees | https://www.facebook.com/100001555652139/ |
| Dorothy Alison Maier | Joined about a month ago | Art Institute of Philadelphia | https://www.facebook.com/100000100659988/ |
| Flavia Or | Joined about a month ago | | https://www.facebook.com/707595672/ |
| Leaha Kane | Joined about a month ago | Saint George's, Grenada | https://www.facebook.com/693351102/ |
| Keri Gee | Joined about a month ago | | https://www.facebook.com/100023905847953/ |
| Joe Lenape | Joined about a month ago | | https://www.facebook.com/100019024265471/ |
| Cynthia Montgomery | Joined about a month ago | | https://www.facebook.com/100001661648972/ |
| Jason Hawes | Joined about a month ago | Virginia Commonwealth University | https://www.facebook.com/565175160/ |
| Kyle Veigel | Joined about a month ago | University of Phoenix | https://www.facebook.com/1334021216/ |
| Boston George II | Joined about a month ago | St. Clair Shores, Michigan | https://www.facebook.com/100050705672524/ |
| Manda Mussolini | Joined about a month ago | Works at Professional larper | https://www.facebook.com/100070831624575/ |
| Olivia McCute | Joined about a month ago | Chicago, Illinois | https://www.facebook.com/1805202068/ |
| Alan Hembree | Joined about a month ago | Decatur, Michigan | https://www.facebook.com/1272061402/ |
| Bradley Kirk | Joined about a month ago | | https://www.facebook.com/100019339724371/ |
| Thomas Wilharms | Joined about a month ago | Works at Al Dix concrete | https://www.facebook.com/100000637448611/ |
| Frankie Girvan | Joined about a month ago | | https://www.facebook.com/1510495644/ |
| Jon Livesey | Joined about a month ago | | https://www.facebook.com/525036814/ |
| Greg Cox | Joined about a month ago | | https://www.facebook.com/505232593/ |
| Nick Kaz | Joined about a month ago | | https://www.facebook.com/100002644355737/ |
| Phillip Mays | Joined about a month ago | Houston, Texas | https://www.facebook.com/100000167628000/ |
| Em Leah | Joined about a month ago | | https://www.facebook.com/100005562437990/ |
| Matt Nobles | Joined about a month ago | Houston, Texas | https://www.facebook.com/100005142600999/ |
| Samantha Cook Browning | Joined about a month ago | Waverly, Virginia | https://www.facebook.com/1452713487/ |
| Shawn Terrill | Joined about a month ago | | https://www.facebook.com/100001247861838/ |
| Sỹ Khang | Joined about a month ago | Long Khanh | https://www.facebook.com/100074791508465/ |
| Spencer Clark | Joined about a month ago | ABH at Navy | https://www.facebook.com/100007704515607/ |
| Gab Salad | Joined about a month ago | | https://www.facebook.com/100033587753584/ |
| Coty Greenwell | Joined about a month ago | Butler, Tennessee | https://www.facebook.com/1057834101/ |
| Kevin Sloan | Joined about a month ago | | https://www.facebook.com/630901308/ |
| Rifda Salsabil | Joined about a month ago | Artist and Author at Rhienla Strongless | https://www.facebook.com/100011443616854/ |
| Corey Albert McCurdy | Joined about a month ago | OSU Institute of Technology | https://www.facebook.com/518428246/ |
| Ronald J Kurkowski Jr. | Joined about a month ago | Wyoming, Pennsylvania | https://www.facebook.com/100021950733119/ |
| Jamie Nieto Jr. | Joined about a month ago | Leipsic High School | https://www.facebook.com/100002005616435/ |
| Nathaniel Lincoln | Joined about a month ago | Rome, Georgia | https://www.facebook.com/100076347331898/ |
| David Bejbl | Joined about a month ago | VOŠMOA – Vyšší odborná škola mezinárodního obchodu a… | https://www.facebook.com/100012309630314/ |
| Josh Nelson | Joined about a month ago | Guitarist at Hollow Construct | https://www.facebook.com/100006681408635/ |
| Karen Fitzgibbon | Joined about a month ago | USC: University of the Sunshine Coast, Australia | https://www.facebook.com/100053622364370/ |
| Daniel Brizuela | Joined about a month ago | | https://www.facebook.com/100004929880753/ |
| Aron Von Tatoe | Joined about a month ago | Waco, Texas | https://www.facebook.com/100006747544945/ |
| Zoë Ann | Joined about a month ago | | https://www.facebook.com/100002902075102/ |
| Kyle Brien | Joined about a month ago | Bellingham, Massachusetts | https://www.facebook.com/100000114892666/ |
| Deon Jooste | Joined about a month ago | Oslo, Norway | https://www.facebook.com/501216002/ |
| Illoh Eiram | Joined about a month ago | | https://www.facebook.com/100068596882398/ |
| Matthew Eric Ives | Joined about a month ago | | https://www.facebook.com/100012372701680/ |
| Jelena Majstorović | Joined about a month ago | | https://www.facebook.com/100011696501024/ |
| Shane J Anderson | Joined about a month ago | | https://www.facebook.com/100003231387124/ |
| Zachary Cowperthwaite | Joined about a month ago | Works at A.J. Blosenski Inc. | https://www.facebook.com/100014849791008/ |
| Mehran J. Marashian Jr. | Joined about a month ago | Pittsburgh, Pennsylvania | https://www.facebook.com/1686724157/ |
| Jordan Hopkins | Joined about a month ago | Diesel Mechanic at Gold Fields Australia | https://www.facebook.com/100007169710688/ |
| Johnny Guittar | Joined about a month ago | Works at BDMS Wellness Clinic | https://www.facebook.com/100078032630108/ |
| Robin Danz | Joined about a month ago | Works at Computer Science and Engineering | https://www.facebook.com/100030410948045/ |
| James Johnson | Joined about a month ago | Western Washington University | https://www.facebook.com/100002155607909/ |
| Ralph Jefferson | Joined about a month ago | | https://www.facebook.com/100003316155348/ |
| James Delaney | Joined about a month ago | | https://www.facebook.com/100031288471799/ |
| Tiffany Ryan | Joined about a month ago | New Bern, North Carolina | https://www.facebook.com/100052182949312/ |
| Sidorencu Mihnea | Joined about a month ago | | https://www.facebook.com/100010265671998/ |
| Rauldoplh Hattler | Joined about a month ago | Montreal, Quebec | https://www.facebook.com/100075767762203/ |
| Richi Gonzales | Joined about a month ago | Døpe Slanga/Fuck Høez at Westside | https://www.facebook.com/100012495109137/ |
| George Gilbert Good | Joined about a month ago | University of Houston | https://www.facebook.com/100005178912658/ |
| Laird Ray Walters JR. | Joined about a month ago | | https://www.facebook.com/696181568/ |
| James Crockett | Joined about a month ago | Bartender at Phoenix Bar & Grill | https://www.facebook.com/100003177412621/ |
| Dániel Juhász | Joined about a month ago | | https://www.facebook.com/100010528122002/ |
| Tori Benndorf | Joined about a month ago | | https://www.facebook.com/100003247568841/ |
| Tom Purss | Joined about a month ago | Wodonga, Victoria | https://www.facebook.com/1319027780/ |
| Sara Ery | Joined about a month ago | | https://www.facebook.com/100007379411253/ |
| Ethan Gardner | Joined about a month ago | WPHS | https://www.facebook.com/100005475462009/ |
| Edwin Ortega | Joined about a month ago | | https://www.facebook.com/100001588022486/ |
| Steven James | Joined about a month ago | | https://www.facebook.com/100000332674735/ |
| Kata Bak | Joined about a month ago | ELTE Bölcsészettudományi Kar | https://www.facebook.com/100000516332316/ |
| Bussy Magnet | Joined about a month ago | Breaker of Bucks at Sneed's Feed & Seed (Formerly Chuck's) | https://www.facebook.com/100067921694910/ |
| Eileen Evelyn | Joined about a month ago | | https://www.facebook.com/100007430829949/ |
| Ash Scott | Joined about a month ago | Assistant Manager – Finance & Accounts at Phoenix Bar & Grill | https://www.facebook.com/100072043465729/ |
| Reece Shookz | Joined about a month ago | RAPPER,PRODUCER at HOW MANY DEEP | https://www.facebook.com/100009954163724/ |
| Carl Solley | Joined about a month ago | Works at Social Media Influencer and Internet Personality | https://www.facebook.com/100018028234991/ |
| Jurek Skoczylas | Joined about a month ago | | https://www.facebook.com/100000319117902/ |
| Elle Ness | Joined about a month ago | | https://www.facebook.com/100053338835008/ |
| Cody Madison | Joined about a month ago | Knightstown, Indiana | https://www.facebook.com/100001686128335/ |
| CynSae Chanel | Joined about a month ago | | https://www.facebook.com/100025726248355/ |
| Bobby Antony Needham | Joined about a month ago | | https://www.facebook.com/100029601801249/ |
| Jessica Garippo | Joined about a month ago | | https://www.facebook.com/1370754681/ |
| Magellan Cupedro | Joined about a month ago | | https://www.facebook.com/100006982717820/ |
| Isaac Evergreen | Joined about a month ago | West Branch, Michigan | https://www.facebook.com/100046635013341/ |
| Benjamin Horne | Joined about a month ago | Works at Mount Vernon Farm Market | https://www.facebook.com/100003604493203/ |
| Mike Ahern | Joined about a month ago | Waterboro, Maine | https://www.facebook.com/100009511244178/ |
| Anthony Smith | Joined about a month ago | Teesside University | https://www.facebook.com/1271209268/ |
| Veronica Ficarra | Joined about a month ago | | https://www.facebook.com/100008059723487/ |
| Christian Blaine Seaborn | Joined about a month ago | Chattanooga, Tennessee | https://www.facebook.com/100006080142588/ |
| Skylar Wilson | Joined about a month ago | | https://www.facebook.com/100000418858445/ |
| Dániel Frost Simon | Joined about a month ago | System Administrator at Online It Consulting Kft. / Infoservices | https://www.facebook.com/1065069044/ |
| Nick Meeder | Joined about a month ago | | https://www.facebook.com/100004017231180/ |
| Ingrid May | Joined about a month ago | FCLAR – Faculdade de Ciências e Letras da Unesp Araraquara | https://www.facebook.com/100000401123985/ |
| John Kelty | Joined about a month ago | South Lyon, Michigan | https://www.facebook.com/1076452241/ |
| Anna-Kate Howell | Joined about a month ago | Belmont, North Carolina | https://www.facebook.com/727285337/ |
| Emily Seeberger | Joined about a month ago | Cambridge, Maryland | https://www.facebook.com/100000596685868/ |
| Andrew Dimitropoulos | Joined about a month ago | | https://www.facebook.com/100000412096688/ |
| Brandon Baker | Joined about a month ago | | https://www.facebook.com/25813572/ |
| Chris Laker | Joined about a month ago | Safety Inspector at Springfield Nuclear Power Plant | https://www.facebook.com/708069114/ |
| Yusha Ibn Stifin Alt | Joined about a month ago | Works at The Krusty Krab | https://www.facebook.com/100035851204320/ |
| Thier Petersen | Joined about a month ago | | https://www.facebook.com/100057395447639/ |
| Nick Kost | Joined about a month ago | Loan Officer at Homestead Financial Mortgage – Kansas City | https://www.facebook.com/100014656058347/ |
| Wyatt Frye | Joined about a month ago | | https://www.facebook.com/620259230/ |
| Adonis Deliannis | Added by  on March 12, 2022 | Chief Executive Officer (CEO) & Founder at Adonis's Tech Repairs | https://www.facebook.com/565075765/ |
| Nathan Dickson | Joined about a month ago | | https://www.facebook.com/100000254713221/ |
| Sydney Andrews | Joined about a month ago | | https://www.facebook.com/100003472875322/ |
| Michael Harrell | Joined about a month ago | | https://www.facebook.com/1276835930/ |
| Devin Mikel Howard | Joined about a month ago | Bucyrus, Ohio | https://www.facebook.com/100034134763274/ |
| Evan Etzweiler | Joined about a month ago | | https://www.facebook.com/100007946563836/ |
| Joseph Lentz | Joined about a month ago | Carl Albert State College | https://www.facebook.com/100015838391879/ |
| Corinthian L Roman | Added by  on March 12, 2022 | | https://www.facebook.com/100008253128887/ |
| Daniel Boldy | Joined about a month ago | | https://www.facebook.com/100007099484495/ |
| Bill Schneider | Joined about a month ago | | https://www.facebook.com/670556636/ |
| Tommy Zielinski | Joined about a month ago | | https://www.facebook.com/100000986121529/ |
| Samuel Stevens | Joined about a month ago | Works at Phoenix Bar & Grill | https://www.facebook.com/1344840063/ |
| John Smith | Joined about a month ago | Works at Phoenix Bar & Grill | https://www.facebook.com/100076783697032/ |
| Henry Goodbread | Joined about a month ago | Florida State College at Jacksonville | https://www.facebook.com/100008073734006/ |
| Andres Castaño | Joined about a month ago | Sales/Customer/Tech/Chat Support at Accedo Cali | https://www.facebook.com/100000353942769/ |
| Rob San Mig | Joined about a month ago | | https://www.facebook.com/100066528743001/ |
| Gerardo Amaro | Joined about a month ago | | https://www.facebook.com/100033236843551/ |
| Gibson Kelley | Joined about a month ago | Lancaster, Pennsylvania | https://www.facebook.com/100005930012127/ |
| Jon Allen | Joined about a month ago | | https://www.facebook.com/100001386267552/ |
| Troy Patton | Joined about a month ago | | https://www.facebook.com/774991799/ |
| Luke Sorro | Joined about a month ago | Western Michigan University | https://www.facebook.com/1552124524/ |
| Dylan Douthett | Joined about a month ago | | https://www.facebook.com/100000458055794/ |
| Josh Chapman | Joined about a month ago | Patna, India | https://www.facebook.com/100022933384139/ |
| Ki Kehater | Joined about a month ago | Journeyman Carpenter at Blitzkrieg building | https://www.facebook.com/100076387277234/ |
| Laven Der | Joined about a month ago | | https://www.facebook.com/100067523687842/ |
| Amy Hope | Joined about a month ago | | https://www.facebook.com/506342434/ |
| Flynn Fletcher Sam | Joined about a month ago | | https://www.facebook.com/100011417721163/ |
| Stephanie Adkins Obernier | Joined about a month ago | Galen College of Nursing | https://www.facebook.com/1025177380/ |
| Ágoston Kiss | Joined about a month ago | Semmelweis University, Faculty of Dentistry | https://www.facebook.com/100005747382136/ |
| Mary Skinner | Joined about a month ago | Columbia, South Carolina | https://www.facebook.com/100008444736797/ |
| Ayee Doogs | Joined about a month ago | Amsterdam, New York | https://www.facebook.com/100011714805950/ |
| Kiki Valentine | Joined about a month ago | | https://www.facebook.com/505031665/ |
| Terry DH | Joined about a month ago | Montgomery, Alabama | https://www.facebook.com/100010685539170/ |
| Raymond Van Loon | Joined about a month ago | Medical Screener at Adventist Health | https://www.facebook.com/562319423/ |
| Joel Stack | Joined about a month ago | Spokane, Washington | https://www.facebook.com/100008176062741/ |
| Josh Howlett | Joined about a month ago | Bishop Luffa Sixth Form | https://www.facebook.com/100006099544568/ |
| Oak McCulloch | Joined about a month ago | West Point – The U.S. Military Academy | https://www.facebook.com/1572240038/ |
| Felix M Lewis | Joined about a month ago | Birmingham, United Kingdom | https://www.facebook.com/100012576584272/ |
| Joshua Nibe | Joined about a month ago | | https://www.facebook.com/100004443480260/ |
| Melody Kemal | Joined about a month ago | Warehouse Ninja at Bünting Tee Nortmoor | https://www.facebook.com/530450444/ |
| Wesley Wezzipooh Smith | Joined about a month ago | | https://www.facebook.com/506633848/ |
| Sterling Stodola | Joined about a month ago | | https://www.facebook.com/100004252980974/ |
| Ulises Woodward | Joined about a month ago | Fresno, California | https://www.facebook.com/100002212188663/ |
| Amber Finstad | Joined about a month ago | | https://www.facebook.com/593730914/ |
| Brandon Dutton | Joined about a month ago | | https://www.facebook.com/100003838243416/ |
| Cameron Grossart | Joined about a month ago | | https://www.facebook.com/100000266896386/ |
| Amber Parson Morton | Joined about a month ago | New Bern, North Carolina | https://www.facebook.com/1361897110/ |
| Gert B. Frobe | Joined about a month ago | Tacoma, Washington | https://www.facebook.com/100047602831300/ |
| Alex Radu | Joined about a month ago | Balassi Intézet | https://www.facebook.com/100011064014872/ |
| Mason Desjardins | Joined about a month ago | Tire and Lube tech at Midas Tire & Auto | https://www.facebook.com/100001021960782/ |
| Greg Hicks | Joined about a month ago | Automotive technician at MC AUTO REPAIR | https://www.facebook.com/1476522751/ |
| Daniel Swick | Joined about a month ago | CDL Driver at Ben E. Keith Beverages | https://www.facebook.com/100000310354525/ |
| Krystine Kwon | Joined about a month ago | Works at KQ ENTERTAINMENT | https://www.facebook.com/100003387331964/ |
| Jesse Greenip | Joined about a month ago | | https://www.facebook.com/1291456844/ |
| Stacey Jo | Joined about a month ago | | https://www.facebook.com/727352478/ |
| Daniel Dykstra | Joined about a month ago | Tire Technician at Earl's Tire Pro's | https://www.facebook.com/100020809920444/ |
| Brandon T. Clem | Joined about a month ago | Purdue University Global | https://www.facebook.com/100000053560320/ |
| Franz Glutteonzky | Joined about a month ago | Filet specialist at Franz House of 100000 Corpses | https://www.facebook.com/100078427881767/ |
| Josiah Duncan | Joined about a month ago | | https://www.facebook.com/100005811363175/ |
| Jartard O'Toole | Joined about a month ago | Works at Pissing You Off | https://www.facebook.com/100076273068869/ |
| Morton Marley | Joined about a month ago | | https://www.facebook.com/100001985325385/ |
| Geraint Jones | Joined about a month ago | | https://www.facebook.com/100000809584511/ |
| Tabetha Wilemon | Joined about a month ago | Works at Deer Creek | https://www.facebook.com/1261055706/ |
| Taylor Fontaine | Joined about a month ago | Winnipeg, Manitoba | https://www.facebook.com/100011471050578/ |
| Richard Moles | Joined about a month ago | | https://www.facebook.com/100000953238157/ |
| Eduardo Peinado | Joined about a month ago | Director at Crónica y testimonio después de la muerte | https://www.facebook.com/100017840954446/ |
| Cody Wilkins | Joined about a month ago | | https://www.facebook.com/1507124558/ |
| Ty Cannon | Joined about a month ago | | https://www.facebook.com/100002733200806/ |
| Nathan Goforth | Joined about a month ago | | https://www.facebook.com/100003241159652/ |
| Harry Guthrie-smith | Joined about a month ago | Leighton Buzzard | https://www.facebook.com/100005821591965/ |
| William Jefferies | Joined about a month ago | | https://www.facebook.com/100049817167348/ |
| Corey Chestnut | Joined about a month ago | | https://www.facebook.com/100000043263327/ |
| Taylor Kruchten | Joined about a month ago | | https://www.facebook.com/1315495466/ |
| Nicole Koehler | Joined about a month ago | Missouri College | https://www.facebook.com/1188693348/ |
| Charles Amos | Added by  on March 12, 2022 | | https://www.facebook.com/1847611039/ |
| Collin Riley | Joined about a month ago | Corporal at U.S. Marine Corps | https://www.facebook.com/100005918563279/ |
| Jimmy Lsr | Joined about a month ago | The University of Texas at Dallas | https://www.facebook.com/100000689105968/ |
| Stephanie Grant | Joined about a month ago | Farmingdale, Maine | https://www.facebook.com/1523917750/ |
| Gary D'Alonzo Jr. | Joined about a month ago | Works at Amazon Whole Foods | https://www.facebook.com/1352164091/ |
| Cilbert Graig | Joined about a month ago | | https://www.facebook.com/100072439481104/ |
| Javan Starkey | Joined about a month ago | Journeyman Lineman at IBEW | https://www.facebook.com/1577287651/ |
| Jules Jade | Joined about a month ago | Inbound Customer Service Representative at Domino's Pizza Winkler | https://www.facebook.com/100051921680616/ |
| Charles M Burns | Joined about a month ago | | https://www.facebook.com/100036519353088/ |
| Brady Fisher | Joined about a month ago | Silsbee High School | https://www.facebook.com/100006888433733/ |
| Sam Klocko | Joined about a month ago | | https://www.facebook.com/100002506901763/ |
| Nick Elsner | Joined about a month ago | Cincinnati | https://www.facebook.com/1385949269/ |
| Daniel Hristov | Joined about a month ago | University of Greenwich | https://www.facebook.com/100001691259748/ |
| Dakota Carlson | Joined about a month ago | Salem, Oregon | https://www.facebook.com/100031212460134/ |
| Phillip Arthur | Joined about a month ago | Electrical Engineer at Seren Ips | https://www.facebook.com/100002219719309/ |
| Colt Barajas | Joined about a month ago | Denison, Texas | https://www.facebook.com/100002336173987/ |
| Nathan Chiamp | Joined about a month ago | | https://www.facebook.com/100032624859223/ |
| Jordan Gates | Joined about a month ago | Crew Member at Little Caesars | https://www.facebook.com/100002637427731/ |
| Joe Curtis | Joined about a month ago | Seattle, Washington | https://www.facebook.com/100024433932633/ |
| Alex Duarte | Joined about a month ago | Custodian at Your Mom's House | https://www.facebook.com/695869899/ |
| Christian Harper | Joined about a month ago | Coastal Carolina University | https://www.facebook.com/1755661879/ |
| Aycee Onetirty | Joined about a month ago | | https://www.facebook.com/100021832980767/ |
| Wayne M. Wisner | Joined about a month ago | California Connections Academy Schools | https://www.facebook.com/100003613141641/ |
| Eòghann Reid | Joined about a month ago | El Paso, Arkansas | https://www.facebook.com/100063531131981/ |
| Nicolas Brosens | Joined about a month ago | | https://www.facebook.com/712147443/ |
| Ilan AB | Joined about a month ago | | https://www.facebook.com/100004899332952/ |
| Conor Ethan | Joined about a month ago | Appleby Grammar School | https://www.facebook.com/100031119014558/ |
| Jacques Lenscherr | Joined about a month ago | | https://www.facebook.com/100003376816314/ |
| Kaj Reubsaet | Joined about a month ago | | https://www.facebook.com/100003691861991/ |
| Kristi Jennings | Joined about a month ago | | https://www.facebook.com/100001749638198/ |
| Erika Almeida | Joined about a month ago | | https://www.facebook.com/1198146138/ |
| Asa Corwin | Joined about a month ago | Waldo J. Wood Memorial Jr/Sr High School | https://www.facebook.com/100009465055687/ |
| Grzegorz Szymocha | Joined about a month ago | Kierowca międzynarodowy at DTD sp zoo | https://www.facebook.com/100003621612259/ |
| Mara Murphy | Joined about a month ago | | https://www.facebook.com/520387738/ |
| Edward Eugenio | Joined about a month ago | San Jose, California | https://www.facebook.com/100001720725864/ |
| Мохаммед Моад Мифдал | Joined about a month ago | Université Chouaib Doukkali | https://www.facebook.com/100003494034131/ |
| Asha Bays | Joined about a month ago | | https://www.facebook.com/1477788579/ |
| Mike Blaze Gagliardi | Joined about a month ago | | https://www.facebook.com/509686116/ |
| Joseph Kerr | Joined about a month ago | Mineola, New York | https://www.facebook.com/1033719641/ |
| Emily Ann | Joined about a month ago | | https://www.facebook.com/100026739605441/ |
| Brian James Jones | Joined about a month ago | | https://www.facebook.com/100011234826120/ |
| Bartek Szydło | Joined about a month ago | Wietrzno | https://www.facebook.com/100035273372552/ |
| Rachel Way | Joined about a month ago | Dallas, Texas | https://www.facebook.com/100000230220938/ |
| Matthew Minton | Joined about a month ago | | https://www.facebook.com/100075465764677/ |
| Tiffanie Tibbitts | Joined about a month ago | Dreamer of Dreams at 12 Poets | https://www.facebook.com/778228966/ |
| Marcos Rian | Joined about a month ago | | https://www.facebook.com/100014556428562/ |
| Julia Faeller | Joined about a month ago | Wanne-Eickel, Nordrhein-Westfalen, Germany | https://www.facebook.com/1517050623/ |
| Saurabh Chaudhary | Joined about a month ago | Sri Sankara Vidyalaya | https://www.facebook.com/100001811908794/ |
| Lane Boatright | Joined about a month ago | | https://www.facebook.com/100054701949623/ |
| Sarah Wilson | Joined about a month ago | Fargo, North Dakota | https://www.facebook.com/529441181/ |
| David Michael | Joined about a month ago | Huntington, West Virginia | https://www.facebook.com/100001357411065/ |
| Jan Vierthaler | Joined about a month ago | | https://www.facebook.com/100001939231532/ |
| Richard Wiernek | Joined about a month ago | Chattahoochee High School | https://www.facebook.com/100031332571950/ |
| Holly Fraser | Joined about a month ago | | https://www.facebook.com/522380896/ |
| Momo Skerrett | Joined about a month ago | | https://www.facebook.com/100006430581746/ |
| Phil Meredith | Joined about a month ago | | https://www.facebook.com/100000998807608/ |
| Rey Hndz | Joined about a month ago | Works at The Krusty Krab | https://www.facebook.com/100054729356119/ |
| Ryan Burns | Joined about a month ago | | https://www.facebook.com/100005231679999/ |
| Frank Joseph Piccininni | Joined about a month ago | Works at The Krusty Krab | https://www.facebook.com/100003563499943/ |
| Chris Sweeney | Joined about a month ago | Works at Defenders of the Earth | https://www.facebook.com/100000555429909/ |
| Daisy Dinero | Joined about a month ago | Buda, Texas | https://www.facebook.com/100011875929789/ |
| Tony Marin | Joined about a month ago | | https://www.facebook.com/100059986400144/ |
| Rustine Megan Gescheidle | Joined about a month ago | | https://www.facebook.com/1246312787/ |
| Gustavo Fernandez Segura | Joined about a month ago | | https://www.facebook.com/100000948403943/ |
| Glenn Howell | Joined about a month ago | Raleigh, North Carolina | https://www.facebook.com/100057538502810/ |
| Jim Seng | Joined about a month ago | | https://www.facebook.com/830244871/ |
| Thomas Walsh | Joined about a month ago | Johannesburg, Gauteng | https://www.facebook.com/100000973454092/ |
| Jacob Fritz | Joined about a month ago | | https://www.facebook.com/100033960995565/ |
| Alexis Broge | Joined about a month ago | | https://www.facebook.com/100009556781077/ |
| Kristin Lilley | Joined about a month ago | | https://www.facebook.com/1606273136/ |
| Reagan Sidney | Joined about a month ago | | https://www.facebook.com/100005435946217/ |
| Caleb Finken | Joined about a month ago | Chef/Line Cook at Phoenix Bar & Grill | https://www.facebook.com/100017725900285/ |
| Daniel Hinton | Joined about a month ago | Edmond, Oklahoma | https://www.facebook.com/100000093702049/ |
| JC Conly | Joined about a month ago | | https://www.facebook.com/17208449/ |
| JR Moore | Joined about a month ago | Greater Latrobe Senior High School | https://www.facebook.com/1484192086/ |
| Sean Kirk | Joined about a month ago | Social Media Inmate at FB Concentration Camp | https://www.facebook.com/635505214/ |
| Justin Brennan | Joined about a month ago | | https://www.facebook.com/1431465710/ |
| Andrea Chand | Joined about a month ago | Ontario Tech University | https://www.facebook.com/100001276690662/ |
| Jesse Magana | Joined about a month ago | | https://www.facebook.com/100037306012079/ |
| Adam Kinsel | Joined about a month ago | Maysville Community and Technical College | https://www.facebook.com/503399310/ |
| Abbey Tarvin | Joined about a month ago | | https://www.facebook.com/1336782220/ |
| Mikaila Multari | Joined about a month ago | | https://www.facebook.com/100004096239832/ |
| Nahc Hc | Joined about a month ago | | https://www.facebook.com/100016781056756/ |
| Alexis Cromett | Joined about a month ago | Olympic College | https://www.facebook.com/100018545739675/ |
| Aintamused Cat | Joined about a month ago | | https://www.facebook.com/100053586528232/ |
| Michael Morin | Joined about a month ago | Midland, Texas | https://www.facebook.com/100000266313189/ |
| Brianna McNamara | Joined about a month ago | | https://www.facebook.com/1458919109/ |
| Mark Williams | Joined about a month ago | | https://www.facebook.com/12705838/ |
| Lauryn Brant | Joined about a month ago | | https://www.facebook.com/100008917023292/ |
| Biya Sheikh | Joined about a month ago | | https://www.facebook.com/100041049762048/ |
| Arkadios Kofidis | Joined about a month ago | | https://www.facebook.com/12636910/ |
| John Smith | Joined about a month ago | Master electrician at Self-Employed | https://www.facebook.com/100055268323980/ |
| Ben Abadie | Joined about a month ago | CEO at The Krusty Krab | https://www.facebook.com/100009713582392/ |
| Marie Bitemearse | Joined about a month ago | | https://www.facebook.com/100050773000756/ |
| Darren Johnston | Joined about a month ago | | https://www.facebook.com/100010723864028/ |
| Lydia Williamson Akers | Joined about a month ago | Morrow, Georgia | https://www.facebook.com/100000901604315/ |
| Brian Gorelik | Joined about a month ago | Cleveland, Ohio | https://www.facebook.com/1257695031/ |
| Jesse Florian | Joined about a month ago | | https://www.facebook.com/100004538430840/ |
| Bret Andrew Martin | Joined about a month ago | Silex, Missouri | https://www.facebook.com/100020344245802/ |
| Greg Spotorno | Joined about a month ago | Bovine Relocator at Dixie Trucking Company | https://www.facebook.com/100000186406402/ |
| Rodrigo Bazzi Araujo | Joined about a month ago | Advogado at Escritório de Advocacia. | https://www.facebook.com/100003102831076/ |
| Tiffany Pierce | Joined about a month ago | Mama at Pierce Residence | https://www.facebook.com/1110322747/ |
| Dylan Zeigler | Joined about a month ago | | https://www.facebook.com/100000981943067/ |
| Rebecca Dekker | Joined about a month ago | | https://www.facebook.com/100016103672926/ |
| Kyle Johnson | Joined about a month ago | Works at Fire Safety Protection Technician | https://www.facebook.com/100001382319601/ |
| Justin Michael | Joined about a month ago | | https://www.facebook.com/100045180403289/ |
| Alex Hemmings | Joined about a month ago | Southampton | https://www.facebook.com/100022727123193/ |
| Teal Leistra | Joined about a month ago | CEO at Leistra Taters Inc. | https://www.facebook.com/500465299/ |
| Sam Kaz | Joined about a month ago | | https://www.facebook.com/100005095063438/ |
| Dave Andrew | Joined about a month ago | Lawyer for Mr. Duke at Gonzo and Associates | https://www.facebook.com/806360506/ |
| Charlotte Driggers Jones | Joined about a month ago | | https://www.facebook.com/1524366886/ |
| James Patterson | Joined about a month ago | Captive at Uncle Keith's Basement | https://www.facebook.com/100069498515659/ |
| Paul Geoffrion | Joined about a month ago | Madison, Ohio | https://www.facebook.com/1265386467/ |
| Tim Roberts | Joined about a month ago | Chief human resources officer at Phoenix Bar & Grill | https://www.facebook.com/100070918602729/ |
| Bradley Loewen | Joined about a month ago | | https://www.facebook.com/100003337004050/ |
| Tyler Kelly | Joined about a month ago | University of Houston-Downtown | https://www.facebook.com/578449416/ |
| Kye Raikes | Joined about a month ago | | https://www.facebook.com/100009723405944/ |
| Tuan Whiting | Joined about a month ago | | https://www.facebook.com/100001807705355/ |
| Nevan Whitney | Joined about a month ago | Pecatonica High School | https://www.facebook.com/570525007/ |
| Mauricio Diaz-Infante Dorado | Joined about a month ago | | https://www.facebook.com/620855471/ |
| Marcin Grela | Joined about a month ago | | https://www.facebook.com/100008295800300/ |
| Jordan Wagman | Joined about a month ago | | https://www.facebook.com/100003274879485/ |
| Jessica Marie | Joined about a month ago | Ishpeming, Michigan | https://www.facebook.com/100044469546740/ |
| Larry Meehan | Joined about a month ago | Upper Darby High School | https://www.facebook.com/1084689724/ |
| Daniel Louis Hassan | Added by  on March 12, 2022 | Colchester, Essex | https://www.facebook.com/100001404000934/ |
| Maddox Goldsberry | Joined about a month ago | Franklinton, North Carolina | https://www.facebook.com/100016585098540/ |
| Brodie Bialas | Joined about a month ago | Adelaide, South Australia | https://www.facebook.com/100009482420463/ |
| Krzysztof Jałowiec | Joined about a month ago | | https://www.facebook.com/100044749741968/ |
| Andrew Harvey | Joined about a month ago | | https://www.facebook.com/100000250849229/ |
| Nicolas Smith | Joined about a month ago | | https://www.facebook.com/1041805367/ |
| Keely Gray | Joined about a month ago | Delivery Driver at DoorDash | https://www.facebook.com/100007627299915/ |
| Shamel Tasker | Added by  on March 12, 2022 | Kurri Kurri High School | https://www.facebook.com/100002233741398/ |
| Thomas Glynn | Joined about a month ago | | https://www.facebook.com/100001119316742/ |
| Rae Hille | Joined about a month ago | | https://www.facebook.com/1428483278/ |
| Onkar Singh | Joined about a month ago | | https://www.facebook.com/100003005795267/ |
| Chance Hagan | Joined about a month ago | | https://www.facebook.com/100036183131825/ |
| Hayden Wright | Joined about a month ago | Tarrant County College | https://www.facebook.com/100003295986459/ |
| Justin Harris | Joined about a month ago | | https://www.facebook.com/100002803842820/ |
| Callum White | Joined about a month ago | | https://www.facebook.com/100002029665886/ |
| Stephanie Semonite Bogatyr | Joined about a month ago | | https://www.facebook.com/26000228/ |
| Timotheus T. Firefly | Joined about a month ago | World's Largest Reese's Cup at Hershey's Chocolate World | https://www.facebook.com/100010341004532/ |
| Nikolina Zdrnja | Joined about a month ago | | https://www.facebook.com/100001510194106/ |
| Trey A. Cribb | Joined about a month ago | East Lincoln High School | https://www.facebook.com/100008924525849/ |
| Budd Wiser | Joined about a month ago | | https://www.facebook.com/100075808253609/ |
| Brittany Tripp | Joined about a month ago | | https://www.facebook.com/633694679/ |
| Rene Rego | Joined about a month ago | Founder, Director, CEO at Transpatial Entertainment | https://www.facebook.com/100057511758913/ |
| Barry McGee Jr. | Joined about a month ago | General Production Laborer at Nashville Record Pressing | https://www.facebook.com/100051601684413/ |
| Stephen Boone | Joined about a month ago | Idaho Falls, Idaho | https://www.facebook.com/1314594816/ |
| Ian Lawson | Joined about a month ago | Internet Banker at Frost | https://www.facebook.com/593493105/ |
| Blake Rose | Joined about a month ago | | https://www.facebook.com/1262409014/ |
| Archie Barber III | Joined about a month ago | Restaurant Server at Phoenix Bar & Grill | https://www.facebook.com/100045556216688/ |
| Eryk Vieira | Joined about a month ago | | https://www.facebook.com/100001696928681/ |
| Amber Murphy | Joined about a month ago | | https://www.facebook.com/604134477/ |
| Kate Archijah | Joined about a month ago | | https://www.facebook.com/100028829208696/ |
| Aubrey Palmer | Joined about a month ago | | https://www.facebook.com/100002560372240/ |
| Jacob Paul Wolfe LaMontagne | Joined about a month ago | | https://www.facebook.com/583820263/ |
| Jayden Tincknell | Joined about a month ago | Golden Grove High School | https://www.facebook.com/100000537471284/ |
| Jared Higdon | Joined about a month ago | | https://www.facebook.com/770367784/ |
| Amanda Susie Loftus | Joined about a month ago | | https://www.facebook.com/624739533/ |
| Jarred Sorauf | Joined about a month ago | | https://www.facebook.com/1050894252/ |
| Sarah Campbell | Joined about a month ago | | https://www.facebook.com/1423598344/ |
| Alex Rivas | Joined about a month ago | UNITEC Campus Ecatepec | https://www.facebook.com/1267956918/ |
| King XV | Joined about a month ago | | https://www.facebook.com/100017542595815/ |
| Maria Laqsiouar | Joined about a month ago | London, United Kingdom | https://www.facebook.com/1314797355/ |
| Mark G. Matthews | Joined about a month ago | Stevens Institute of Technology | https://www.facebook.com/100001280027588/ |
| Kitti Wright | Joined about a month ago | Emergency Critical Care Nurse at Animal Specialty & Emergency Center of Brevard | https://www.facebook.com/100000932704820/ |
| Beverly Jean Parker McClure | Joined about a month ago | Tampa, Florida | https://www.facebook.com/1599805434/ |
| Ruby Nobles | Joined about a month ago | Works at Ruby's Cleaning Services | https://www.facebook.com/100001178030454/ |
| Patrik Barabás | Joined about a month ago | | https://www.facebook.com/100048803651018/ |
| Aleksei Kozlov | Joined about a month ago | Moscow, Russia | https://www.facebook.com/100016974066609/ |
| Brandon Sosack | Joined about a month ago | | https://www.facebook.com/1539554298/ |
| Casper Mangano | Joined about a month ago | | https://www.facebook.com/1768074698/ |
| Beccah Paff | Joined about a month ago | Missouri Southern State University | https://www.facebook.com/100000114374644/ |
| Arthur SK | Joined about a month ago | Curitiba, Brazil | https://www.facebook.com/100002156648278/ |
| Austen Pitkanen | Joined about a month ago | West High | https://www.facebook.com/1611560121/ |
| שושנה ליור נתן | Joined about a month ago | Ben-Gurion University of the Negev | https://www.facebook.com/100025298645518/ |
| Fleur Cadoux | Joined about a month ago | | https://www.facebook.com/676055825/ |
| Lee Yoshi | Joined about a month ago | | https://www.facebook.com/100043953061985/ |
| Anastasia Lopez | Joined about a month ago | i didnt go to high school i went to school high | https://www.facebook.com/100014510955965/ |
| Aaron Doerner | Joined about a month ago | North Knox Jr-sr High School | https://www.facebook.com/100013666807524/ |
| Hunter Gasai | Joined about a month ago | | https://www.facebook.com/100049602918397/ |
| Skully Plantman | Joined about a month ago | Charleston, South Carolina | https://www.facebook.com/100062536717026/ |
| Nicole Renée Smith | Joined about a month ago | Transcriber at Rev | https://www.facebook.com/572502739/ |
| Jeremy Granger | Joined about a month ago | AVSS,CECI | https://www.facebook.com/514557489/ |
| Marc Strasburger | Joined about a month ago | Mercer County Community College | https://www.facebook.com/100000633282657/ |
| Emily Pedersen | Joined about a month ago | Beaumont, Alberta | https://www.facebook.com/100005737452239/ |
| Эйприл Токарева | Joined about a month ago | Works at Phoenix Bar & Grill | https://www.facebook.com/100027237529386/ |
| Randy Apellido | Joined about a month ago | Quality Control Analyst at Church of the Big Mommy Milkers | https://www.facebook.com/100056203460899/ |
| Quinten Poortvliet | Joined about a month ago | Nova College Haarlem | https://www.facebook.com/100005274364435/ |
| Layla Hitson | Joined about a month ago | Jacksonville University | https://www.facebook.com/1673126771/ |
| Josh Warner | Joined about a month ago | Jonestown, Pennsylvania | https://www.facebook.com/100000143899580/ |
| Robert David Maskell Jr. | Joined about a month ago | Kealba High School | https://www.facebook.com/100003895238510/ |
| Makima Kirstein | Joined about a month ago | 𝘒𝘶𝘳𝘰𝘰 𝘛𝘦𝘵𝘴𝘶𝘳𝘰'𝘴 𝘞𝘪𝘧𝘦 at Haikyuu – Hey Hey Hey | https://www.facebook.com/100008021014277/ |
| Ben Zuccd | Joined about a month ago | | https://www.facebook.com/100023558214142/ |
| Will Voitlein | Joined about a month ago | | https://www.facebook.com/100002676833332/ |
| Andrew Clevenger | Joined about a month ago | | https://www.facebook.com/100024100636923/ |
| Coty Hufstedler | Joined about a month ago | | https://www.facebook.com/100000447494475/ |
| Jordan Johnston | Joined about a month ago | | https://www.facebook.com/100051119232931/ |
| Das Duda | Joined about a month ago | | https://www.facebook.com/100067865257701/ |
| Noel Jorey | Joined about a month ago | Nashville, Tennessee | https://www.facebook.com/100030039247693/ |
| Lenneh Smith | Joined about a month ago | | https://www.facebook.com/100005247061720/ |
| Mizu Karo | Joined about a month ago | | https://www.facebook.com/100074124904463/ |
| Tamara Witherington | Joined about a month ago | Bartender/Waitress at Maryborough Services & Citizens' Memorial Club | https://www.facebook.com/100001079230162/ |
| Curtis Parrott | Joined about a month ago | Fort Worth, Texas | https://www.facebook.com/100000589645396/ |
| Mario Romagnoli Esposito | Joined about a month ago | Works at Shitposter ._. | https://www.facebook.com/1544652341/ |
| Gavin Galbraith | Joined about a month ago | | https://www.facebook.com/1429087802/ |
| Kate Mize | Joined about a month ago | Director of Field Operations at Bear Creek Energy | https://www.facebook.com/667319492/ |
| Giovanni Myers | Joined about a month ago | | https://www.facebook.com/100053397692195/ |
| Wendy Oliver | Joined about a month ago | Beech Bluff, Tennessee | https://www.facebook.com/100029131201008/ |
| Anna Morse | Joined about a month ago | | https://www.facebook.com/851040493/ |
| Roger Nilsson | Joined about a month ago | Music at American Society of Composers, Authors & Publishers (ASCAP) | https://www.facebook.com/538951795/ |
| November Therese | Joined about a month ago | All Around User at Mobile Legends: Bang Bang | https://www.facebook.com/100010144087077/ |
| Robert Ferguson | Joined about a month ago | | https://www.facebook.com/100002028176188/ |
| Jason Alden | Joined about a month ago | Spokane, Washington | https://www.facebook.com/1843162949/ |
| Atarg Nonanosrep | Joined about a month ago | | https://www.facebook.com/603894740/ |
| Topo Chico | Joined about a month ago | | https://www.facebook.com/1301178065/ |
| ഹോം ലാൻഡർ | Joined about a month ago | Leader at TheSeven | https://www.facebook.com/100018622594432/ |
| TJ Nathan Santillan | Joined about a month ago | | https://www.facebook.com/100003692424409/ |
| Ben Symons | Joined about a month ago | | https://www.facebook.com/583328210/ |
| Douglas Dennis | Joined about a month ago | | https://www.facebook.com/529563370/ |
| Ce Eme | Joined about a month ago | Denver, Colorado | https://www.facebook.com/1065700958/ |
| Annie Radburn | Joined about a month ago | | https://www.facebook.com/100000746003112/ |
| Jo Villahermosa | Joined about a month ago | Philippine State College of Aeronautics – M.B.E.A.B. Campus | https://www.facebook.com/100000842324314/ |
| James McDuffie | Joined about a month ago | Works at Ancient Astronaut Theorists | https://www.facebook.com/1519530068/ |
| Sage Johnson | Joined about a month ago | Pahrump Valley High School | https://www.facebook.com/100004359286269/ |
| Tyson Warfield | Joined about a month ago | | https://www.facebook.com/100031862313434/ |
| Christopher E Cattie | Joined about a month ago | Delaware Valley University | https://www.facebook.com/533192538/ |
| Mike Roof | Joined about a month ago | | https://www.facebook.com/100002776724208/ |
| Francis Faucher | Joined about a month ago | | https://www.facebook.com/100006324222032/ |
| Emmanuel Charles | Joined about a month ago | | https://www.facebook.com/100034784170974/ |
| Elle Williams | Joined about a month ago | | https://www.facebook.com/100055326707670/ |
| Matt Cowdrey | Joined about a month ago | Southern State Community College | https://www.facebook.com/100018550200394/ |
| Jim Sadowski | Joined about a month ago | | https://www.facebook.com/100002187845633/ |
| Melo Artsy | Joined about a month ago | | https://www.facebook.com/100010158317634/ |
| Amanda Merie Slagle | Joined about a month ago | | https://www.facebook.com/100008615680714/ |
| Trent Gaudry | Joined about a month ago | Works at Sino Iron Ore, Cape Preston Karratha | https://www.facebook.com/100010526101429/ |
| TC Womack | Joined about a month ago | Sommelier at Phoenix Bar & Grill | https://www.facebook.com/583243554/ |
| Rebekåh Hope | Joined about a month ago | | https://www.facebook.com/100027971689405/ |
| Darci McKeown | Joined about a month ago | | https://www.facebook.com/1090191938/ |
| James Carlson | Joined about a month ago | Works at Central West Adventist Community | https://www.facebook.com/100044445605025/ |
| Peyton Miller | Joined about a month ago | Bossier City, Louisiana | https://www.facebook.com/100015372406329/ |
| Ryne Gee | Joined about a month ago | Palo Alto College | https://www.facebook.com/100003640810502/ |
| Angel Nicole | Joined about a month ago | | https://www.facebook.com/100001898334482/ |
| Juan Garza | Joined about a month ago | Works at Avionics Technician | https://www.facebook.com/501713142/ |
| Jason Moquin | Joined about a month ago | | https://www.facebook.com/100000414036129/ |
| Carson Crush | Joined about a month ago | Lexington, Kentucky | https://www.facebook.com/100008156048480/ |
| Carly McKenna | Joined about a month ago | Ann Arbor, Michigan | https://www.facebook.com/100005590837109/ |
| Lee Whitfield | Joined about a month ago | Master at World Karate Federation | https://www.facebook.com/100067792781469/ |
| Kimberley Groves | Joined about a month ago | | https://www.facebook.com/100066477516044/ |
| Dorian Joshua | Joined about a month ago | San Francisco, California | https://www.facebook.com/100055488735770/ |
| Kris Kros | Joined about a month ago | Phoenix, Arizona | https://www.facebook.com/100055236128256/ |
| Will | Joined about a month ago | | https://www.facebook.com/100022637451115/ |
| Vaden Lewis | Joined about a month ago | Village idiot at Altavista, Virginia | https://www.facebook.com/100013893964219/ |
| Costa Kokorin | Joined about a month ago | Founder & CEO at Auditourium | https://www.facebook.com/100013666516021/ |
| Logan Gillis | Joined about a month ago | Franklin, Tennessee | https://www.facebook.com/100013189003368/ |
| Muhammad Youssef | Joined about a month ago | Al-sham private university | https://www.facebook.com/100009517534512/ |
| Jonathan Cruz | Joined about a month ago | Katella High School | https://www.facebook.com/100008386816478/ |
| Adam Meaux | Joined about a month ago | Port Neches – Groves High School | https://www.facebook.com/100001239032996/ |
| Mekisha Nicole | Joined about a month ago | | https://www.facebook.com/100001190989492/ |
| Vlad Galbin | Joined about a month ago | | https://www.facebook.com/100001163892990/ |
| Matthew Lamb | Joined about a month ago | New Castle, Indiana | https://www.facebook.com/100000938713330/ |
| Gary Modlesky | Joined about a month ago | | https://www.facebook.com/1792629328/ |
| Chelsea Bounds | Joined about a month ago | Boss at Stay At Home Mamas | https://www.facebook.com/1470596679/ |
| Stephen Noble | Joined about a month ago | ENGINEER at The Internet | https://www.facebook.com/1387080037/ |
| Michael Mc | Joined about a month ago | Palm Bay High | https://www.facebook.com/1341669183/ |
| Kristi Jean | Joined about a month ago | Embry-Riddle Aeronautical University Gaetz Aerospace Institute | https://www.facebook.com/100005949818588/ |
| Gregory Dyer | Joined about a month ago | | https://www.facebook.com/100000526925792/ |
| Saf Juan | Joined about a month ago | Harvard Graduate School of Education | https://www.facebook.com/1628700008/ |
| Shawn Hunter McIntosh | Joined about a month ago | Works at Kansas Surgery and Recovery | https://www.facebook.com/100000045547343/ |
| Cornelius Tiberius | Joined about a month ago | Works at Gae for pae is de wae | https://www.facebook.com/100049775558323/ |
| Grant Primeaux | Joined about a month ago | Topless cook at Phoenix Bar & Grill | https://www.facebook.com/100000949727030/ |
| Nathan Seal | Joined about a month ago | Games Attendent at Main Event | https://www.facebook.com/100003615551601/ |
| Brendan McCarron | Joined about a month ago | United States Merchant Marine Academy ALUMNI | https://www.facebook.com/100001115008542/ |
| Justin Rich | Joined about a month ago | | https://www.facebook.com/100001033866615/ |
| Richelle Rasche | Joined about a month ago | Owner at Richelle's Reptiles | https://www.facebook.com/100005677176175/ |
| Ray Tortue | Joined about a month ago | Works at Self-Employed | https://www.facebook.com/100064163726429/ |
| Jurt Jawrence | Joined about a month ago | | https://www.facebook.com/100057587640940/ |
| Sarah Breman | Joined about a month ago | Indianapolis, Indiana | https://www.facebook.com/1189901562/ |
| Kuganraj Govindaraju | Joined about a month ago | SEGi College Penang | https://www.facebook.com/1743350384/ |
| Sabin Bhandari | Joined about a month ago | Bharatpur, Nepal | https://www.facebook.com/100024515253191/ |
| Vincent Bobbydeedus Harrington | Joined about a month ago | Saint Paul, Minnesota | https://www.facebook.com/759300476/ |
| Marek Lewandowski | Joined about a month ago | 45 отдельный разведывательный полк гвардии at Воздушно-Десантные Войска (ВДВ) | https://www.facebook.com/100001609791660/ |
| Henry Anderson | Joined about a month ago | Davidson High School | https://www.facebook.com/1067305852/ |
| Harbgrips Twopointzero | Joined about a month ago | | https://www.facebook.com/100069922793439/ |
| Patrick Bruce | Joined about a month ago | Lynnwood, Washington | https://www.facebook.com/100064712957733/ |
| Jon Dtwo | Joined about a month ago | Inspire For Autism | https://www.facebook.com/100062831702884/ |
| Todd Salgado | Joined about a month ago | harvester at Salt Mine | https://www.facebook.com/100058893162702/ |
| Axelle Dela Cruz | Joined about a month ago | | https://www.facebook.com/100041026059154/ |
| Herbert McTacops | Joined about a month ago | | https://www.facebook.com/100012365130278/ |
| Francis Madueno | Joined about a month ago | | https://www.facebook.com/100010922084954/ |
| Brett Edward Montgomery | Joined about a month ago | Greenville, New Hampshire | https://www.facebook.com/100002416891175/ |
| Kyle Caster | Joined about a month ago | Brandt University | https://www.facebook.com/100000889376550/ |
| Ralph Nathaniel Paguio | Joined about a month ago | spy at Mann Co. | https://www.facebook.com/1675862287/ |
| Kyle Lewton | Joined about a month ago | | https://www.facebook.com/792712989/ |
| Kenneth Curtis Brown | Joined about a month ago | | https://www.facebook.com/604866203/ |
| Leonardo Devai | Joined about a month ago | | https://www.facebook.com/518027533/ |
| Isaac Ortiz | Joined about a month ago | | https://www.facebook.com/149900101/ |
| Aidan Lamont | Joined about a month ago | Ourimbah Campus | https://www.facebook.com/1203528257/ |
| Kyle Blackwelder | Joined about a month ago | | https://www.facebook.com/644901632/ |
| Banter ByeThen | Joined about a month ago | Works at China Daily Sci-Tech | https://www.facebook.com/100069653765531/ |
| Jacob Hamilton | Joined about a month ago | Anchorage, Alaska | https://www.facebook.com/100000617819167/ |
| Bobby Buitron | Joined about a month ago | Mop Man at Assassin's Training Facility | https://www.facebook.com/501970060/ |
| Kevin Beach | Joined about a month ago | State Coordinator at Acellus | https://www.facebook.com/100012164833298/ |
| Kaitlyn Carlene | Joined about a month ago | | https://www.facebook.com/100002374723639/ |
| David Hulbert | Joined about a month ago | Curtin University | https://www.facebook.com/582378076/ |
| Arga Dewanata | Joined about a month ago | Jakarta, Indonesia | https://www.facebook.com/1129347681/ |
| Gina Rogers-Rhinehart | Joined about a month ago | Western Carolina University | https://www.facebook.com/1485769183/ |
| Bradley Love | Joined about a month ago | Heritage Regional High School | https://www.facebook.com/100011551860574/ |
| Ian Whipple | Joined about a month ago | 1st Infantry at U.S. Army | https://www.facebook.com/694501652/ |
| Leah Perry | Joined about a month ago | | https://www.facebook.com/1269785310/ |
| Annabelle Schull | Joined about a month ago | Player at Minecraft | https://www.facebook.com/100005178815821/ |
| Scottish Christian | Joined about a month ago | | https://www.facebook.com/100069716193421/ |
| Sara Willow | Joined about a month ago | | https://www.facebook.com/100048279131072/ |
| Robert Cupedro | Joined about a month ago | Lakewood, Ohio | https://www.facebook.com/100038441282774/ |
| Jaryn McKay | Joined about a month ago | Works at Carr Ranch | https://www.facebook.com/100014423139393/ |
| Hannah Smith | Joined about a month ago | Arlington, Texas | https://www.facebook.com/100002488854577/ |
| Brandon Whiskye | Joined about a month ago | | https://www.facebook.com/100000614970834/ |
| Shannon Hall | Joined about a month ago | | https://www.facebook.com/1782220791/ |
| David Sierra | Joined about a month ago | Prospect High School (Saratoga, California) | https://www.facebook.com/1553487203/ |
| Audra Elizabeth | Joined about a month ago | | https://www.facebook.com/1426296180/ |
| Jorge Alberto Padilla Ruiz | Joined about a month ago | Tec MM Tequila | https://www.facebook.com/1242894858/ |
| Conan Hayes | Joined about a month ago | | https://www.facebook.com/1015142022/ |
| Austin Tamez | Joined about a month ago | | https://www.facebook.com/674180231/ |
| Brendan Montana Chuck | Joined about a month ago | | https://www.facebook.com/100005777040020/ |
| Dia Medina | Joined about a month ago | | https://www.facebook.com/100038289608514/ |
| Chris Nelson | Joined about a month ago | Warren County High School | https://www.facebook.com/100001277304942/ |
| Sasha Arabadji | Joined about a month ago | Technician at Mercedes-Benz | https://www.facebook.com/100007982475579/ |
| Dave Dietrich | Joined about a month ago | Vista High School | https://www.facebook.com/100000090775920/ |
| Nate Halapeño | Joined about a month ago | | https://www.facebook.com/507001869/ |
| Brandy O. Koonce | Joined about a month ago | Cashier at Roland's Barbecue | https://www.facebook.com/100002905930907/ |
| Lillian Mcveigh | Joined about a month ago | Works at Based Department | https://www.facebook.com/100078759840813/ |
| Eddie Callow | Joined about a month ago | Modesto, California | https://www.facebook.com/100004646537936/ |
| Jaasiel Pinedo Melgarejo | Joined about a month ago | Barranca, Lima | https://www.facebook.com/100003061672028/ |
| Jursten Helder | Joined about a month ago | | https://www.facebook.com/100001091504986/ |
| Nick Sax | Joined about a month ago | Cockeysville, Maryland | https://www.facebook.com/100002536544098/ |
| Michael Ayann | Joined about a month ago | Las Cruces, New Mexico | https://www.facebook.com/100022472442887/ |
| Jones Jensen | Joined about a month ago | Gårslev, Vejle, Denmark | https://www.facebook.com/100004742491191/ |
| Fäwäz Älly | Joined about a month ago | Automotive Service Technician at BMW | https://www.facebook.com/100015211746384/ |
| Salina | Joined about a month ago | | https://www.facebook.com/591253488/ |
| James Hannebauer | Joined about a month ago | Northern Alberta Institute of Technology | https://www.facebook.com/100070382516840/ |
| Manuel Palmer | Joined about a month ago | Detroit, Michigan | https://www.facebook.com/100001436268929/ |
| Matthew Webb | Joined about a month ago | | https://www.facebook.com/100015315735653/ |
| Morgan Trimble | Joined about a month ago | Ferryboat Captain at Hades | https://www.facebook.com/100000182521756/ |
| Aimee Blackstock | Joined about a month ago | Trident Technical College | https://www.facebook.com/1830973923/ |
| Jan Jan Roble | Joined about a month ago | General Santos City | https://www.facebook.com/100004272454391/ |
| Enos Butz | Joined about a month ago | Meat Handler/Bun Stuffer at Subway | https://www.facebook.com/100066218460054/ |
| Kebin Breckow | Joined about a month ago | Works at Riehl's Towing & Recovery | https://www.facebook.com/100029653691649/ |
| Johnny Still | Joined about a month ago | Port of Spain, Trinidad and Tobago | https://www.facebook.com/100002963236224/ |
| Timothy Mcdowell | Joined about a month ago | | https://www.facebook.com/1604667126/ |
| Xavier Campos | Joined about a month ago | | https://www.facebook.com/100067669459043/ |
| Chris Vance | Joined about a month ago | | https://www.facebook.com/100001381304974/ |
| Kelyn Andrasko | Joined about a month ago | | https://www.facebook.com/100002604043176/ |
| AJ Taylor | Joined about a month ago | Vodka technician at Azov Battalion | https://www.facebook.com/100075522604360/ |
| Marie Jones | Joined about a month ago | Brisbane, Queensland, Australia | https://www.facebook.com/100064496840149/ |
| Steven Barr | Joined about a month ago | Senatobia, Mississippi | https://www.facebook.com/100065171666524/ |
| Stefan Roppel | Joined about a month ago | couch potato at Myself | https://www.facebook.com/1244463402/ |
| Austen Bennett | Joined about a month ago | Kingsland, Georgia | https://www.facebook.com/100004543090821/ |
| Stephen Gerard | Joined about a month ago | Server at Phoenix Bar & Grill | https://www.facebook.com/100077126201024/ |
| Michelle Roberts-Blinkhorn | Joined about a month ago | | https://www.facebook.com/100003937007947/ |
| Mathew Downes | Joined about a month ago | | https://www.facebook.com/100022339445711/ |
| Sarah Ödman | Joined about a month ago | | https://www.facebook.com/100003218823396/ |
| Amber Bradley | Joined about a month ago | Dog Groomer at Paws On The Pass | https://www.facebook.com/100001298482863/ |
| Kaili Butts | Joined about a month ago | Works at Sonic Drive-In | https://www.facebook.com/100002076558032/ |
| Trey Bevan | Joined about a month ago | Welder-Fabricator at John Deere Horicon Works of Deere & | https://www.facebook.com/100002591846854/ |
| Jim Tinnick | Joined about a month ago | Harrisburg, Pennsylvania | https://www.facebook.com/100002640607539/ |
| Klaas Jongsma | Joined about a month ago | Works at Phoenix Bar & Grill | https://www.facebook.com/100001466721835/ |
| Cameron Lennie | Joined about a month ago | | https://www.facebook.com/100000856998337/ |
| Jessica Cassidy | Joined about a month ago | Owner and CEO at Your Mom's Basement | https://www.facebook.com/755287787/ |
| Brit Daniel | Joined about a month ago | | https://www.facebook.com/100040693183903/ |
| Nathan Simecek | Joined about a month ago | Rescue Team leader at Code Red Safety | https://www.facebook.com/1851796151/ |
| Naomi Bamber | Joined about a month ago | Hutto, Texas | https://www.facebook.com/603701583/ |
| Chandler Collins | Joined about a month ago | Owner at Aperture Performance | https://www.facebook.com/100042038801881/ |
| Justin Mikesell | Joined about a month ago | | https://www.facebook.com/100001024009886/ |
| Nate McCune | Joined about a month ago | Milford, Connecticut | https://www.facebook.com/100000380151259/ |
| Shane Burdick | Joined about a month ago | Indianapolis, Indiana | https://www.facebook.com/100009439615177/ |
| Amy Clements | Joined about a month ago | Massey University | https://www.facebook.com/100005006132978/ |
| Kurt Airann Jardeleza | Joined about a month ago | Tagaytay City National High School (TCNHS) | https://www.facebook.com/100022108142929/ |
| Erik Long | Joined about a month ago | Houston, Texas | https://www.facebook.com/1130248595/ |
| Greg McBride | Joined about a month ago | | https://www.facebook.com/653213268/ |
| Jeff Labrotun | Joined about a month ago | Works at The Krusty Krab | https://www.facebook.com/100006915069197/ |
| Dan Falk | Joined about a month ago | Works at FCC Terre Haute | https://www.facebook.com/100001170597529/ |
| Dwight J White | Joined about a month ago | Works at Palmetto State Armory | https://www.facebook.com/100069419982551/ |
| Caesar Lives | Joined about a month ago | Ecole Secondaire Edouard-Montpetit | https://www.facebook.com/100010033549370/ |
| Dane Loete | Joined about a month ago | | https://www.facebook.com/100001862587287/ |
| Adam Cace Boukkoff | Joined about a month ago | | https://www.facebook.com/100000036646572/ |
| Casey Jones | Joined about a month ago | Lemont, Illinois | https://www.facebook.com/1503023853/ |
| Thomas Imrie-Southee | Joined about a month ago | Freyberg High School | https://www.facebook.com/100001551404536/ |
| Erick Miranda | Joined about a month ago | | https://www.facebook.com/100000617911326/ |
| Roy Hobbes | Joined about a month ago | | https://www.facebook.com/100073263471691/ |
| James Brazel | Joined about a month ago | Automotive Service Writer at Kia of Laurel | https://www.facebook.com/100009860926486/ |
| Paddy O'Furniture | Joined about a month ago | | https://www.facebook.com/1423274515/ |
| Nick Barnhart | Joined about a month ago | Portland, Oregon | https://www.facebook.com/100001290696168/ |
| Lallan Alex Hockstetter | Joined about a month ago | | https://www.facebook.com/683815583/ |
| Иван Кузнецов | Joined about a month ago | Works at Phoenix Bar & Grill | https://www.facebook.com/100012593895495/ |
| Corpuz Apolis Angelo | Joined about a month ago | | https://www.facebook.com/100006563884117/ |
| Albert Anthony Reynoso | Joined about a month ago | Medford, Oregon | https://www.facebook.com/1232162935/ |
| El Aine | Joined about a month ago | | https://www.facebook.com/100006114160399/ |
| Brandon LaBrasseur | Joined about a month ago | Diesel Mechanic at Crown B Logging | https://www.facebook.com/100004174574947/ |
| Brandon Ryne Choo | Joined about a month ago | | https://www.facebook.com/1206447139/ |
| Monica Villicana | Joined about a month ago | | https://www.facebook.com/100022423190403/ |
| Erin Nic | Joined about a month ago | | https://www.facebook.com/100011087886224/ |
| Colleen E Mitchell | Joined about a month ago | Works at Phoenix Bar & Grill | https://www.facebook.com/100001726595942/ |
| Josh Giles | Joined about a month ago | | https://www.facebook.com/100001726694668/ |
| Elijah Mcinnis | Joined about a month ago | Lebanon, Maine | https://www.facebook.com/100001524069688/ |
| Tristan Bails | Joined about a month ago | | https://www.facebook.com/100000081954058/ |
| Squirrely Dan | Joined about a month ago | | https://www.facebook.com/100067972554738/ |
| Hunter Klein | Joined about a month ago | Ralston Valley High School | https://www.facebook.com/1025785457/ |
| Bort Sampson | Joined about a month ago | | https://www.facebook.com/10227543/ |
| Cameron White | Joined about a month ago | Vidor, Texas | https://www.facebook.com/100057439601992/ |
| Sean Staley | Joined about a month ago | | https://www.facebook.com/100003794905966/ |
| Dusty Bidwell | Joined about a month ago | | https://www.facebook.com/100000797650162/ |
| Kevin Dinh | Joined about a month ago | | https://www.facebook.com/100051993354185/ |
| Enrique Angel Garcia | Joined about a month ago | | https://www.facebook.com/100007900664298/ |
| Joe Giannosa | Joined about a month ago | Warehouse recieving team leader at Art Van Furniture | https://www.facebook.com/690403414/ |
| Joshua Graves | Joined about a month ago | Entreprenur at Self employed | https://www.facebook.com/100003173850794/ |
| Tony Garland | Joined about a month ago | | https://www.facebook.com/100000403470479/ |
| William Henry | Joined about a month ago | | https://www.facebook.com/580385415/ |
| Becky Errickson | Joined about a month ago | | https://www.facebook.com/100048488495507/ |
| Joe Teatro | Joined about a month ago | | https://www.facebook.com/1161812246/ |
| Justin Haase | Joined about a month ago | | https://www.facebook.com/627580017/ |
| Hazel Nia Lynn | Joined about a month ago | Sacramento, California | https://www.facebook.com/100008819325042/ |
| Geoff Witha Gee | Joined about a month ago | | https://www.facebook.com/738122081/ |
| Kelly Irwin | Joined about a month ago | WVC | https://www.facebook.com/100003200992737/ |
| Patrick Eagan | Joined about a month ago | | https://www.facebook.com/100017434568267/ |
| Lynette Kelly | Joined about a month ago | | https://www.facebook.com/535173696/ |
| Harley Pierson | Joined about a month ago | Spare Hand at Expera Specialty Solutions | https://www.facebook.com/100000182061658/ |
| Sydney Marie Trimble | Joined about a month ago | | https://www.facebook.com/100048947270939/ |
| Scott Bond | Joined about a month ago | | https://www.facebook.com/100047671781843/ |
| Kayla Quintus | Joined about a month ago | Fort Lauderdale, Florida | https://www.facebook.com/100014027108574/ |
| John Velechovsky | Joined about a month ago | | https://www.facebook.com/584713544/ |
| Patrick Flynn | Joined about a month ago | Quincy High School | https://www.facebook.com/100054952235579/ |
| Laurel Maria | Joined about a month ago | Clerk Cashier at Foodmart Thriftway | https://www.facebook.com/100001384286963/ |
| Andrea Boatright | Joined about a month ago | Ozarks Technical Community College | https://www.facebook.com/100000044114718/ |
| Haley Rená Dickison | Joined about a month ago | | https://www.facebook.com/100009265401596/ |
| Ethan Lewis | Joined about a month ago | Landscape Gardener at Homescape | https://www.facebook.com/100001010478427/ |
| Bruce Wayne-Gacy | Joined about a month ago | Harvard University | https://www.facebook.com/100004994254286/ |
| Journey Peach | Joined about a month ago | | https://www.facebook.com/100003697712340/ |
| Ayden Kratzmann | Joined about a month ago | Harristown State High School | https://www.facebook.com/100009782973538/ |
| Em Jay | Joined about a month ago | House mom at Stay a Stay at Home Mom | https://www.facebook.com/100065399462187/ |
| Erin Gray | Joined about a month ago | | https://www.facebook.com/1355212505/ |
| Melissa Fragoso Rodríguez | Joined about a month ago | UAM Universidad Autónoma Metropolitana | https://www.facebook.com/531899850/ |
| Matt Van Blarcum | Joined about a month ago | Lincoln Tech | https://www.facebook.com/1619692859/ |
| Dylan Buhrmann | Joined about a month ago | | https://www.facebook.com/100005569447397/ |
| Eleni Pampori | Joined about a month ago | Thessaloníki | https://www.facebook.com/100000379757714/ |
| Jackson Fitzsimmons | Joined about a month ago | | https://www.facebook.com/100009842234061/ |
| Han Zeilboot | Joined about a month ago | Port Charlotte High | https://www.facebook.com/100002393655882/ |
| Zahir Furkan | Joined about a month ago | Dallas, Texas | https://www.facebook.com/100021962615301/ |
| Tyler Schoe | Joined about a month ago | | https://www.facebook.com/1197011861/ |
| Megan L. Kelly | Joined about a month ago | | https://www.facebook.com/100000229351033/ |
| Jessika Welliver | Joined about a month ago | | https://www.facebook.com/100014502013394/ |
| Kibs Kibs | Joined about a month ago | San Beda College Alabang School of Law | https://www.facebook.com/571800263/ |
| Alex Gregory | Joined about a month ago | Frederick, Maryland | https://www.facebook.com/1227210881/ |
| Daniel Dalager | Joined about a month ago | Midland College | https://www.facebook.com/100006644463463/ |
| Justin Day | Joined about a month ago | | https://www.facebook.com/100036614374105/ |
| Austin Brewer | Joined about a month ago | | https://www.facebook.com/100005962934982/ |
| Sam Rollins | Joined about a month ago | Glenmora High School | https://www.facebook.com/100003381855401/ |
| Ronald Crowe | Joined about a month ago | Works at Iphone sweat shop | https://www.facebook.com/100016772772034/ |
| Zachary Najarian-Najafi | Joined about a month ago | Methuen, Massachusetts | https://www.facebook.com/100000786031823/ |
| Kalee Eder | Joined about a month ago | | https://www.facebook.com/100007476738848/ |
| Lochie Pfeiffer | Joined about a month ago | Adelaide, South Australia | https://www.facebook.com/100009655694259/ |
| Glenn Taylor | Joined about a month ago | | https://www.facebook.com/1430800271/ |
| Alex Burdick | Joined about a month ago | | https://www.facebook.com/100010282180093/ |
| Adam Carson | Joined about a month ago | Pittsburgh, Pennsylvania | https://www.facebook.com/65900846/ |
| Yanni Borgez | Joined about a month ago | | https://www.facebook.com/100061357072643/ |
| James Smith | Joined about a month ago | Paris High School | https://www.facebook.com/100033646005410/ |
| Scott Massey | Joined about a month ago | | https://www.facebook.com/100010716464981/ |
| Dylan Cole Smith | Joined about a month ago | | https://www.facebook.com/100014527773370/ |
| Candace Kiara | Joined about a month ago | | https://www.facebook.com/100001631081324/ |
| Adam Tillis | Joined about a month ago | | https://www.facebook.com/1696258185/ |
| Diante Cornell Smith | Joined about a month ago | Shakopee Senior High School | https://www.facebook.com/1214558004/ |
| Gabe Magidson | Joined about a month ago | | https://www.facebook.com/100007858788336/ |
| Sakib Ahmed | Joined about a month ago | Dhaka, Bangladesh | https://www.facebook.com/100003073879140/ |
| Justin Massey | Joined about a month ago | Fort Worth, Texas | https://www.facebook.com/100068063341712/ |
| Eric Baxter | Joined about a month ago | Personal Trainer/ Life coach at Collapsar Fitness | https://www.facebook.com/1490866979/ |
| Mohammed Ryad | Joined about a month ago | Oran, Algeria | https://www.facebook.com/100012118031423/ |
| Christopher Kyzer | Joined about a month ago | | https://www.facebook.com/100000132214281/ |
| Kat Pat | Joined about a month ago | | https://www.facebook.com/100048710086079/ |
| Samantha Downey | Joined about a month ago | | https://www.facebook.com/100001096990671/ |
| Nur Shahmira Ahmad Shah | Joined about a month ago | | https://www.facebook.com/100002069968604/ |
| Paul LaForest | Joined about a month ago | | https://www.facebook.com/888725693/ |
| ᛟᛞᛁᚾᛊ ᚹᛟᛚᚠ | Joined about a month ago | | https://www.facebook.com/100064505145364/ |
| Steven Mello | Joined about a month ago | Magic electrical ninja at IBEW | https://www.facebook.com/100053947677297/ |
| Sergei Urumov | Joined about a month ago | General Foreman at H.R. Shovellin' Stuff Construction | https://www.facebook.com/100031421262688/ |
| Taythen Monta | Joined about a month ago | Prairie View High Lacygne | https://www.facebook.com/100001766672314/ |
| Cj Caingles | Joined about a month ago | Quality Assurance Analyst (QA Analyst) at Pepsi Cola Davao Plant | https://www.facebook.com/100001653000442/ |
| Matthew Fernandez | Joined about a month ago | | https://www.facebook.com/27001767/ |
| Luna Rodriguez | Joined about a month ago | | https://www.facebook.com/100042533851678/ |
| Prench Prays | Joined about a month ago | Tekla Campus | https://www.facebook.com/100002439714190/ |
| Chris Walker | Joined about a month ago | Chef/Line Cook at Phoenix Bar & Grill | https://www.facebook.com/100039013881344/ |
| Hannah Gillette | Joined about a month ago | | https://www.facebook.com/100028547118626/ |
| Shihab Tanvir | Joined about a month ago | Sub-Executive Member at AUST Robotics Club | https://www.facebook.com/100008124962264/ |
| Shashwat Bhargav | Joined about a month ago | Works at Based Department | https://www.facebook.com/100047448750734/ |
| Aaron Taofitau | Joined about a month ago | | https://www.facebook.com/100000719276486/ |
| Carl Follaco | Joined about a month ago | Hilton High School | https://www.facebook.com/1362570109/ |
| Oliver Thornton | Joined about a month ago | Oxford, Alabama | https://www.facebook.com/100047795842894/ |
| Brittiany Devine | Joined about a month ago | | https://www.facebook.com/100000587692799/ |
| Dave Egri | Joined about a month ago | Corvallis, Oregon | https://www.facebook.com/100000002040724/ |
| Alexander Snay | Joined about a month ago | Twentynine Palms, California | https://www.facebook.com/694338500/ |
| Matthew Soucie | Joined about a month ago | Detroit, Michigan | https://www.facebook.com/1845392557/ |
| Simon Worobey | Joined about a month ago | | https://www.facebook.com/100002035487060/ |
| Julie Jordine | Joined about a month ago | | https://www.facebook.com/1569753307/ |
| Emm A-r | Joined about a month ago | | https://www.facebook.com/1194307232/ |
| James Morrison | Joined about a month ago | Rowan-Cabarrus Community College | https://www.facebook.com/100000439879967/ |
| William Hoff | Joined about a month ago | University of Colorado Boulder | https://www.facebook.com/610628466/ |
| Lite Clark | Joined about a month ago | | https://www.facebook.com/100003225930304/ |
| Lincoln Sternn | Joined about a month ago | Edmonton, Alberta | https://www.facebook.com/100026448924063/ |
| Keith Yancey | Joined about a month ago | Temporary Relief Assistant Trailer Park Supervisor at Sunnyvale Trailer Park | https://www.facebook.com/22617834/ |
| Renzo Viridis | Joined about a month ago | Fleetwood, North Carolina | https://www.facebook.com/100044748529106/ |
| Ken Tatum | Joined about a month ago | | https://www.facebook.com/100000624955611/ |
| Seth Schiffino | Joined about a month ago | Jim Thorpe, Pennsylvania | https://www.facebook.com/753252086/ |
| Richard Gamble | Joined about a month ago | Director of Acquisitions at Gamble Investment and Development | https://www.facebook.com/729221773/ |
| Chelsea Phillips | Joined about a month ago | | https://www.facebook.com/100029575685155/ |
| Spamuel Von Hohneck | Joined about a month ago | | https://www.facebook.com/100007033784316/ |
| Landon Evans | Joined about a month ago | Muncie, Indiana | https://www.facebook.com/100009450660066/ |
| Chris Smith | Joined about a month ago | | https://www.facebook.com/100005538705736/ |
| Victoria Lynn | Joined about a month ago | | https://www.facebook.com/100010928911496/ |
| Anthony Nostirs Stamps | Joined about a month ago | CSL | https://www.facebook.com/100000447131303/ |
| Agung Ak | Joined about a month ago | | https://www.facebook.com/100016514647155/ |
| Craig Smice | Joined about a month ago | | https://www.facebook.com/100004644401053/ |
| Parker Vint | Joined about a month ago | Administrator at Incredible Kids Academy | https://www.facebook.com/100008729498455/ |
| Paus Wargas | Joined about a month ago | | https://www.facebook.com/100001877303742/ |
| Jennifer Sturgill | Joined about a month ago | | https://www.facebook.com/505939501/ |
| Paul Lilyea | Joined about a month ago | | https://www.facebook.com/1214221451/ |
| Mason Henne | Joined about a month ago | Fanshawe College | https://www.facebook.com/100000168333868/ |
| Chad Floyd | Joined about a month ago | Jesus at Pheonix Bar and Grill | https://www.facebook.com/100053342057293/ |
| John Paul West | Joined about a month ago | Fredonia, New York | https://www.facebook.com/1812927158/ |
| Dane Felty | Joined about a month ago | Kent, Washington | https://www.facebook.com/100002568202967/ |
| Bonjiman Fester | Joined about a month ago | | https://www.facebook.com/100072527354780/ |
| Ben Harlow | Joined about a month ago | | https://www.facebook.com/100002086198372/ |
| Alex Martinez | Joined about a month ago | Chicago, Illinois | https://www.facebook.com/100029262222205/ |
| Harold Gee | Joined about a month ago | | https://www.facebook.com/100060666129782/ |
| Christina Rose Atkinson | Joined about a month ago | Knoxville, Tennessee | https://www.facebook.com/100002246716615/ |
| Adrien Satinet | Joined about a month ago | Frasnes, Hainaut, Belgium | https://www.facebook.com/100012344529110/ |
| Anneli Montgomery | Joined about a month ago | Maple Creek, Saskatchewan | https://www.facebook.com/100007269049065/ |
| Denikka Depew | Joined about a month ago | Front Desk Agent at Grand Country Resort | https://www.facebook.com/1294440162/ |
| Cody Ottman | Joined about a month ago | COMBAT ENGINEER at U.S. Army | https://www.facebook.com/1823483396/ |
| Jacob Rinard | Joined about a month ago | Wyoming Park High School | https://www.facebook.com/100059423226331/ |
| Ember Lee | Joined about a month ago | | https://www.facebook.com/100002049366882/ |
| Nemesio Alex Watters | Joined about a month ago | | https://www.facebook.com/100003693495610/ |
| Sam Jondro Johnson | Joined about a month ago | Carlyle, Illinois | https://www.facebook.com/100065700643270/ |
| Joe Mancini | Joined about a month ago | Brooklyn, New York | https://www.facebook.com/100049705545155/ |
| Patrick Dailey | Joined about a month ago | Fairbanks, Alaska | https://www.facebook.com/599690609/ |
| Josh Carter | Joined about a month ago | Works at Ometto Pizza Bar | https://www.facebook.com/100000292551593/ |
| Sophïe | Joined about a month ago | | https://www.facebook.com/1078887654/ |
| Christopher Hogan | Joined about a month ago | Space cadet at U.S. Space Force | https://www.facebook.com/100009299492459/ |
| Sarah Savage | Joined about a month ago | | https://www.facebook.com/100006852168858/ |
| Cee White | Joined about a month ago | | https://www.facebook.com/100005201203518/ |
| Ian Firdaus | Joined about a month ago | | https://www.facebook.com/1492970365/ |
| Corey Barton | Joined about a month ago | South High Community | https://www.facebook.com/696655774/ |
| Ethan A. Calvin | Joined about a month ago | Owner at Visionary Weddings | https://www.facebook.com/779628139/ |
| Logan | Joined about a month ago | | https://www.facebook.com/100051226747688/ |
| Lizzy Carter | Joined about a month ago | | https://www.facebook.com/100034235121446/ |
| Tim Whitt | Joined about a month ago | Temple, Oklahoma | https://www.facebook.com/100026697757563/ |
| Dylan Brown | Joined about a month ago | Bartender Manager at Phoenix Bar & Grill | https://www.facebook.com/100022141264817/ |
| Andrew Reprogle | Joined about a month ago | Bartender at Phoenix Bar & Grill | https://www.facebook.com/100009598935862/ |
| JM Hallos | Joined about a month ago | | https://www.facebook.com/100009274725967/ |
| Shaun Milliman | Joined about a month ago | Boynton Beach, Florida | https://www.facebook.com/1136190062/ |
| Austin Harbeck | Joined about a month ago | | https://www.facebook.com/100005101424563/ |
| Danielle Pollock | Joined about a month ago | Campbell River, British Columbia | https://www.facebook.com/1443125476/ |
| Jimmy James | Joined about a month ago | | https://www.facebook.com/640051019/ |
| Brian McGuire | Joined about a month ago | Murray County High School | https://www.facebook.com/100071046566086/ |
| Reuby Rue | Joined about a month ago | Port Waikato | https://www.facebook.com/100002298860473/ |
| Allison Hamilton Rice | Joined about a month ago | | https://www.facebook.com/100000527747172/ |
| Nicklaus Bailey | Joined about a month ago | Pearland, Texas | https://www.facebook.com/100024818114493/ |
| Vince Patrick Lugtu | Joined about a month ago | | https://www.facebook.com/1160735294/ |
| Carson Peck | Joined about a month ago | Works at Anti-bullshit enforcement agency | https://www.facebook.com/705173293/ |
| Tyrone Sancho | Joined about a month ago | Las Vegas, Nevada | https://www.facebook.com/100029650252791/ |
| Paola Molinar | Joined about a month ago | | https://www.facebook.com/100004654008709/ |
| Jake Brase | Joined about a month ago | | https://www.facebook.com/100000136964016/ |
| Chad Scogin | Joined about a month ago | Bossier Parish Community College | https://www.facebook.com/571662086/ |
| Jason Lavigne | Joined about a month ago | associate veterinarian at Bienville Animal Medical Center | https://www.facebook.com/23433328/ |
| أحمد قاسم | Joined about a month ago | wasit university/college of medicine | https://www.facebook.com/100052032183445/ |
| Georgie Lee | Joined about a month ago | | https://www.facebook.com/100024264755731/ |
| Miguel Andres Boza | Joined about a month ago | | https://www.facebook.com/100022982978959/ |
| Joseph Hathaway | Joined about a month ago | Flatbed Truck Driver at P&S Transportation | https://www.facebook.com/100001008045359/ |
| Amy Ewan | Joined about a month ago | | https://www.facebook.com/100007710829049/ |
| Nedjie Frazier | Joined about a month ago | Sales Support Technician at RedRock Tech | https://www.facebook.com/100000995089855/ |
| Kevin Synowczynski | Joined about a month ago | Works at Linked equipment | https://www.facebook.com/100000164468386/ |
| Erin Dovel | Joined about a month ago | | https://www.facebook.com/1780305615/ |
| Jay Molenaar | Joined about a month ago | Fort McMurray | https://www.facebook.com/100042991247615/ |
| Kodie Mace | Joined about a month ago | | https://www.facebook.com/100011206576688/ |
| Andy Morin | Joined about a month ago | Diesel Mechanic at City Of San Antonio | https://www.facebook.com/718564894/ |
| Prateek Mandal | Joined about a month ago | Mumbai, Maharashtra | https://www.facebook.com/100021175220305/ |
| Stephanie Sanchez | Joined about a month ago | Defense Language Institute Foreign Language Center | https://www.facebook.com/100006102121236/ |
| Kris Hutson | Joined about a month ago | | https://www.facebook.com/100001178162038/ |
| Chase Priznaki | Joined about a month ago | | https://www.facebook.com/100056823386141/ |
| ןױון ןױון | Joined about a month ago | Works at ⸙ ;; 𝚆𝙴 𝙲𝙰𝙽'𝚃 𝙷𝙰𝚅𝙴 𝙾𝚁𝙳𝙴𝚁 𝚆𝙸𝚃𝙷𝙾𝚄𝚃 𝙲𝙷𝙰𝙾𝚂 | https://www.facebook.com/100019075323495/ |
| Hassan Bakeimar Jr. | Joined about a month ago | | https://www.facebook.com/100003883742884/ |
| Daniel Faulkner | Joined about a month ago | | https://www.facebook.com/100001022005007/ |
| Ap McAllister | Joined about a month ago | Connections/Data at BT | https://www.facebook.com/100010736041470/ |
| Ryan Donnelly | Joined about a month ago | | https://www.facebook.com/100004330390556/ |
| Bongo X Larregoity | Joined about a month ago | | https://www.facebook.com/614435556/ |
| Ailene Jenkins | Joined about a month ago | Louisville, Kentucky | https://www.facebook.com/100036495210382/ |
| Nikolaus Beall | Joined about a month ago | | https://www.facebook.com/100003615604745/ |
| Dustin Gilbert | Joined about a month ago | Northeast High School | https://www.facebook.com/100000391432512/ |
| Anto Petr | Joined about a month ago | | https://www.facebook.com/1330530130/ |
| John Durairaj | Joined about a month ago | Bangsar | https://www.facebook.com/100069091931187/ |
| Luke | Joined about a month ago | | https://www.facebook.com/100017573975545/ |
| Patrick Gabe Rodriguez | Joined about a month ago | Freelance Artist at Dark Energy Art Studio | https://www.facebook.com/100068911023852/ |
| Red Deutsch | Joined about a month ago | | https://www.facebook.com/100037982266415/ |
| Andrew Nguyen | Joined about a month ago | Works at Corwin Toyota of Bellevue | https://www.facebook.com/100001653154169/ |
| Brian Rockwell | Joined about a month ago | | https://www.facebook.com/510058617/ |
| Anthony Mezzacappa | Joined about a month ago | Advertising management at Phoenix Bar & Grill | https://www.facebook.com/100078903219414/ |
| Jeffrey Kohler II | Joined about a month ago | Asst.Manager (accounts & Finance) at Phoenix Bar & Grill | https://www.facebook.com/100024623354210/ |
| Ariel Hillel | Joined about a month ago | | https://www.facebook.com/100009873632948/ |
| Wes Winburn | Joined about a month ago | Maiden, North Carolina | https://www.facebook.com/100002289614308/ |
| Sua Alteza | Joined about a month ago | | https://www.facebook.com/100000124313793/ |
| Edson Ponce | Joined about a month ago | Works at YouTube | https://www.facebook.com/100005883729136/ |
| Levi Rhodes | Joined about a month ago | The University of Alabama | https://www.facebook.com/100005675826493/ |
| Suzana Mazalica | Joined about a month ago | | https://www.facebook.com/100003757600590/ |
| Joe Kilburg | Joined about a month ago | | https://www.facebook.com/527989540/ |
| Nicole Mihaich | Joined about a month ago | | https://www.facebook.com/100048760094385/ |
| Rahulsingh Verma | Joined about a month ago | Works at Schlumberger India Technology Centre Pvt Ltd,Pune | https://www.facebook.com/1142262865/ |
| Red Acted | Joined about a month ago | | https://www.facebook.com/100040941281184/ |
| Linz Welch | Joined about a month ago | Academy of Art University | https://www.facebook.com/100000488955829/ |
| LeVamp Rs | Joined about a month ago | Vocalista at Intro Garage | https://www.facebook.com/100023909809274/ |
| Ko Ki | Joined about a month ago | | https://www.facebook.com/100019044945928/ |
| Jake Brice | Joined about a month ago | Works at Retired | https://www.facebook.com/100014400731995/ |
| Aj Scott | Joined about a month ago | Avalon beach | https://www.facebook.com/1001156782/ |
| Adam Desilets | Joined about a month ago | Essex High School | https://www.facebook.com/100038142270687/ |
| Frank White | Joined about a month ago | Works at Yonkers Family YMCA | https://www.facebook.com/100007658351391/ |
| Daniel Karr Bowen | Joined about a month ago | Wendigo Shaman at The Woods | https://www.facebook.com/1015582375/ |
| Dylan Gillespie | Joined about a month ago | | https://www.facebook.com/100002804329557/ |
| Christopher Patrick Collins | Joined about a month ago | | https://www.facebook.com/100000049921815/ |
| Chris Mcillwain | Joined about a month ago | | https://www.facebook.com/100002163779069/ |
| Thomas Dossett | Joined about a month ago | Usher Supervisor at Cinergy Entertainment | https://www.facebook.com/100017200626251/ |
| David James | Joined about a month ago | Sandwich Artist at Subway | https://www.facebook.com/1106291800/ |
| Ja Son | Joined about a month ago | | https://www.facebook.com/100001019737837/ |
| Justin Chumas | Joined about a month ago | Centenary University | https://www.facebook.com/100000193208150/ |
| Zachary Warry | Joined about a month ago | Associate Software Engineer at Fiserv | https://www.facebook.com/100000685895891/ |
| Brian Cobb | Joined about a month ago | Carrollton, Georgia | https://www.facebook.com/100000286614764/ |
| Titan Goodboi | Joined about a month ago | | https://www.facebook.com/100077524604170/ |
| Kevin Perry | Joined about a month ago | Wor – Wic Community College | https://www.facebook.com/100000624707585/ |
| Kelly Reed | Joined about a month ago | Wharton High School | https://www.facebook.com/100062718648367/ |
| Terry Griffith | Joined about a month ago | | https://www.facebook.com/100053963318223/ |
| Chris Corey | Joined about a month ago | | https://www.facebook.com/100027012291855/ |
| Adam Ward | Joined about a month ago | | https://www.facebook.com/100024421782974/ |
| Richard Schroeck | Joined about a month ago | Monkey in Charge at Paradox Solutions | https://www.facebook.com/100009674562415/ |
| Jordan Katz | Joined about a month ago | Rockland Community College | https://www.facebook.com/100008332336555/ |
| Ethan Keilman | Joined about a month ago | Works at Church of the Flying Spaghetti Monster | https://www.facebook.com/100007129530850/ |
| Carlos Mary | Joined about a month ago | Georgia Highlands College | https://www.facebook.com/100005941513561/ |
| Michael J. Gabriel | Joined about a month ago | | https://www.facebook.com/100001617011256/ |
| Phil Lougee | Joined about a month ago | Bellefontaine, Ohio | https://www.facebook.com/100001159342160/ |
| Scott Porter | Joined about a month ago | Picker at Purple | https://www.facebook.com/100000734827645/ |
| Jay Dee | Joined about a month ago | | https://www.facebook.com/1815168532/ |
| Shawn Paul | Joined about a month ago | Terrible artist for terrible people at Freelance | https://www.facebook.com/1518990687/ |
| Paulo Eusebio | Joined about a month ago | | https://www.facebook.com/1459424330/ |
| Angie Connelly | Joined about a month ago | | https://www.facebook.com/1104579436/ |
| Justin Marlin | Joined about a month ago | Delivery Driver/Customer Service at Buddy's Home Furnishings | https://www.facebook.com/1033028068/ |
| Samantha McInroy | Joined about a month ago | Como, New South Wales, Australia | https://www.facebook.com/631148779/ |
| Matt Ray | Joined about a month ago | VP of Operations at Randolph Zoo and Garden Center | https://www.facebook.com/563937866/ |
| Sarah Why | Joined about a month ago | | https://www.facebook.com/509832407/ |
| John Karnegis | Joined about a month ago | HSE Advisor at California Resources Corporation | https://www.facebook.com/48209719/ |
| Martyn Appleyard | Joined about a month ago | Works at Europa Worldwide Group | https://www.facebook.com/100054460875595/ |
| Abby Kelly | Joined about a month ago | Spokane Valley, Washington | https://www.facebook.com/100009364447634/ |
| Irene Adler | Joined about a month ago | | https://www.facebook.com/100014177019294/ |
| Anna Sterling | Joined about a month ago | | https://www.facebook.com/100054443670073/ |
| Adam Pacecca | Joined about a month ago | New York, New York | https://www.facebook.com/824594029/ |
| MC Zappa | Joined about a month ago | Works at CEO of Bit-Hop | https://www.facebook.com/100026333492703/ |
| Irina Strauss | Joined about a month ago | | https://www.facebook.com/100052663174828/ |
| David Salyer | Joined about a month ago | Evansville, Indiana | https://www.facebook.com/1153036746/ |
| Harper Dooley | Joined about a month ago | Works at Mary Jane's House of Glass | https://www.facebook.com/100022471090416/ |
| Keisha Sandusky | Joined about a month ago | SWOSU | https://www.facebook.com/100001364377758/ |
| Jack Galley | Joined about a month ago | Journeyman Plumber at MCS | https://www.facebook.com/100028091924503/ |
| Joshua Bancroft | Joined about a month ago | Works at Fives Landis | https://www.facebook.com/100003162441356/ |
| Sean Frawley Jr. | Joined about a month ago | Internal Service Consultant at Haldeman Lexus of Princeton | https://www.facebook.com/100003061888679/ |
| Louis Baugh | Joined about a month ago | Canastota, New York | https://www.facebook.com/100049181495531/ |
| George Konan | Joined about a month ago | | https://www.facebook.com/100008205030136/ |
| Elizabeth Finch | Joined about a month ago | Works at RedRock Tech | https://www.facebook.com/68138904/ |
| Todd | Joined about a month ago | | https://www.facebook.com/100030958053218/ |
| David Nurse | Joined about a month ago | Kempner, Texas | https://www.facebook.com/100001571612918/ |
| Palma Nardozza | Joined about a month ago | | https://www.facebook.com/100000131552737/ |
| Clay McCraw | Joined about a month ago | | https://www.facebook.com/541759810/ |
| John Caulfield | Joined about a month ago | | https://www.facebook.com/100049100003472/ |
| Mari Ignatel | Joined about a month ago | | https://www.facebook.com/100018036708839/ |
| Toivi Van Fessem | Joined about a month ago | Wellantcollege Houten Internationaal | https://www.facebook.com/100005970759253/ |
| Alex Gonzalez | Joined about a month ago | | https://www.facebook.com/100001705736931/ |
| Jamar Cameron Greene | Joined about a month ago | Cincinnati State Technical and Community College | https://www.facebook.com/100001691558798/ |
| Alvaro Barceló | Joined about a month ago | | https://www.facebook.com/100001408185196/ |
| Michael Boyle | Joined about a month ago | Boise State University | https://www.facebook.com/100000031545651/ |
| Brian Bautzmann | Joined about a month ago | Green Bay, Wisconsin | https://www.facebook.com/100001412407199/ |
| Kate Lynn | Joined about a month ago | Chesapeake, Virginia | https://www.facebook.com/1639885160/ |
| Grégory de la Réberdière | Joined about a month ago | | https://www.facebook.com/1626833938/ |
| Beth Ell | Joined about a month ago | | https://www.facebook.com/6846105/ |
| Joshy Wahh | Joined about a month ago | | https://www.facebook.com/100051685593056/ |
| Alena Růžková | Joined about a month ago | Gymnázium Slovanské náměstí | https://www.facebook.com/100010858563585/ |
| Ashley Schweiss | Joined about a month ago | | https://www.facebook.com/621278765/ |
| Kristupas Mickevicius | Joined about a month ago | Works at FBI – Federal Bureau of Investigation | https://www.facebook.com/100011637999687/ |
| Liam Kimber | Joined about a month ago | Works at Fever & Boutique Isle of Wight | https://www.facebook.com/100007858031429/ |
| Samuel Herrera | Joined about a month ago | | https://www.facebook.com/100004304620241/ |
| Nico Genil Basalo | Joined about a month ago | | https://www.facebook.com/100002955060790/ |
| Darlene Zachareas | Joined about a month ago | | https://www.facebook.com/100001070677867/ |
| Bence Szabo | Joined about a month ago | | https://www.facebook.com/100000772960761/ |
| Jesse Watt | Joined about a month ago | Director of Moon Based Logistical Planning and Implementatio… | https://www.facebook.com/100000095500218/ |
| Marco Giannetti | Joined about a month ago | | https://www.facebook.com/1112231434/ |
| Olivia Waschbär | Joined about a month ago | | https://www.facebook.com/100027381783683/ |
| Lenore Rayne | Joined about a month ago | | https://www.facebook.com/100010860780505/ |
| Dalton DePaepe | Joined about a month ago | | https://www.facebook.com/100000492519055/ |
| Ashley Stroud | Joined about a month ago | | https://www.facebook.com/100000280639863/ |
| Heidi Louise | Joined about a month ago | | https://www.facebook.com/100000099399450/ |
| Etienne Chevaux | Joined about a month ago | Melbourne, Victoria, Australia | https://www.facebook.com/1146535149/ |
| Eric Miller | Joined about a month ago | | https://www.facebook.com/100055196835214/ |
| Molly Salsbury | Joined about a month ago | | https://www.facebook.com/100052358183392/ |
| Ellie Mae | Joined about a month ago | | https://www.facebook.com/100032120596868/ |
| Zannatul Ferdous Jui | Joined about a month ago | Intern at Niramoy | https://www.facebook.com/100027808683530/ |
| Philipp Beichert | Joined about a month ago | Paul Klee Gymnasium | https://www.facebook.com/100003593857026/ |
| Cody Vineyard | Joined about a month ago | Business Owner at Business Owner | https://www.facebook.com/100002420899724/ |
| Minhaz Siddiqui | Joined about a month ago | | https://www.facebook.com/1127982368/ |
| Roxanne Fraser | Joined about a month ago | | https://www.facebook.com/534733612/ |
| Lindsay Grasso | Joined about a month ago | St. Mary's College of Maryland | https://www.facebook.com/115200664/ |
| Bo Beans | Joined about a month ago | Works at Phoenix Bar & Grill | https://www.facebook.com/100063705881983/ |
| Aisha Rose | Joined about a month ago | Head Waitress at Phoenix Bar & Grill | https://www.facebook.com/100038915536256/ |
| Kelly Hansen | Joined about a month ago | | https://www.facebook.com/100035451498045/ |
| Davide Chiarappa | Joined about a month ago | Ah at AH | https://www.facebook.com/100014243797808/ |
| Aj Lozano | Joined about a month ago | Works at DallyMac & Cheese | https://www.facebook.com/100005079974707/ |
| Jane Freemyer | Joined about a month ago | L. D. Bell High School | https://www.facebook.com/100001470516514/ |
| James Markham | Joined about a month ago | Works at Gehry Partners LLP | https://www.facebook.com/1558719966/ |
| Greg Kiddo | Joined about a month ago | Erie, Pennsylvania | https://www.facebook.com/814448221/ |
| Kat Baylee | Joined about a month ago | | https://www.facebook.com/39806425/ |
| Megan Cave | Joined about a month ago | Keble College, Oxford | https://www.facebook.com/100013035589350/ |
| Maggie Johnson | Joined about a month ago | | https://www.facebook.com/100007066097246/ |
| Nathanael Mott | Joined about a month ago | Bridgewater, Massachusetts | https://www.facebook.com/100000472067756/ |
| Nick Fortin | Joined about a month ago | | https://www.facebook.com/100000187918189/ |
| Chris Little | Joined about a month ago | Sutherland, New South Wales, Australia | https://www.facebook.com/100000039998794/ |
| Padriac Patrick | Joined about a month ago | Space Jammin Teacher at Bob Marley | https://www.facebook.com/1790474595/ |
| Kerstin Anderson | Joined about a month ago | | https://www.facebook.com/1449707270/ |
| Michael Jacobs | Joined about a month ago | | https://www.facebook.com/1414230190/ |
| Felipe Topor | Joined about a month ago | Havana, Cuba | https://www.facebook.com/1371554602/ |
| Gilles Mrt | Joined about a month ago | | https://www.facebook.com/1160651120/ |
| Harlie Deese Reid | Joined about a month ago | | https://www.facebook.com/1009500042/ |
| Michael Patrick Moody | Joined about a month ago | | https://www.facebook.com/100038434988496/ |
| Trent Cooper | Joined about a month ago | Owner and CEO at Cooper Family Investments | https://www.facebook.com/100028937139518/ |
| Joseph Kreuz | Joined about a month ago | | https://www.facebook.com/100026340181024/ |
| Eric Roy | Joined about a month ago | Prattville, Alabama | https://www.facebook.com/100015465063019/ |
| Andi Tennity | Joined about a month ago | Lake City High School | https://www.facebook.com/100005198200504/ |
| Connor Marcelina | Joined about a month ago | | https://www.facebook.com/1779596677/ |
| Samuel Wellington | Joined about a month ago | | https://www.facebook.com/611521811/ |
| Akira St. Germain | Joined about a month ago | Peoria, Arizona | https://www.facebook.com/100040957998790/ |
| Brad Bowman | Joined about a month ago | Works at Phoenix Bar & Grill | https://www.facebook.com/1280746965/ |
| David Meyers | Joined about a month ago | Works at Owner Operater | https://www.facebook.com/100055996461328/ |
| Mandy Taylor | Joined about a month ago | Works at Subway | https://www.facebook.com/100011251864748/ |
| Ethan Ames | Joined about a month ago | | https://www.facebook.com/100000134754062/ |
| Lyn Taylor | Joined about a month ago | | https://www.facebook.com/544083164/ |
| Sydnee Kauppi | Joined about a month ago | | https://www.facebook.com/540501759/ |
| Shannon Vee | Joined about a month ago | Edmonton, Alberta | https://www.facebook.com/100028945545836/ |
| Eden Klein | Joined about a month ago | Port Macquarie, New South Wales | https://www.facebook.com/100026384925939/ |
| Shawn Daniel | Joined about a month ago | | https://www.facebook.com/100021830990169/ |
| Pretor Todse | Joined about a month ago | | https://www.facebook.com/100014569608773/ |
| Hemanth Jain | Joined about a month ago | | https://www.facebook.com/100010050587601/ |
| Michaela Liščáková | Joined about a month ago | | https://www.facebook.com/100004117299844/ |
| Marc Descottes Genon | Joined about a month ago | | https://www.facebook.com/1485673990/ |
| Elizabeth Reeves | Joined about a month ago | | https://www.facebook.com/770183221/ |
| Jan Bali | Joined about a month ago | | https://www.facebook.com/511822749/ |
| Niels Egberts | Joined about a month ago | ROC van Twente | https://www.facebook.com/100003727282093/ |
| Brandi Leigh | Joined about a month ago | | https://www.facebook.com/100001038614575/ |
| Christy Clymore | Joined about a month ago | | https://www.facebook.com/100000746621753/ |
| Zdenka Hanzelova | Joined about a month ago | | https://www.facebook.com/100000259836231/ |
| Ash Goodin | Joined about a month ago | | https://www.facebook.com/1114825896/ |
| Shannon Weaver | Joined about a month ago | Commentator at RedRock Tech | https://www.facebook.com/606905317/ |
| Eric Draht | Joined about a month ago | Vernon, British Columbia | https://www.facebook.com/572510130/ |
| Christine Kinahan | Joined about a month ago | Mohawk College | https://www.facebook.com/500132374/ |
| Radwan De | Joined about a month ago | | https://www.facebook.com/100054493597143/ |
| Alexander Melkisetian | Joined about a month ago | Works at The Danielsen Company | https://www.facebook.com/100051170483375/ |
| Madeline Summer | Joined about a month ago | Partner at Stewart's Shops | https://www.facebook.com/100011127763562/ |
| Connor O'Brien | Joined about a month ago | Security guard at Harley-Davidson | https://www.facebook.com/100002330832972/ |
| Ell Hart | Joined about a month ago | | https://www.facebook.com/100000452563202/ |
| Brantley Wayne Knight | Joined about a month ago | Works at Complete Aqua Care | https://www.facebook.com/100000194199194/ |
| Laurie Diaz | Joined about a month ago | | https://www.facebook.com/1385132924/ |
| Barbara Trudell | Joined about a month ago | | https://www.facebook.com/710628125/ |
| Jamie Anne Arnett | Joined about a month ago | Colorado Springs, Colorado | https://www.facebook.com/100053560488330/ |
| Fernando Parra López | Joined about a month ago | | https://www.facebook.com/100036849203075/ |
| Liv DeHaan | Joined about a month ago | Scottsdale, Arizona | https://www.facebook.com/100006806569299/ |
| Neder Jouini | Joined about a month ago | | https://www.facebook.com/100006416370151/ |
| Zack Bridgwater | Joined about a month ago | | https://www.facebook.com/100003575889756/ |
| Dan Frost | Joined about a month ago | Ottawa, Ontario | https://www.facebook.com/100001660590035/ |
| Nitzan Goldfeld | Joined about a month ago | XAMK – South-Eastern Finland University of Applied Sciences | https://www.facebook.com/100000485052640/ |
| Misty Dawn | Joined about a month ago | Healer/Teacher at Sueños Gitanos | https://www.facebook.com/100000471760200/ |
| John Restrepo | Joined about a month ago | Universidad del Valle | https://www.facebook.com/1133241025/ |
| Fraser Kennedy | Joined about a month ago | | https://www.facebook.com/892590025/ |
| Lis Gee | Joined about a month ago | | https://www.facebook.com/669943020/ |
| Krystle May | Joined about a month ago | Works at I'm a full-time mummy | https://www.facebook.com/548574292/ |
| Kaori Tanaka | Joined about a month ago | Flashbanging Children | https://www.facebook.com/100074593653219/ |
| Jimmy Daley | Joined about a month ago | Foxworth, Mississippi | https://www.facebook.com/100036010025397/ |
| Giuseppe Donatiello | Joined about a month ago | | https://www.facebook.com/100008840023977/ |
| Tyler Rackham | Joined about a month ago | Wesley Chapel, Florida | https://www.facebook.com/100007483720394/ |
| Matthew Majore | Joined about a month ago | | https://www.facebook.com/100002334634209/ |
| Jess Milos | Joined about a month ago | Counselor at Harmony Foundation | https://www.facebook.com/100000546612289/ |
| Jesus Carrizoza | Joined about a month ago | | https://www.facebook.com/100000259838291/ |
| Justin Herrlinger | Joined about a month ago | Fargo, North Dakota | https://www.facebook.com/100000056247051/ |
| Jolka Klejn | Joined about a month ago | Room Attendant at Whitworth Locke | https://www.facebook.com/1773060415/ |
| Casey Howard | Joined about a month ago | Ocala, Florida | https://www.facebook.com/660183263/ |
| Trevor Halperin | Joined about a month ago | | https://www.facebook.com/157300605/ |
| Marabeth Button | Joined about a month ago | Elmira, New York | https://www.facebook.com/100037435808413/ |
| Will Hansen | Joined about a month ago | | https://www.facebook.com/100012489555018/ |
| Skeyla Wardrobe | Joined about a month ago | | https://www.facebook.com/100004196830377/ |
| SY Lee | Joined about a month ago | | https://www.facebook.com/100002992663608/ |
| James Peck | Joined about a month ago | Works at Premium Painting Services | https://www.facebook.com/100002959955924/ |
| Nicholas Yap | Joined about a month ago | Assistant sales supervisor at Wah Chan Gold & Jewellery | https://www.facebook.com/100002204667071/ |
| Ashley Galyean | Joined about a month ago | | https://www.facebook.com/100002196292295/ |
| Luke Hogan | Joined about a month ago | | https://www.facebook.com/1708376984/ |
| Violi Macková | Joined about a month ago | | https://www.facebook.com/1652515378/ |
| Jordan Linscheid | Joined about a month ago | | https://www.facebook.com/1461265730/ |
| Tawnee Calhoun | Joined about a month ago | Drexel University College of Computing and Informatics | https://www.facebook.com/1122993357/ |
| Jack Rice | Joined about a month ago | | https://www.facebook.com/747942802/ |
| Joshua Dillon | Joined about a month ago | Seminole High School | https://www.facebook.com/100049784132043/ |
| Simon Templer | Joined about a month ago | Works at Kunzler & Company | https://www.facebook.com/100038822602335/ |
| Perry Shibbel | Joined about a month ago | Works at BALLS | https://www.facebook.com/100025555880766/ |
| Tyler Kleinschmidt | Joined about a month ago | Works at Doctor Underhood Automotive Specialists | https://www.facebook.com/100005210978477/ |
| Ian Blanchet | Joined about a month ago | Dessinateur-Concepteur at Dessinateur-Concepteur | https://www.facebook.com/100000987492645/ |
| Dwight Moore | Joined about a month ago | Martin Luther King High School | https://www.facebook.com/100000968754002/ |
| Julie Liberty | Joined about a month ago | | https://www.facebook.com/100000366367707/ |
| Clytn Fx | Joined about a month ago | | https://www.facebook.com/100000351399404/ |
| Luke Warnock | Joined about a month ago | | https://www.facebook.com/1298271260/ |
| Garrus Vakarian | Joined about a month ago | | https://www.facebook.com/100066892985022/ |
| Caleb Wilson Erlenbach | Joined about a month ago | Columbus, Ohio | https://www.facebook.com/100054275121740/ |
| Luke Williams | Joined about a month ago | | https://www.facebook.com/100025160120111/ |
| Vicki Jane | Joined about a month ago | Flinders University | https://www.facebook.com/100004169011024/ |
| Gala Richardson | Joined about a month ago | | https://www.facebook.com/100003098099578/ |
| Jordon Krek | Joined about a month ago | | https://www.facebook.com/100001065113269/ |
| Jeremy Blackwelder | Joined about a month ago | Acting Coordinator at DementedFX | https://www.facebook.com/100000559372379/ |
| Jim Mills | Joined about a month ago | | https://www.facebook.com/1047353902/ |
| Josh Noia | Joined about a month ago | Fresno, California | https://www.facebook.com/670274579/ |
| Dani Bee | Joined about a month ago | | https://www.facebook.com/668572336/ |
| Sally Brealey | Joined about a month ago | | https://www.facebook.com/509619753/ |
| Hipster Rasputin | Joined about a month ago | | https://www.facebook.com/100045380767865/ |
| Joseph Harmon | Joined about a month ago | | https://www.facebook.com/100022540306499/ |
| Walter Isaac | Joined about a month ago | Works at Your Mama's House! | https://www.facebook.com/100014653743764/ |
| Erica Martinez | Joined about a month ago | San Antonio, Texas | https://www.facebook.com/100012576632029/ |
| Elizabeta Beta | Joined about a month ago | Narnia, Maryland | https://www.facebook.com/100012549346690/ |
| Bryan Marte | Joined about a month ago | | https://www.facebook.com/100004878075317/ |
| Liam Baker | Joined about a month ago | | https://www.facebook.com/100001092346647/ |
| Miles Medeiros Almas | Joined about a month ago | ECPI University | https://www.facebook.com/100000332822740/ |
| Juli Knai | Joined about a month ago | | https://www.facebook.com/1737832666/ |
| Charlene Hutchinson | Joined about a month ago | | https://www.facebook.com/1032292345/ |
| Brent Duncan | Joined about a month ago | Owner and Founder at Chautauqua Aviation, LLC | https://www.facebook.com/503601045/ |
| Pris Cilla | Joined about a month ago | | https://www.facebook.com/100038556816900/ |
| Stacey Karpinski | Joined about a month ago | | https://www.facebook.com/100009174747860/ |
| Paul Lockhart | Joined about a month ago | Works at Augusto Pinochet's Helicopter Tours | https://www.facebook.com/100002871472961/ |
| Daria Giovannoni | Joined about a month ago | | https://www.facebook.com/100002659757683/ |
| Henry Li | Joined about a month ago | Diu, India | https://www.facebook.com/100001815446270/ |
| Chris Wilkes | Joined about a month ago | | https://www.facebook.com/100001150328647/ |
| Jo Larick | Joined about a month ago | | https://www.facebook.com/100000431456010/ |
| Whitney Clark | Joined about a month ago | Provo, Utah | https://www.facebook.com/1625330126/ |
| Eric Pease | Joined about a month ago | | https://www.facebook.com/1174174986/ |
| Angela Manzanares | Joined about a month ago | | https://www.facebook.com/1051988024/ |
| Steve Baronti | Joined about a month ago | | https://www.facebook.com/755963062/ |
| Brienn Rockhill | Joined about a month ago | Panama City, Florida | https://www.facebook.com/666430366/ |
| Zachary Scott | Joined about a month ago | Denver, Colorado | https://www.facebook.com/588803074/ |
| Lauren Sampson | Joined about a month ago | | https://www.facebook.com/575225159/ |
| Max Bilenkiy | Joined about a month ago | | https://www.facebook.com/100068299786075/ |
| Turanga Leela | Joined about a month ago | pilot at Planet Express | https://www.facebook.com/100065251474863/ |
| Matt Maseco | Joined about a month ago | cheif bottle washer at Phoenix Bar & Grill | https://www.facebook.com/100009495696753/ |
| Karol Ociepka | Joined about a month ago | | https://www.facebook.com/100007073980874/ |
| Vinny Puglisi | Joined about a month ago | | https://www.facebook.com/100000695456177/ |
| Jean Paul Bustamante Hernandez | Joined about a month ago | | https://www.facebook.com/100000568415180/ |
| Jeremey O'Dell | Joined about a month ago | Greenbrier West | https://www.facebook.com/100000231178820/ |
| Nikole Ball | Joined about a month ago | | https://www.facebook.com/1605695910/ |
| Chrystal Ballenger | Joined about a month ago | | https://www.facebook.com/1259528224/ |
| Sarah Lucy | Joined about a month ago | | https://www.facebook.com/676692796/ |
| Kyle SilatBear Berry | Joined about a month ago | Slidell, Louisiana | https://www.facebook.com/50315710/ |
| Dominique Holalde | Joined about a month ago | | https://www.facebook.com/100038280904011/ |
| Ethaniel Kevin | Joined about a month ago | Parigi | https://www.facebook.com/100014890726490/ |
| Mathieu Istace | Joined about a month ago | | https://www.facebook.com/100010914210462/ |
| Isabel De Vincenzo | Joined about a month ago | Companion at TARDIS | https://www.facebook.com/100008644448520/ |
| Tim Morrison | Joined about a month ago | | https://www.facebook.com/100007179243439/ |
| Alexander Tan | Joined about a month ago | EXECUTIVE at Certis Group | https://www.facebook.com/100006675816542/ |
| Ben Chase | Joined about a month ago | | https://www.facebook.com/100001586578035/ |
| Nick Johnson | Joined about a month ago | | https://www.facebook.com/517036597/ |
| Jamie Stevens | Joined about a month ago | | https://www.facebook.com/50205504/ |
| Erich Vinson | Joined about a month ago | | https://www.facebook.com/100038905634717/ |
| Thomas Gilbert | Joined about a month ago | | https://www.facebook.com/100034748892982/ |
| Emir Doomsayer | Joined about a month ago | | https://www.facebook.com/100032764462765/ |
| Cédrik Babajko | Joined about a month ago | | https://www.facebook.com/100029084204244/ |
| Ryan Xinba | Joined about a month ago | Chengdu, Sichuan | https://www.facebook.com/100027386083145/ |
| Becca Hart | Joined about a month ago | Juliaetta, Idaho | https://www.facebook.com/100014380420822/ |
| Al Mil | Joined about a month ago | | https://www.facebook.com/100004321695099/ |
| Das But | Joined about a month ago | Emotional Janitor at Bournewood Hospital | https://www.facebook.com/100000679824437/ |
| RJ Yeates | Joined about a month ago | | https://www.facebook.com/1517875444/ |
| Lauren Rochelle | Joined about a month ago | Believer's Life Christian Academy | https://www.facebook.com/1016091970/ |
| Shelby Lyn | Joined about a month ago | | https://www.facebook.com/778122187/ |
| Zach Traficanti | Joined about a month ago | | https://www.facebook.com/100041558710803/ |
| Sha Wan | Joined about a month ago | | https://www.facebook.com/100028736703134/ |
| Matthew Reynolds | Joined about a month ago | lab rat at No Common Sense | https://www.facebook.com/100003467534407/ |
| Ludo Tack | Joined about a month ago | | https://www.facebook.com/100001951145759/ |
| Josiah Alexander De Leon | Joined about a month ago | | https://www.facebook.com/100001096491311/ |
| Adam Leon Barber | Joined about a month ago | University of Brighton | https://www.facebook.com/100000520214604/ |
| Austin Adams | Joined about a month ago | sous chef at Phoenix Bar & Grill | https://www.facebook.com/100000500626528/ |
| Cody Trevino | Joined about a month ago | | https://www.facebook.com/1839348781/ |
| Jayla Hinojosa | Joined about a month ago | | https://www.facebook.com/1570061250/ |
| Antoine Merlin | Joined about a month ago | | https://www.facebook.com/1033867573/ |
| Connor Fisher | Joined about a month ago | MPCT-Croydon | https://www.facebook.com/100004940467886/ |
| Selsun Carvey | Joined about a month ago | Coronado High School | https://www.facebook.com/100001569796161/ |
| Jenna Bunch | Joined about a month ago | Warren Central High School | https://www.facebook.com/1815022546/ |
| Tyler Corey Malmberg | Joined about a month ago | | https://www.facebook.com/1813811101/ |
| Brian Zaiger | Joined about a month ago | Boston, Massachusetts | https://www.facebook.com/1661065221/ |
| Leah Risinger | Joined about a month ago | Holly, Michigan | https://www.facebook.com/1461825166/ |
| Ashton Normandin | Joined about a month ago | Works at Simonet Woodwork Ltd | https://www.facebook.com/1232945566/ |
| Eric Cameron Wicks | Joined about a month ago | | https://www.facebook.com/648323893/ |
| Matt Cash | Joined about a month ago | | https://www.facebook.com/11610145/ |
| Tristan Gillett | Joined about a month ago | | https://www.facebook.com/100024099247793/ |
| Deity Naomi Dame | Joined about a month ago | Robert Galbraith Academy | https://www.facebook.com/100009745126395/ |
| Jefforey Reagin | Joined about a month ago | | https://www.facebook.com/100007498172852/ |
| Ashten Watson | Joined about a month ago | Shopper at Instacart | https://www.facebook.com/100006487339600/ |
| Suzie Dal Santo | Joined about a month ago | | https://www.facebook.com/100003108426022/ |
| Vero Nica | Joined about a month ago | | https://www.facebook.com/100002808552691/ |
| Christopher Keiger | Joined about a month ago | Surfside Beach, South Carolina | https://www.facebook.com/100000698314664/ |
| John Duzio | Joined about a month ago | | https://www.facebook.com/1579825329/ |
| Krystin Kiley | Joined about a month ago | | https://www.facebook.com/1511037332/ |
| Kimberly Scott | Joined about a month ago | New York, New York | https://www.facebook.com/1359104550/ |
| José André | Joined about a month ago | | https://www.facebook.com/724544176/ |
| Brian Singh | Joined about a month ago | | https://www.facebook.com/553063847/ |
| Jessica Pompa | Joined about a month ago | | https://www.facebook.com/510492412/ |
| Nora Abalkhail | Joined about a month ago | | https://www.facebook.com/505487781/ |
| John Jackson | Joined about a month ago | Florence, Alabama | https://www.facebook.com/183403212/ |
| Jason Smith | Joined about a month ago | | https://www.facebook.com/100010578704559/ |
| Francesca Ludens | Joined about a month ago | General Faschizophrenia at Israeli defence forces | https://www.facebook.com/100009801544266/ |
| Breana Elder | Joined about a month ago | | https://www.facebook.com/100007149317054/ |
| Sharley Strait | Joined about a month ago | Works at N/A | https://www.facebook.com/100001884894304/ |
| Michele Sitzia | Joined about a month ago | | https://www.facebook.com/1597458194/ |
| Mike Valle | Joined about a month ago | Self employed at Kick Yer Grass | https://www.facebook.com/1056570072/ |
| Noelle Bullard | Joined about a month ago | Houston, Texas | https://www.facebook.com/778730281/ |
| Rick Russomano | Joined about a month ago | Raritan High School | https://www.facebook.com/556702032/ |
| Jackson Mehoff | Joined about a month ago | Meme University | https://www.facebook.com/100052099718524/ |
| Lance Brace | Joined about a month ago | American Military University | https://www.facebook.com/100039181668846/ |
| Cally Paige | Joined about a month ago | Vancouver, British Columbia | https://www.facebook.com/100017780173283/ |
| Justin Hepworth | Joined about a month ago | International ALERT Academy | https://www.facebook.com/100009607093569/ |
| Sadia Tasnim | Joined about a month ago | | https://www.facebook.com/100008885679533/ |
| Nathan Boswell | Joined about a month ago | | https://www.facebook.com/100007304564989/ |
| Lana Jokič Čampelj | Joined about a month ago | | https://www.facebook.com/100005230954298/ |
| Verónica Richards | Joined about a month ago | | https://www.facebook.com/100003737056842/ |
| Klaudia Topolska | Joined about a month ago | LX LO im. Wojciecha Górskiego w Warszawie | https://www.facebook.com/100003567604608/ |
| Casey Wortman | Joined about a month ago | Western Piedmont Community College | https://www.facebook.com/100001431614708/ |
| Jemma Roberts | Joined about a month ago | | https://www.facebook.com/1524837340/ |
| Hannah Bee | Joined about a month ago | | https://www.facebook.com/837937073/ |
| Jaime Shimeld | Joined about a month ago | Mount Washington College | https://www.facebook.com/643873368/ |
| Nick May | Joined about a month ago | Memphis, Tennessee | https://www.facebook.com/100056123271007/ |
| Michael Martin | Joined about a month ago | Watertown, Wisconsin | https://www.facebook.com/100015793807439/ |
| Ghassen Jebebli | Joined about a month ago | Works at Ecole/Collège/Lycée Sadiki | https://www.facebook.com/100006291285613/ |
| Shelby Gill | Joined about a month ago | | https://www.facebook.com/100004210423034/ |
| Charisma Newell | Joined about a month ago | Detroit, Michigan | https://www.facebook.com/100003033183132/ |
| Brandon Arnold | Joined about a month ago | | https://www.facebook.com/100001928640616/ |
| Debs Davy | Joined about a month ago | | https://www.facebook.com/100000911265517/ |
| Medeea Barabanciu | Joined about a month ago | | https://www.facebook.com/1621211700/ |
| Dave Mendiola | Joined about a month ago | | https://www.facebook.com/1448869383/ |
| Ashley Newton | Joined about a month ago | | https://www.facebook.com/904160243/ |
| Jessica Marie Wiggins | Joined about a month ago | Tustin, California | https://www.facebook.com/630763062/ |
| Jordan Layfield | Joined about a month ago | | https://www.facebook.com/100030350032959/ |
| Sifu Lee | Joined about a month ago | President at The Restaurant at the End of the Universe | https://www.facebook.com/100016336993445/ |
| Jak Vickers | Joined about a month ago | | https://www.facebook.com/100005150767359/ |
| Jason Evripidou | Joined about a month ago | Penleigh and Essendon Grammar School | https://www.facebook.com/100002953882384/ |
| Steve Schonfeld | Joined about a month ago | prince of darkness at Devil's Workshop | https://www.facebook.com/100002530901677/ |
| Sarah Taylor Johnson | Joined about a month ago | Palisades High School | https://www.facebook.com/100001520167674/ |
| Macatangay Jamil | Joined about a month ago | De La Salle Lipa | https://www.facebook.com/100000389748747/ |
| Travis Herzing | Joined about a month ago | Cypress, Texas | https://www.facebook.com/100000141206935/ |
| Will Simonson | Joined about a month ago | | https://www.facebook.com/1535500830/ |
| James Honcoop | Joined about a month ago | | https://www.facebook.com/1343242042/ |
| Lucy Llama Bartone | Joined about a month ago | Postgraduate Researcher at The University of Salford | https://www.facebook.com/599453463/ |
| Syed Khan | Joined about a month ago | Works at Ministry of Climate Change, Govt of Pakistan | https://www.facebook.com/100070419309485/ |
| Ertuğrul İmamson | Joined about a month ago | Samsun Köksal Ersayın Anadolu Lisesi | https://www.facebook.com/100050090894607/ |
| Trevor Petzel | Joined about a month ago | Hall High School | https://www.facebook.com/100049397256409/ |
| Vinícius Raposo | Joined about a month ago | Ampli | https://www.facebook.com/100026043096350/ |
| Isaac Gtz | Joined about a month ago | | https://www.facebook.com/100019746303889/ |
| Adam Millan | Joined about a month ago | Perth, Western Australia | https://www.facebook.com/100006445623558/ |
| Eric Smith | Joined about a month ago | | https://www.facebook.com/100004727851005/ |
| Kristaphor Sitraak Butrusian | Joined about a month ago | Western Sydney University | https://www.facebook.com/100002852467345/ |
| Michael Sabins | Joined about a month ago | | https://www.facebook.com/100000182820272/ |
| Tomas Rolinka Horacek | Joined about a month ago | | https://www.facebook.com/1355806104/ |
| Cope Satisfies | Joined about a month ago | Duluth High School | https://www.facebook.com/1272792923/ |
| Amie Kearney | Joined about a month ago | | https://www.facebook.com/606048553/ |
| Karol Lisiak | Joined about a month ago | University of Sussex | https://www.facebook.com/202909198/ |
| Rebecca Laptook | Joined about a month ago | | https://www.facebook.com/100050508524893/ |
| Samuel Oates | Joined about a month ago | | https://www.facebook.com/100028417755635/ |
| Madison Grace | Joined about a month ago | Cashier/pharmacy at Walgreens | https://www.facebook.com/100001151252499/ |
| Adrielle Young | Joined about a month ago | | https://www.facebook.com/100000045561900/ |
| Aaron Wyman | Joined about a month ago | | https://www.facebook.com/675163705/ |
| Cody Rinas | Joined about a month ago | | https://www.facebook.com/637997090/ |
| Dani Douglas | Joined about a month ago | | https://www.facebook.com/623533292/ |
| Brad Buchanan | Joined about a month ago | | https://www.facebook.com/41113663/ |
| Ethan Thornock | Joined about a month ago | Omaha, Nebraska | https://www.facebook.com/100014993228964/ |
| Parker L Wolf | Joined about a month ago | Rantoul, Illinois | https://www.facebook.com/100009498963055/ |
| Burgundy Joan | Joined about a month ago | | https://www.facebook.com/100009479636180/ |
| Alberto Barragán | Joined about a month ago | Sales Manager at Omicron Solutions | https://www.facebook.com/100001902011526/ |
| Danilo D. Dahrendorf | Joined about a month ago | | https://www.facebook.com/100000447358465/ |
| Noah Siedsma | Joined about a month ago | Houston, Missouri | https://www.facebook.com/100000127411651/ |
| Alycia Keeley | Joined about a month ago | Largo, Florida | https://www.facebook.com/1314273181/ |
| Clément Fiquet | Joined about a month ago | Gérant at KeyFleet | https://www.facebook.com/1206647625/ |
| Tim Girard | Joined about a month ago | Mount Wachusett Community College | https://www.facebook.com/1066612585/ |
| Chris Titmas | Joined about a month ago | | https://www.facebook.com/690404950/ |
| Olia Sviridova | Joined about a month ago | | https://www.facebook.com/520237731/ |
| Nicole Virginia | Joined about a month ago | Works at Freelance artist | https://www.facebook.com/510964501/ |
| Leonard L Lamont | Joined about a month ago | | https://www.facebook.com/100049665372543/ |
| Eufemia Jagieło | Joined about a month ago | Zawiercie | https://www.facebook.com/100010213691846/ |
| Henrik Duff Gausdal | Joined about a month ago | Blodfan at Norwich City FC | https://www.facebook.com/100010175772941/ |
| Jerry Ryan | Joined about a month ago | | https://www.facebook.com/100009157245679/ |
| Noah Young | Joined about a month ago | Central High School | https://www.facebook.com/100004273861036/ |
| Kevin Devius Crenshaw | Joined about a month ago | | https://www.facebook.com/100002426985605/ |
| Sarah Damm | Joined about a month ago | Platte Canyon High School | https://www.facebook.com/100000948480542/ |
| Bigus Munnchus | Joined about a month ago | | https://www.facebook.com/100000852065920/ |
| Valorie Klein | Joined about a month ago | | https://www.facebook.com/1460491350/ |
| Hunter Augustine | Joined about a month ago | | https://www.facebook.com/100050522378555/ |
| Justin Lee Sabio | Joined about a month ago | | https://www.facebook.com/100026847003366/ |
| Thor Guldhammer | Joined about a month ago | Roskilde, Denmark | https://www.facebook.com/100016389696036/ |
| Giwrgos Papa | Joined about a month ago | Ampelokipoi, Thessaloniki, Greece | https://www.facebook.com/100010938126895/ |
| Jack Bell | Joined about a month ago | Hamilton, Victoria | https://www.facebook.com/100010857574001/ |
| John O'Dell | Joined about a month ago | | https://www.facebook.com/100002667862871/ |
| Kristopher Maxon | Joined about a month ago | Bellevue, Nebraska | https://www.facebook.com/100002152630070/ |
| Nathan Conley | Joined about a month ago | Baltimore, Maryland | https://www.facebook.com/100002012947291/ |
| Hugo Fernando Lozano | Joined about a month ago | | https://www.facebook.com/1458933303/ |
| Troy Stone | Joined about a month ago | | https://www.facebook.com/1324876771/ |
| Mel Lockett | Joined about a month ago | | https://www.facebook.com/686590413/ |
| Phil Alter | Joined about a month ago | | https://www.facebook.com/203803708/ |
| Dion Gearing | Joined about a month ago | Ara Institute of Canterbury | https://www.facebook.com/100060549684065/ |
| Caleb Manning | Joined about a month ago | Port Richey, Florida | https://www.facebook.com/100057006935386/ |
| Willo Corin | Joined about a month ago | Works at Albert Cottage – Hotel, Restaurant & Bar | https://www.facebook.com/100008973666156/ |
| Daniel Černý | Joined about a month ago | | https://www.facebook.com/100007638091771/ |
| Jackie Davis | Joined about a month ago | Special Ed Paraprofessional at New Mark Middle School | https://www.facebook.com/100005157163588/ |
| Keaton Walker | Joined about a month ago | Petoskey, Michigan | https://www.facebook.com/100004245330079/ |
| Luke Dymerski | Joined about a month ago | Owner at Dymerski Weapons Labs | https://www.facebook.com/100002538884673/ |
| Austin Donnelly | Joined about a month ago | | https://www.facebook.com/100001911766383/ |
| Cj Kizer | Joined about a month ago | Huntsville High School | https://www.facebook.com/100000448208811/ |
| Ellena Gewargis | Joined about a month ago | | https://www.facebook.com/1837129999/ |
| Paul Karen | Joined about a month ago | | https://www.facebook.com/100025128560774/ |
| Rick Fisher | Joined about a month ago | | https://www.facebook.com/100014770033647/ |
| Frankie Wells | Joined about a month ago | Express service tech at Evergreen Subaru | https://www.facebook.com/100005606837633/ |
| Kyle Aubuchon | Joined about a month ago | Electrician at Carroll Electric | https://www.facebook.com/100002009776288/ |
| Aurelija Mazalevskytė | Joined about a month ago | Vilnius, Lithuania | https://www.facebook.com/100001100979442/ |
| Jordan Jones | Joined about a month ago | Bowling Green, Kentucky | https://www.facebook.com/100000759150118/ |
| Anthony Gonzalez | Joined about a month ago | blaster at Austin Powder Company | https://www.facebook.com/754249733/ |
| Nathan Gaunt | Joined about a month ago | Objectionist at Universe | https://www.facebook.com/670726897/ |
| Tina Monson | Joined about a month ago | | https://www.facebook.com/615190455/ |
| Hinal Parham | Joined about a month ago | | https://www.facebook.com/505865709/ |
| Ho Dang | Joined about a month ago | | https://www.facebook.com/60600607/ |
| Uriel Mb | Joined about a month ago | Cashier at The Krusty Krab | https://www.facebook.com/100007448551613/ |
| James Little | Joined about a month ago | Satelite Communications Systems Operator-Maintainer at U.S. Army | https://www.facebook.com/100005076942246/ |
| Amy Adams | Joined about a month ago | University of Central Florida | https://www.facebook.com/100002836868325/ |
| Mercedes Crane | Joined about a month ago | | https://www.facebook.com/100002638268804/ |
| Chris Stare | Joined about a month ago | | https://www.facebook.com/100002394251645/ |
| Shelby Swalwell | Joined about a month ago | | https://www.facebook.com/100001588290243/ |
| Katie Glover | Joined about a month ago | | https://www.facebook.com/1669414981/ |
| Babi Wentz | Joined about a month ago | UFRJ – Universidade Federal do Rio de Janeiro | https://www.facebook.com/1573717073/ |
| Ashley Bauman | Joined about a month ago | | https://www.facebook.com/1554939734/ |
| Kate Cofflin | Joined about a month ago | Chairman & CEO at Nunya Bizness Inc. | https://www.facebook.com/657116656/ |
| Alexander Moss | Joined about a month ago | | https://www.facebook.com/553030897/ |
| Timothy Seders | Joined about a month ago | | https://www.facebook.com/100046527499216/ |
| Ricardo Canul | Joined about a month ago | | https://www.facebook.com/100001795692192/ |
| David Morrow | Joined about a month ago | Mobile Repair Tech at Asurion Careers | https://www.facebook.com/100001478543682/ |
| Ash James Archer | Joined about a month ago | | https://www.facebook.com/100000348007038/ |
| Matt Gromann | Joined about a month ago | IT Communications at Dank Meme Inspection Co. | https://www.facebook.com/100000183002859/ |
| Belissa Cohen | Joined about a month ago | | https://www.facebook.com/644323467/ |
| Amber Webb | Joined about a month ago | | https://www.facebook.com/631720467/ |
| Szilvia Nicole Gabnai | Joined about a month ago | | https://www.facebook.com/578235576/ |
| Beth Wagner | Joined about a month ago | | https://www.facebook.com/526715170/ |
| Kimberly Mauro | Joined about a month ago | | https://www.facebook.com/40706568/ |
| James Red | Joined about a month ago | self employed at Low Earth Orbit | https://www.facebook.com/38412344/ |
| Leonard Holt | Joined about a month ago | | https://www.facebook.com/100067578350545/ |
| Michał Mazurek | Joined about a month ago | I Liceum Ogólnokształcące im. ks. A.J. Czartoryskiego | https://www.facebook.com/100044223420130/ |
| Amanda Marie | Joined about a month ago | | https://www.facebook.com/100011189178636/ |
| Zeneb Salem | Joined about a month ago | | https://www.facebook.com/100009053150078/ |
| Alex Hall | Joined about a month ago | Sutterton | https://www.facebook.com/100005078385078/ |
| Sarah Fortune | Joined about a month ago | | https://www.facebook.com/100004289025826/ |
| Danny Sadler | Joined about a month ago | | https://www.facebook.com/100003956325420/ |
| Jarred Sylvester | Joined about a month ago | Rhodesia, Eastern Cape, South Africa | https://www.facebook.com/100000583556583/ |
| Cassidy Dawn | Joined about a month ago | | https://www.facebook.com/1177650059/ |
| Robert Moreau | Joined about a month ago | | https://www.facebook.com/1041573085/ |
| Antonio Espinoza | Joined about a month ago | Atlanta, Georgia | https://www.facebook.com/767767799/ |
| Stephanie Anne Steel | Joined about a month ago | Kingston upon Hull | https://www.facebook.com/100060323326072/ |
| Helen Bali | Joined about a month ago | BCA (Business College of Athens) | https://www.facebook.com/100004710402390/ |
| Troy Gazdacko | Joined about a month ago | Works at Falls Auto Body, Inc. | https://www.facebook.com/100002068929434/ |
| Eric Shizer | Joined about a month ago | C.E.O. at CloutMasters | https://www.facebook.com/100000932720309/ |
| Daragh Rice | Joined about a month ago | | https://www.facebook.com/100000244498170/ |
| Sam Parker | Joined about a month ago | | https://www.facebook.com/1565299254/ |
| Dillon Rennison | Joined about a month ago | Blessed Hugh Faringdon Catholic School | https://www.facebook.com/725700804/ |
| Corrie Dickinson | Joined about a month ago | | https://www.facebook.com/55701268/ |
| Matt Woods | Joined about a month ago | | https://www.facebook.com/100027528010260/ |
| Ethan de Groot | Joined about a month ago | Setauket, New York | https://www.facebook.com/100007546474068/ |
| Shannon McDaniel | Joined about a month ago | | https://www.facebook.com/100005077835441/ |
| Rob Wolf | Joined about a month ago | HAN University of Applied Sciences | https://www.facebook.com/100003794675148/ |
| Stetson Haselton | Joined about a month ago | Llanfairpwllgwyngyllgogerychwyrndrobwllllantysilio, Gwynedd, United Kingdom | https://www.facebook.com/100002402654345/ |
| Zane Campbell | Joined about a month ago | Perth, Western Australia | https://www.facebook.com/100000764582475/ |
| Kim Cherry | Joined about a month ago | | https://www.facebook.com/1837592971/ |
| Jimmy Olsson | Joined about a month ago | | https://www.facebook.com/1452910028/ |
| Luke Bradshaw | Joined about a month ago | Bassist at Skinny Molly | https://www.facebook.com/1029674015/ |
| Chase Clemens | Joined about a month ago | | https://www.facebook.com/16929587/ |
| Brian Junior | Joined about a month ago | Host at BJ's Restaurant & Brewhouse | https://www.facebook.com/100055973675604/ |
| Jane Sullivan | Joined about a month ago | Works at Turquacken Farm | https://www.facebook.com/100051522360031/ |
| Sophie Claire Hughes | Joined about a month ago | Bricklayer at LEGO | https://www.facebook.com/100044150049502/ |
| Richie Curtis | Joined about a month ago | | https://www.facebook.com/100042008001379/ |
| Vilda Machashafeh | Joined about a month ago | | https://www.facebook.com/100013950423153/ |
| Max Dowling-Leshinsky | Joined about a month ago | University of Cincinnati | https://www.facebook.com/100009236336137/ |
| Tom Fare | Joined about a month ago | Beaurepaire, Rhone-Alpes, France | https://www.facebook.com/100002984777644/ |
| Tracy Richards | Joined about a month ago | | https://www.facebook.com/100002061263384/ |
| Gustav Johnsson | Joined about a month ago | | https://www.facebook.com/100001644716396/ |
| Daniel Nichols | Joined about a month ago | | https://www.facebook.com/100000964211113/ |
| Logan Jackson | Joined about a month ago | Spanaway, Washington | https://www.facebook.com/1503999441/ |
| Lindsey Kwolek | Joined about a month ago | | https://www.facebook.com/1475096080/ |
| Wayde Morris | Joined about a month ago | Works at The fisheries, bene-fisheries huhuhu | https://www.facebook.com/1423336054/ |
| Patrícia | Joined about a month ago | Stoke on Trent College | https://www.facebook.com/100027802606308/ |
| James Gill | Joined about a month ago | | https://www.facebook.com/100024950503364/ |
| Andrei Seiji Gajeto Raon | Joined about a month ago | | https://www.facebook.com/100007497583842/ |
| Kat Nemo | Joined about a month ago | | https://www.facebook.com/100004117058113/ |
| Kait Lyn | Joined about a month ago | Las Vegas, Nevada | https://www.facebook.com/100003164358223/ |
| Jelle Sies | Joined about a month ago | Koning at Wooleywoolyland | https://www.facebook.com/100000976910797/ |
| Laramie Brooke Zeschke | Joined about a month ago | Works at Choate Mental Health & Development Center | https://www.facebook.com/100000899511561/ |
| Colt See | Joined about a month ago | | https://www.facebook.com/1795714008/ |
| Emily Bee | Joined about a month ago | Barista at Maison Valentine | https://www.facebook.com/1364697177/ |
| Jenny Lee | Joined about a month ago | | https://www.facebook.com/1233960082/ |
| Paul Stephen Rainwater | Joined about a month ago | University of Arkansas at Little Rock | https://www.facebook.com/756596966/ |
| Philip Siu | Joined about a month ago | | https://www.facebook.com/193201416/ |
| Murphy Sean | Joined about a month ago | Government of Nunavut at Government of Nanavut | https://www.facebook.com/100033732287495/ |
| Hasin Sebastien Rivu II | Joined about a month ago | | https://www.facebook.com/100014423053846/ |
| Edvinas Urbonas | Joined about a month ago | Works at Kėdainių Juozo Paukštelio pagrindinė mokykla | https://www.facebook.com/100003673214026/ |
| Lee Van-Cliff | Joined about a month ago | | https://www.facebook.com/100003578691764/ |
| Lyle Goncalves | Joined about a month ago | Community College of Rhode Island (CCRI) | https://www.facebook.com/100003357163196/ |
| Teodor Poncu | Joined about a month ago | Facultatea de Automatică și Calculatoare, UPB | https://www.facebook.com/100002517969453/ |
| Nicholas S Somers | Joined about a month ago | Design & Project Director at SOMERTYME ENTERPRISE | https://www.facebook.com/100000918956057/ |
| Desmond Kieran Copeland | Joined about a month ago | Bolton | https://www.facebook.com/1781776310/ |
| Chance Hathaway | Joined about a month ago | | https://www.facebook.com/1527200768/ |
| Joanna Miller Larinan | Joined about a month ago | | https://www.facebook.com/1198610247/ |
| Jake Dignum | Joined about a month ago | | https://www.facebook.com/1154985194/ |
| Deirdre Izdabest | Joined about a month ago | | https://www.facebook.com/27223551/ |
| Tia Peet | Joined about a month ago | Works at The Krusty Krab | https://www.facebook.com/100014827093695/ |
| Michael Mickelsen | Joined about a month ago | | https://www.facebook.com/100013083374715/ |
| Elaine Gould | Joined about a month ago | Shipping/Hiring Manager at SPI, LLC | https://www.facebook.com/100006967241943/ |
| Merrick Stidham | Joined about a month ago | Works at U.S. Army | https://www.facebook.com/100004144090413/ |
| Rebecca Rose | Joined about a month ago | | https://www.facebook.com/100004006980414/ |
| Ez Ung | Joined about a month ago | Delhi Public School, Dimapur | https://www.facebook.com/100003860072925/ |
| Jacob Tallmadge | Joined about a month ago | | https://www.facebook.com/100002543968932/ |
| Glenn Rice | Joined about a month ago | | https://www.facebook.com/100002239171204/ |
| Alex Fuerte | Joined about a month ago | | https://www.facebook.com/100000599550406/ |
| Dondondon Pia | Joined about a month ago | Guy with the beard at Auditory Nausea | https://www.facebook.com/100000544332373/ |
| Charlie Gee | Joined about a month ago | | https://www.facebook.com/1625872872/ |
| John Alston | Joined about a month ago | Owner-operator at JP Alston Construction Inc. | https://www.facebook.com/1277860894/ |
| Teresa Morris Hoffman | Joined about a month ago | AVP at Whitaker Bank | https://www.facebook.com/1162179261/ |
| Erica Cusack | Joined about a month ago | Melbourne, Victoria, Australia | https://www.facebook.com/701037048/ |
| Ken Elmo McCarthy | Joined about a month ago | | https://www.facebook.com/100067634860979/ |
| Helena Amalia Mirkowicz | Joined about a month ago | | https://www.facebook.com/100035443430225/ |
| Dawid Pokorski | Joined about a month ago | | https://www.facebook.com/100007162244181/ |
| Joshua Sibley | Joined about a month ago | Stark State College | https://www.facebook.com/100003129847629/ |
| Mark Davis | Joined about a month ago | Seattle, Washington | https://www.facebook.com/100001129175157/ |
| Neno Matić | Joined about a month ago | Novi Stafilic, Splitsko-Dalmatinska, Croatia | https://www.facebook.com/1700671059/ |
| Michael Weaver | Joined about a month ago | | https://www.facebook.com/1408575706/ |
| Michael Covington | Joined about a month ago | Musician/Producer at The Sixth Element | https://www.facebook.com/1389452793/ |
| Dana Say | Joined about a month ago | Regional Account Manager at Pure Infinity Botanicals | https://www.facebook.com/1305573113/ |
| Shawn Stump | Joined about a month ago | Owner at Stump Direct, LLC | https://www.facebook.com/1206502477/ |
| Austen Janene | Joined about a month ago | | https://www.facebook.com/630707297/ |
| Misti Bo Jr. | Joined about a month ago | | https://www.facebook.com/100043712827208/ |
| José Cisneros | Joined about a month ago | Escobedo, Nuevo Leon | https://www.facebook.com/100012677380357/ |
| Trinity Bourne | Joined about a month ago | Newcastle College | https://www.facebook.com/100010961928196/ |
| Erin Whyley | Joined about a month ago | BTVI | https://www.facebook.com/100007497331007/ |
| John Fernihough | Joined about a month ago | Technological University Dublin | https://www.facebook.com/100003965241210/ |
| Brandon Wilcox | Joined about a month ago | Head Chef at The Krusty Krab | https://www.facebook.com/100001988449349/ |
| Emma Sundqvist | Joined about a month ago | Ulvila | https://www.facebook.com/100001665296722/ |
| Sonaksh Singh Rawat | Joined about a month ago | Content Writer at Rankz | https://www.facebook.com/100000581644382/ |
| Eldan Vaknin | Joined about a month ago | | https://www.facebook.com/1535650058/ |
| Lauren Dorrington | Joined about a month ago | | https://www.facebook.com/1407752787/ |
| Anthony Defrancesco | Joined about a month ago | | https://www.facebook.com/820125981/ |
| Joe Grasso | Joined about a month ago | Co-founder, performer at Shakespeare in the Ring – Renaissance Rumble | https://www.facebook.com/18404402/ |
| Dalton Riddle | Joined about a month ago | Founder at Dalton For President 2044 | https://www.facebook.com/100045847397239/ |
| Candy Brown | Joined about a month ago | | https://www.facebook.com/100022057751658/ |
| Ferhan Slamang | Joined about a month ago | Cape Town, Western Cape | https://www.facebook.com/100009545564799/ |
| Shanae Shaw | Joined about a month ago | TAFE SA RTO: 41026 | https://www.facebook.com/100005895730536/ |
| Muhammad Mirza Arroyyan | Joined about a month ago | Universitas Indonesia | https://www.facebook.com/100003518097093/ |
| Aliee Rodriguez | Joined about a month ago | | https://www.facebook.com/100001689286124/ |
| Jaden Reaid | Joined about a month ago | | https://www.facebook.com/100000044045349/ |
| David Allan | Joined about a month ago | Head Chef at Crieff Hydro | https://www.facebook.com/1672047672/ |
| Adrian Bruland | Joined about a month ago | Trondheim, Norway | https://www.facebook.com/676362673/ |
| Amy Danielle | Joined about a month ago | | https://www.facebook.com/554150239/ |
| Matt Stanley | Joined about a month ago | Bristol, United Kingdom | https://www.facebook.com/511603289/ |
| Drew Bradley | Joined about a month ago | | https://www.facebook.com/100064141663353/ |
| Brian Patrick Rourke | Joined about a month ago | Boston, Massachusetts | https://www.facebook.com/100033664626183/ |
| Alex Cordmone | Joined about a month ago | | https://www.facebook.com/100033005491994/ |
| Mia Sadiqah | Joined about a month ago | Pekanbaru | https://www.facebook.com/100022112977373/ |
| Kiana Lee Ann Herzog | Joined about a month ago | | https://www.facebook.com/100007779428787/ |
| Ashleigh Webb | Joined about a month ago | Brisbane, Queensland, Australia | https://www.facebook.com/100004267750715/ |
| Andreea Ilinca | Joined about a month ago | Graphic Designer/Illustrator at University of Petrosani Students' Union- UPSU | https://www.facebook.com/100003646009224/ |
| Fadeel Jibrin | Joined about a month ago | | https://www.facebook.com/100002838213089/ |
| Joshua Stewart | Joined about a month ago | | https://www.facebook.com/100000021619053/ |
| Alex Baker | Joined about a month ago | Works at Omni Consumer Products | https://www.facebook.com/1696472180/ |
| Misti Lee | Joined about a month ago | | https://www.facebook.com/1311450604/ |
| Stephanie Gale Compton | Joined about a month ago | Nashville, Tennessee | https://www.facebook.com/672730026/ |
| Christopher Arnold | Joined about a month ago | | https://www.facebook.com/622952984/ |
| Sarah Lo | Joined about a month ago | Bartender Manager at Phoenix Bar & Grill | https://www.facebook.com/603869501/ |
| Ayodeji Jackson | Joined about a month ago | | https://www.facebook.com/100016849411176/ |
| Tristan Flanagan | Joined about a month ago | Tulsa, Oklahoma | https://www.facebook.com/100014078164310/ |
| Talitha Dean | Joined about a month ago | | https://www.facebook.com/100002914621991/ |
| Marcos Maiello Costa Rocha | Joined about a month ago | | https://www.facebook.com/100002774166759/ |
| Luke Hough | Joined about a month ago | | https://www.facebook.com/100001233585710/ |
| Samson Keeney | Joined about a month ago | | https://www.facebook.com/100000590770562/ |
| Bryce C. Pridemore | Joined about a month ago | | https://www.facebook.com/1561116692/ |
| Kain Odinson | Joined about a month ago | | https://www.facebook.com/1423470448/ |
| Ingrid Peixoto | Joined about a month ago | Universidade Técnica de Lisboa | https://www.facebook.com/1143368943/ |
| John Kekelik | Joined about a month ago | | https://www.facebook.com/1064088218/ |
| Shawnee Melvin | Joined about a month ago | Clerk Cashier at Alvins Island Tropical Surf Shop | https://www.facebook.com/100053793045636/ |
| Jessica Chambers | Joined about a month ago | | https://www.facebook.com/100027937847112/ |
| Jaybee Montoya | Joined about a month ago | Works at Classified intelligence | https://www.facebook.com/100001689690129/ |
| Théo Citron | Joined about a month ago | | https://www.facebook.com/100000913210498/ |
| Nick Daniel | Joined about a month ago | Frying Pan, North Carolina | https://www.facebook.com/1399500147/ |
| Ashley Elizabeth | Joined about a month ago | Works at RedRock Tech | https://www.facebook.com/1148717464/ |
| Kieran Farquhar | Joined about a month ago | Deck Hand & General Dogsbody at Hook & Cook | https://www.facebook.com/513792993/ |
| Reno Miles | Joined about a month ago | Lease attendant at Desert Oasis Mobile Estates LLC | https://www.facebook.com/178401297/ |
| Bayliee Ess | Joined about a month ago | Western Piedmont Community College | https://www.facebook.com/100062349379939/ |
| Wesley Rockerboy Wyleven | Joined about a month ago | Works at ChazzTechnologies International | https://www.facebook.com/100055027687120/ |
| Sara Saucedo | Joined about a month ago | Roberto Clemente High School chi, ill. | https://www.facebook.com/100027467294433/ |
| Grizz Ayron | Joined about a month ago | Port Huron, Michigan | https://www.facebook.com/100025542047942/ |
| Josef Kteich | Joined about a month ago | | https://www.facebook.com/100006441281592/ |
| Adriana Laura | Joined about a month ago | | https://www.facebook.com/100000314446989/ |
| Laurel Mayer | Joined about a month ago | | https://www.facebook.com/1500101509/ |
| Bryan Salisbury | Joined about a month ago | Customer Service Specialist at Life Protect 24/7 | https://www.facebook.com/1235283516/ |
| Alicia Goldkamp Monroe | Joined about a month ago | Denton, Texas | https://www.facebook.com/1159524168/ |
| Brian A Turner | Joined about a month ago | Florence–Darlington Technical College | https://www.facebook.com/778158653/ |
| Jeremy Adamek | Joined about a month ago | | https://www.facebook.com/554496459/ |
| Gordon Thorn | Joined about a month ago | | https://www.facebook.com/100064454164167/ |
| Lincoln Clay | Joined about a month ago | | https://www.facebook.com/100029699746364/ |
| Igwedimma Valentine | Joined about a month ago | Works at Self-Employed | https://www.facebook.com/100007159099003/ |
| Josh Dugan | Joined about a month ago | | https://www.facebook.com/100001490438437/ |
| Robert Myles | Joined about a month ago | Courier Delivery Driver at American Expediting Company | https://www.facebook.com/100000140753205/ |
| Tyler Salonich | Joined about a month ago | Owner and Founder at Dirt Road Antics LLC | https://www.facebook.com/100000061198062/ |
| Tristan Buller | Joined about a month ago | | https://www.facebook.com/1440462571/ |
| Paul O'Reilly | Joined about a month ago | | https://www.facebook.com/780097872/ |
| Ryo Chan | Joined about a month ago | Works at Chernobyl Nuclear Power Plant | https://www.facebook.com/100068146153842/ |
| John Paris | Joined about a month ago | | https://www.facebook.com/100045954532969/ |
| Tassie Rossiter | Joined about a month ago | Eastbourne, East Sussex | https://www.facebook.com/100004498301780/ |
| Michi Doe | Joined about a month ago | | https://www.facebook.com/100002637265239/ |
| Julian Niewiaroski | Joined about a month ago | | https://www.facebook.com/100002458258738/ |
| Sophia Melton | Joined about a month ago | | https://www.facebook.com/100000710804407/ |
| Kenn Dacquel | Joined about a month ago | | https://www.facebook.com/100000441882060/ |
| Alan Azuara Ayup | Joined about a month ago | Monterrey, Nuevo Leon, Mexico | https://www.facebook.com/504164543/ |
| Mark McGuire | Joined about a month ago | | https://www.facebook.com/100015717394925/ |
| Kayla Scholtz | Joined about a month ago | Nelson Mandela University | https://www.facebook.com/100013772352211/ |
| Carter Alexander Donofrio | Joined about a month ago | | https://www.facebook.com/100004109195675/ |
| Alexandru Caloi | Joined about a month ago | ACADEMIA DE STUDII ECONOMICE DIN BUCURESTI | https://www.facebook.com/100002237388325/ |
| Enzo Fabritzi | Joined about a month ago | | https://www.facebook.com/100001480991178/ |
| Taylor Bolhuis | Joined about a month ago | High School Science Teacher at Culver School District 4 | https://www.facebook.com/1651700314/ |
| Autumn Brewster | Joined about a month ago | | https://www.facebook.com/1001998006/ |
| Arthur Flower | Joined about a month ago | | https://www.facebook.com/595373701/ |
| Cam Spry | Joined about a month ago | Software Engineer/DevOps at NetThunder | https://www.facebook.com/529177956/ |
| Anthony Wecels | Joined about a month ago | IT guy at A bank | https://www.facebook.com/100051025704274/ |
| Troy Freeman | Joined about a month ago | | https://www.facebook.com/100035588650085/ |
| Michael Handcock | Joined about a month ago | Data Center Security at Classified Location | https://www.facebook.com/100026682727808/ |
| Mark Maxwell | Joined about a month ago | | https://www.facebook.com/100010813633628/ |
| Farah Yusop | Joined about a month ago | | https://www.facebook.com/100009262466622/ |
| Nicole Stefani | Joined about a month ago | | https://www.facebook.com/100002972147013/ |
| Nathan Mycroft | Joined about a month ago | Workshop idiot at mechanic | https://www.facebook.com/100000626851841/ |
| Ru Ru | Joined about a month ago | | https://www.facebook.com/100053549016325/ |
| Charles Bates | Joined about a month ago | UTSA – The University of Texas at San Antonio | https://www.facebook.com/100048803744257/ |
| Fikret Demir | Joined about a month ago | Bursa | https://www.facebook.com/100045896595732/ |
| Christian Sembello | Joined about a month ago | Buenos Aires, Argentina | https://www.facebook.com/100022146588403/ |
| Frederik Thøgersen | Joined about a month ago | Brørup | https://www.facebook.com/100009922234523/ |
| Joseph Wolfie Martin | Joined about a month ago | | https://www.facebook.com/100003385582041/ |
| Oberholzer J Bradlee | Joined about a month ago | Harrisonburg, Virginia | https://www.facebook.com/100001950381808/ |
| Charlene Kuyrkendall | Joined about a month ago | | https://www.facebook.com/1609254857/ |
| Kelvic Dyez | Joined about a month ago | Winston… at ROOM 101 | https://www.facebook.com/1492308482/ |
| Nathaniel Wilkinson | Joined about a month ago | Attorney at Law at Nathaniel E. Wilkinson, Esq. | https://www.facebook.com/71501337/ |
| Bexx Jones | Joined about a month ago | Works at Rucka Rucka Ali | https://www.facebook.com/100023914153465/ |
| Rafee | Joined about a month ago | Gold Coast, Queensland | https://www.facebook.com/100015843545806/ |
| Josh Guy | Joined about a month ago | | https://www.facebook.com/100014008358618/ |
| Sándor Dávid | Joined about a month ago | | https://www.facebook.com/100010081059955/ |
| Daniele Sisk | Joined about a month ago | | https://www.facebook.com/100003562599892/ |
| Sammy Frew | Joined about a month ago | Grangemouth | https://www.facebook.com/100001463439380/ |
| Mavrick Harris | Joined about a month ago | Greenville, South Carolina | https://www.facebook.com/746882299/ |
| Ryan Froehlich | Joined about a month ago | | https://www.facebook.com/505359107/ |
| Steve Bradley | Joined about a month ago | | https://www.facebook.com/100060298945644/ |
| Jason Rask | Joined about a month ago | Snohomish High School | https://www.facebook.com/100013298228037/ |
| Sarah Kd | Joined about a month ago | | https://www.facebook.com/100007285531369/ |
| Andrew Saindon | Joined about a month ago | Bombcatcher / Payroll clerk at Ron's Sign Company | https://www.facebook.com/100002462545370/ |
| Jaq Cuddy | Joined about a month ago | Iasi, Romania | https://www.facebook.com/1432254199/ |
| Brayden Ryler Antunovich | Joined about a month ago | | https://www.facebook.com/1236211607/ |
| Joshua Ng | Joined about a month ago | | https://www.facebook.com/1093930507/ |
| Janet Mayer | Joined about a month ago | Buffalo, New York | https://www.facebook.com/44205068/ |
| Heydrich Charlie | Joined about a month ago | Animation Lab – Academy of Fine Arts Vienna | https://www.facebook.com/100050323808319/ |
| Milan Zilvar | Joined about a month ago | | https://www.facebook.com/100040522173545/ |
| Jorge Filho | Joined about a month ago | | https://www.facebook.com/100025965130561/ |
| Viivi-Liisa Hagman | Joined about a month ago | Savonlinna | https://www.facebook.com/100024652642756/ |
| Christopher Andreas Girke | Joined about a month ago | Works at Self-Employed | https://www.facebook.com/100022698049034/ |
| Ellie Coughlan | Joined about a month ago | SEEVIC College | https://www.facebook.com/100013864625320/ |
| Alix Hassan | Joined about a month ago | University of Essex | https://www.facebook.com/100008327857369/ |
| Alex Waites | Joined about a month ago | Pinkerton Academy | https://www.facebook.com/100006456697656/ |
| Denisa-Alexandra Nedelcu | Joined about a month ago | Facultatea de Drept ASE | https://www.facebook.com/100003082483595/ |
| Todd Odell | Joined about a month ago | | https://www.facebook.com/100000675369869/ |
| Mike TeeVee | Joined about a month ago | | https://www.facebook.com/1367220881/ |
| Cain Hastesmann | Joined about a month ago | | https://www.facebook.com/100052432519653/ |
| Nađa Spahalić | Joined about a month ago | Teacher at Acadsoc Online English Tutor Club | https://www.facebook.com/100047473776775/ |
| Natasha Andersen | Joined about a month ago | | https://www.facebook.com/100013657357579/ |
| Daniel Fantasia | Joined about a month ago | | https://www.facebook.com/100004664976807/ |
| William Par | Joined about a month ago | | https://www.facebook.com/100003612219336/ |
| Amanda Merritt | Joined about a month ago | | https://www.facebook.com/1162460191/ |
| Nick Dial | Joined about a month ago | | https://www.facebook.com/765397385/ |
| Lynda Vaughan | Joined about a month ago | | https://www.facebook.com/502065334/ |
| Nikki Kenny | Joined about a month ago | | https://www.facebook.com/74201391/ |
| Courtney LeMay | Joined about a month ago | Sales Associate at AAFES | https://www.facebook.com/100012715118578/ |
| Dee MP | Joined about a month ago | | https://www.facebook.com/100010562700473/ |
| Nikki Hurst | Joined about a month ago | | https://www.facebook.com/100007282051898/ |
| John Shapanski | Joined about a month ago | HMFIC at Secret Squirrel Enterprises | https://www.facebook.com/100007259566918/ |
| Danielle E Lynn | Joined about a month ago | | https://www.facebook.com/100006621453987/ |
| Alexis Dayton Terrell | Joined about a month ago | | https://www.facebook.com/100005349428233/ |
| Gabriel Thrasher | Joined about a month ago | WyoTech – Laramie | https://www.facebook.com/100003952483669/ |
| Ben Boniface | Joined about a month ago | Plymouth | https://www.facebook.com/100002653396795/ |
| Jakub Passer | Joined about a month ago | Kolodeje, Hlavní Město Praha, Czech Republic | https://www.facebook.com/100000715858229/ |
| Nikki Strand | Joined about a month ago | | https://www.facebook.com/100000542623470/ |
| Dave Yagy | Joined about a month ago | | https://www.facebook.com/100000366525438/ |
| Kathy Brown | Joined about a month ago | Crew Trainer at McDonald's | https://www.facebook.com/100000218275345/ |
| Tim William | Joined about a month ago | Green Bay, Wisconsin | https://www.facebook.com/1450510784/ |
| Jordan Coughlin | Joined about a month ago | | https://www.facebook.com/560289431/ |
| Anne T. Acid | Joined about a month ago | | https://www.facebook.com/100032586184774/ |
| Lola Marigolda Peterson | Joined about a month ago | Fort George G Meade | https://www.facebook.com/100012166606445/ |
| Ashley Faulkner | Joined about a month ago | | https://www.facebook.com/100006743014494/ |
| Oonagh Chomskytė – McGeever | Joined about a month ago | Vilniaus dailės akademija | https://www.facebook.com/100005598198046/ |
| Jody Nikodem | Joined about a month ago | | https://www.facebook.com/100003248703845/ |
| Brandon Winmar Dawson | Joined about a month ago | | https://www.facebook.com/100001168042016/ |
| Rejoy Pal | Joined about a month ago | | https://www.facebook.com/100000411027953/ |
| Kyle Strine | Joined about a month ago | | https://www.facebook.com/100000142280974/ |
| Megan Brown Sullivan | Joined about a month ago | Works at Self employed | https://www.facebook.com/1396291685/ |
| Lucy Chandler | Joined about a month ago | | https://www.facebook.com/684610250/ |
| Emily Heenan Blank | Joined about a month ago | | https://www.facebook.com/578127653/ |
| Hieronymous Lex | Joined about a month ago | | https://www.facebook.com/100064572145230/ |
| Austin Joseph | Joined about a month ago | Hindustan College of Arts & Science, Chennai. | https://www.facebook.com/100039551633352/ |
| Graham Lewis | Joined about a month ago | Dock Hand at Regal Air | https://www.facebook.com/100002498674842/ |
| Patrick Amanda Brigman | Joined about a month ago | | https://www.facebook.com/100002408694674/ |
| Laura Lee Dark | Joined about a month ago | Veterinary Technician (Vet Tech) at Veterinary Technician at… | https://www.facebook.com/100001942163325/ |
| Jake Minogue | Joined about a month ago | Store Manager at Jay Jays | https://www.facebook.com/100001047618984/ |
| Manda Paine | Joined about a month ago | | https://www.facebook.com/100000971396061/ |
| Christopher Weaver | Joined about a month ago | Works at Universal Forest Products | https://www.facebook.com/100000813581050/ |
| Douglas Summers | Joined about a month ago | Gainesboro, Tennessee | https://www.facebook.com/100000523268874/ |
| Dow Lizzy | Joined about a month ago | | https://www.facebook.com/1484244891/ |
| Sammy Samuels | Joined about a month ago | | https://www.facebook.com/517491765/ |
| Catto Singh | Joined about a month ago | Birla Institute of Technology and Science, Pilani | https://www.facebook.com/100051059408631/ |
| Mark Smith | Joined about a month ago | Bearsden Academy | https://www.facebook.com/100042434477505/ |
| Colby Holmes | Joined about a month ago | Sub Contractor at P.C.H Builders | https://www.facebook.com/100001693338395/ |
| Colter Brög | Joined about a month ago | | https://www.facebook.com/100001454461246/ |
| Azreith Schwermetall | Joined about a month ago | | https://www.facebook.com/1491727608/ |
| Sonnie Laight | Joined about a month ago | Llandrindod Wells | https://www.facebook.com/1455940943/ |
| Sopaipa Tisi | Joined about a month ago | UMCE Chile | https://www.facebook.com/1254425034/ |
| Mike Parker | Joined about a month ago | | https://www.facebook.com/1237723189/ |
| Ovidiu Burca | Joined about a month ago | | https://www.facebook.com/702237567/ |
| Somto Obiorah | Joined about a month ago | University of Benin (UNIBEN) 09 | https://www.facebook.com/100045899228771/ |
| Sam Matthews | Joined about a month ago | ramp agent at Wuhan Tianhe International Airport | https://www.facebook.com/100006173292378/ |
| Clarissa Joan Moad | Joined about a month ago | Waynesville, North Carolina | https://www.facebook.com/100006037813481/ |
| Nate Cryer | Joined about a month ago | | https://www.facebook.com/100005032170463/ |
| Lukas Bērziņš | Joined about a month ago | Dublin, Ireland | https://www.facebook.com/100002198861075/ |
| Ethan Mitchell | Joined about a month ago | Morisset, New South Wales, Australia | https://www.facebook.com/100002073742470/ |
| Jeremiah Gidcumb | Joined about a month ago | | https://www.facebook.com/100002057546543/ |
| Johnny Sibirtzeff | Joined about a month ago | Tafton, Pennsylvania | https://www.facebook.com/100000441426124/ |
| Sam McCampbell | Joined about a month ago | Albany, Georgia | https://www.facebook.com/1635760026/ |
| Catherine Tullock | Joined about a month ago | | https://www.facebook.com/1550562678/ |
| Kirby Makrevski | Joined about a month ago | Owner at Sea Her Glow Beauty | https://www.facebook.com/511741333/ |
| Вера Родина | Joined about a month ago | Mytishchi, Moscow Oblas, Russia | https://www.facebook.com/100036399669016/ |
| Robert Meyers | Joined about a month ago | | https://www.facebook.com/100009787176330/ |
| Jayden Stanley | Joined about a month ago | | https://www.facebook.com/100002528344737/ |
| Garah Helms | Joined about a month ago | | https://www.facebook.com/100001012754292/ |
| Andre Apo Fernandez | Joined about a month ago | Los Educadores | https://www.facebook.com/100000689719226/ |
| Micah Emerson | Joined about a month ago | Retired, Stay at home Father at Home | https://www.facebook.com/100000464724547/ |
| Paula Arzola | Joined about a month ago | | https://www.facebook.com/1703244412/ |
| Richard Cranium III | Joined about a month ago | | https://www.facebook.com/1220620962/ |
| Brandon Myer | Joined about a month ago | | https://www.facebook.com/1033418694/ |
| Christopher Michael | Joined about a month ago | | https://www.facebook.com/537537021/ |
| Katherine Bergmann | Joined about a month ago | | https://www.facebook.com/60000796/ |
| Brandon Percy | Joined about a month ago | | https://www.facebook.com/100011036681838/ |
| Ashton Waechter | Joined about a month ago | Lynchburg, Virginia | https://www.facebook.com/100001620580863/ |
| A.j. Stone | Joined about a month ago | | https://www.facebook.com/100001218066849/ |
| Jason Chen | Joined about a month ago | | https://www.facebook.com/100000913913116/ |
| Harriet Canary | Joined about a month ago | Works at The Krusty Krab | https://www.facebook.com/100047004670462/ |
| Christian Squitieri | Joined about a month ago | | https://www.facebook.com/100015512371457/ |
| Jordan Silfies | Joined about a month ago | Guard at Stormwind City | https://www.facebook.com/100004962426465/ |
| Kara Rae | Joined about a month ago | New Egypt High School | https://www.facebook.com/100002263471340/ |
| Solaf Atef | Joined about a month ago | | https://www.facebook.com/100002222791898/ |
| Bryan Davis | Joined about a month ago | Security host at House of Blues Myrtle Beach | https://www.facebook.com/1417087428/ |
| Andy Munson | Joined about a month ago | Doctor Andy at Freelance Gynecology | https://www.facebook.com/1338944967/ |
| Aleksander Nguyễn | Joined about a month ago | Hanoi, Vietnam | https://www.facebook.com/724678066/ |
| Mario Saucedo | Joined about a month ago | Works at Custom Integrity Homes | https://www.facebook.com/704187202/ |
| Kenny McKee | Joined about a month ago | | https://www.facebook.com/552818325/ |
| Jess Merica | Joined about a month ago | Host/Hostess at Phoenix Bar & Grill | https://www.facebook.com/100046236742293/ |
| Emmy Norwood | Joined about a month ago | | https://www.facebook.com/100024092141608/ |
| Mike Oxlong Jr | Joined about a month ago | | https://www.facebook.com/100022941830300/ |
| William Glover | Joined about a month ago | heavy equipment operator at Bell Flower Solar | https://www.facebook.com/100013862563116/ |
| Chris Ding | Joined about a month ago | | https://www.facebook.com/1423961057/ |
| Seán Bush | Joined about a month ago | Palomar College | https://www.facebook.com/818597102/ |
| Paolo Piacentini | Joined about a month ago | Works at Gas Engineer | https://www.facebook.com/603118107/ |
| Ed Elric | Joined about a month ago | Works at State Alchemist | https://www.facebook.com/100063191071755/ |
| Andy Larrow | Joined about a month ago | Owner at Highwaymen Transportation | https://www.facebook.com/100048507232318/ |
| Abhishek Kumar | Joined about a month ago | University of Colorado Boulder | https://www.facebook.com/100001049604780/ |
| Matt Layton | Joined about a month ago | | https://www.facebook.com/100000010445067/ |
| Ann Giesecke | Joined about a month ago | | https://www.facebook.com/1214202521/ |
| Robert Engels | Joined about a month ago | | https://www.facebook.com/679801063/ |
| Matthew Sawyer | Joined about a month ago | | https://www.facebook.com/665255657/ |
| Elizabeth Rooney | Joined about a month ago | | https://www.facebook.com/565749078/ |
| Brendan Shea | Joined about a month ago | Coeur d'Alene, Idaho | https://www.facebook.com/100043980154017/ |
| Vincent Cobblah | Joined about a month ago | Time Patroller at Dragon Ball Xenoverse 2 | https://www.facebook.com/100001935452101/ |
| Nathalie Föckeler | Joined about a month ago | Luleå, Sweden | https://www.facebook.com/100000845585534/ |
| Buddy Richey | Joined about a month ago | | https://www.facebook.com/1738462809/ |
| Zach Forsberg | Joined about a month ago | | https://www.facebook.com/775804304/ |
| Александра Александровна | Joined about a month ago | | https://www.facebook.com/100059774680702/ |
| Jakob Bailey | Joined about a month ago | Sandwich Maker at Wendy's | https://www.facebook.com/100018846815486/ |
| Daisy Merollin | Joined about a month ago | | https://www.facebook.com/100005922282053/ |
| Robbie Sey | Joined about a month ago | Maybole | https://www.facebook.com/100003399334072/ |
| Nathan Donahue | Joined about a month ago | Little Rock, Arkansas | https://www.facebook.com/100003184908789/ |
| Alexander Risto Berge | Joined about a month ago | Daglig leder at Skjærsilden | https://www.facebook.com/100002104279299/ |
| Angus Bump | Joined about a month ago | | https://www.facebook.com/100000030669754/ |
| Samantha Collins | Joined about a month ago | personal assistant at Spoutz Insurance Services | https://www.facebook.com/1232340173/ |
| Melissa Deák | Joined about a month ago | Hostess/Server at St. James Place Grill and Bar | https://www.facebook.com/1197487528/ |
| Cayden Brown | Joined about a month ago | Orono High School | https://www.facebook.com/100034459253181/ |
| Amanda Wright | Joined about a month ago | | https://www.facebook.com/100015240341129/ |
| Jowana Kassem | Joined about a month ago | Damascus University – Faculty of Architecture | https://www.facebook.com/100012221088164/ |
| Alyssa Wills | Joined about a month ago | | https://www.facebook.com/100009361551790/ |
| Michael Jordan | Joined about a month ago | | https://www.facebook.com/100009087683538/ |
| Julio Marquez | Joined about a month ago | | https://www.facebook.com/100008244374152/ |
| Elise | Joined about a month ago | Manchester, United Kingdom | https://www.facebook.com/100005941845957/ |
| Layla Bell | Joined about a month ago | Works at The Crazy Cat Lady | https://www.facebook.com/100065518218571/ |
| Rogal Dorn | Joined about a month ago | | https://www.facebook.com/100007487113993/ |
| Marie Goldenshark | Joined about a month ago | | https://www.facebook.com/100006783486709/ |
| Jose Rivero | Joined about a month ago | Valencia, Carabobo | https://www.facebook.com/100004045496946/ |
| Josh Land | Joined about a month ago | | https://www.facebook.com/100001012368853/ |
| Mhairi Laidlaw | Joined about a month ago | Robert Gordon University | https://www.facebook.com/100000541478012/ |
| Alex Grace Coles | Joined about a month ago | Bath Spa University | https://www.facebook.com/676095566/ |
| Jacqueline Testa | Joined about a month ago | Works at RedRock Tech | https://www.facebook.com/76500306/ |
| Sarah Elizabeth Frazier | Joined about a month ago | Works at Kroger | https://www.facebook.com/100030664351179/ |
| Lori Davidson | Joined about a month ago | Iowa City, Iowa | https://www.facebook.com/100027814158971/ |
| Cirilla Aziz Valentine | Joined about a month ago | Couriers at Mojave Express | https://www.facebook.com/100013638187976/ |
| Ádám Vangyia | Joined about a month ago | Dráva Völgye Középiskola és Kollégium | https://www.facebook.com/100006136638763/ |
| Brendan Talmage | Joined about a month ago | | https://www.facebook.com/100001036118687/ |
| Glen Mason | Joined about a month ago | Neshaminy High School | https://www.facebook.com/100000963910064/ |
| Saylor Hughes | Joined about a month ago | Works at Grocery Outlet | https://www.facebook.com/100000560064192/ |
| Kimberly Diane Burchfield | Joined about a month ago | Natchez, Mississippi | https://www.facebook.com/669601973/ |
| David Jeffers | Joined about a month ago | | https://www.facebook.com/655780257/ |
| Daniel McDuffie | Joined about a month ago | Works at Hoyt's Heating & Air Conditioning | https://www.facebook.com/100038024582668/ |
| Jade Christensen | Joined about a month ago | California City, California | https://www.facebook.com/100023599064168/ |
| Rob Perry | Joined about a month ago | Works at Steel Dynamics | https://www.facebook.com/100006854610858/ |
| Tommy Jr Harang | Joined about a month ago | | https://www.facebook.com/1596516780/ |
| Caleb Zook | Joined about a month ago | | https://www.facebook.com/1434053607/ |
| Amanda Marie | Joined about a month ago | | https://www.facebook.com/631891774/ |
| Alex Rhynold | Joined about a month ago | | https://www.facebook.com/500626668/ |
| Kyle Ege | Joined about a month ago | Elizabeth, Illinois | https://www.facebook.com/100006044209491/ |
| Mags O'Merta | Joined about a month ago | Siloam Springs High School | https://www.facebook.com/100003319622719/ |
| Sean Matthew | Joined about a month ago | | https://www.facebook.com/100002604973009/ |
| Jed Capstick | Joined about a month ago | Cardinal Newman College | https://www.facebook.com/100001003383575/ |
| Kelsey Howe | Joined about a month ago | | https://www.facebook.com/1646271851/ |
| Ella Jay | Joined about a month ago | | https://www.facebook.com/750148136/ |
| Jones Getty | Joined about a month ago | | https://www.facebook.com/100060786475686/ |
| Jay Geez | Joined about a month ago | Manager at Mechanical engineering | https://www.facebook.com/100053719117460/ |
| Sean Tisk | Joined about a month ago | | https://www.facebook.com/100013159147578/ |
| Nick Spratlin | Joined about a month ago | Talladega High School | https://www.facebook.com/100001868580381/ |
| Indigo Lotus Knoxville | Joined about a month ago | | https://www.facebook.com/514603717/ |
| Paul Ostby | Joined about a month ago | Squad Leader at United States Army | https://www.facebook.com/199110893/ |
| Leaha Jeremiah | Joined about a month ago | Camperdown High School Victoria Australia | https://www.facebook.com/100063788404304/ |
| Ricky Astley | Joined about a month ago | California State University, Monterey Bay | https://www.facebook.com/100036164957761/ |
| Avery Kish | Joined about a month ago | Regina, Saskatchewan | https://www.facebook.com/100010876877266/ |
| Ruben Chaka Rodriguez | Joined about a month ago | Los Angeles, California | https://www.facebook.com/100001018549462/ |
| Dustin Elder | Joined about a month ago | Sowela Technical CC | https://www.facebook.com/100000040718844/ |
| Jeff Puckett | Joined about a month ago | Wilmington, Ohio | https://www.facebook.com/1117510003/ |
| Eddie L. White Jr. | Joined about a month ago | Everything that needs to be done at A Creator with Many Names | https://www.facebook.com/100054896883837/ |
| Desmond Taylor | Joined about a month ago | Montriond, Rhone-Alpes, France | https://www.facebook.com/100042316509685/ |
| Zebulon Rodriguez | Joined about a month ago | Works at U.S. Marine Corps | https://www.facebook.com/100041441585892/ |
| Val Richards | Joined about a month ago | | https://www.facebook.com/100024775820634/ |
| Aneta Sledzinska | Joined about a month ago | | https://www.facebook.com/100006152105043/ |
| Jacob Lovato | Joined about a month ago | | https://www.facebook.com/100001028043626/ |
| Lane Olson | Joined about a month ago | UW Oshkosh | https://www.facebook.com/100000746294041/ |
| Jodie Stones | Joined about a month ago | Shrewsbury, Shropshire | https://www.facebook.com/100063498606955/ |
| Zoe Lauren-Maria Elliott | Joined about a month ago | | https://www.facebook.com/100002318270155/ |
| Crystal Zeliankevich | Joined about a month ago | | https://www.facebook.com/1437554569/ |
| Louie Radford | Joined about a month ago | | https://www.facebook.com/100008659093522/ |
| Kristin Guiles | Joined about a month ago | | https://www.facebook.com/29718042/ |
| Justé Föxn Wécys | Joined about a month ago | | https://www.facebook.com/100022364744267/ |
| Demery Nelson | Joined about a month ago | | https://www.facebook.com/100000580943845/ |
| Adriana Dos Reis | Joined about a month ago | | https://www.facebook.com/100000403190296/ |
| Ryan Strean | Joined about a month ago | | https://www.facebook.com/1541360487/ |
| Jonathan Buenaventura Bueno Silvestre | Joined about a month ago | Redactor at OutPLEX DR | https://www.facebook.com/757685120/ |
| Matt Long | Joined about a month ago | | https://www.facebook.com/733389052/ |
| Jack McCafferty | Joined about a month ago | | https://www.facebook.com/100005076690921/ |
| Rhonda Stephens | Joined about a month ago | | https://www.facebook.com/100000631772245/ |
| Nikki Collins | Joined about a month ago | Head Alien Translator at NASA – National Aeronautics and Space Administration | https://www.facebook.com/723298530/ |
| Leo Kearse | Joined about a month ago | Glasgow, United Kingdom | https://www.facebook.com/629687650/ |
| Nick DiDonna | Joined about a month ago | University of Central Florida | https://www.facebook.com/5140463/ |
| Margarita Bnd | Joined about a month ago | | https://www.facebook.com/100005048254525/ |
| Tambra Bradley Perez | Joined about a month ago | | https://www.facebook.com/100001721494853/ |
| Rob Veitch | Joined about a month ago | | https://www.facebook.com/100000536432652/ |
| Kristina Baker | Joined about a month ago | Telemetry at Memorial Hermann | https://www.facebook.com/1536030097/ |
| Ann Christin Stark | Joined about a month ago | | https://www.facebook.com/1535378853/ |
| Spencer Funk | Joined about a month ago | | https://www.facebook.com/100052384041982/ |
| Garren Dennis | Joined about a month ago | Echuca, Victoria | https://www.facebook.com/100001863496317/ |
| Mike Raya | Joined about a month ago | Ironworker at Ironworker Union Local 111 | https://www.facebook.com/100001070382729/ |
| Kayla Barker | Joined about a month ago | | https://www.facebook.com/1471932271/ |
| Robert Bates | Joined about a month ago | | https://www.facebook.com/870400315/ |
| Jacob Flint | Joined about a month ago | IT Support Engineer at Mi5 | https://www.facebook.com/679827662/ |
| Kohl Rzepa | Joined about a month ago | | https://www.facebook.com/571706116/ |
| Maria Sadiulov | Joined about a month ago | | https://www.facebook.com/100063953185290/ |
| Amieshia Jayde | Joined about a month ago | | https://www.facebook.com/100009657038158/ |
| Sergio Guillén | Joined about a month ago | | https://www.facebook.com/100006556689247/ |
| Gabriela Hernandez | Joined about a month ago | | https://www.facebook.com/100001693154753/ |
| Wendy Lee | Joined about a month ago | | https://www.facebook.com/695160492/ |
| Kale Schneider | Joined about a month ago | Communications Consultant at Self-Employed | https://www.facebook.com/69204277/ |
| David Koenig | Joined about a month ago | | https://www.facebook.com/100010933093761/ |
| Elise Flynn | Joined about a month ago | Canberra Institute of Technology | https://www.facebook.com/100003467910199/ |
| Chad Rankin | Joined about a month ago | Lugoff-Elgin High School | https://www.facebook.com/100000638434962/ |
| Dylan Smith | Joined about a month ago | Works at Electrical Worker | https://www.facebook.com/100000515812715/ |
| Gráinne Ní Dhomhnaill | Joined about a month ago | | https://www.facebook.com/100000480594653/ |
| Eric Evans | Joined about a month ago | College Station, Texas | https://www.facebook.com/1164821355/ |
| Rose Den | Joined about a month ago | | https://www.facebook.com/720649464/ |
| Laura Lannon | Joined about a month ago | Works at Ridin' God doggy-style through the gates of Hell | https://www.facebook.com/684713939/ |
| Claire Martin Green | Joined about a month ago | | https://www.facebook.com/627794424/ |
| Joseph Rojas | Joined about a month ago | Anaheim, California | https://www.facebook.com/100058726747398/ |
| Brandon Garrard | Joined about a month ago | machinist/welder at Gardner Denver Nash | https://www.facebook.com/100040754927512/ |
| Adrian Barton | Joined about a month ago | Lacey, Washington | https://www.facebook.com/100014051552620/ |
| Huff Tony | Joined about a month ago | | https://www.facebook.com/100002960332516/ |
| Arla Hile | Joined about a month ago | | https://www.facebook.com/100001453244270/ |
| Master Beta | Joined about a month ago | | https://www.facebook.com/1297676689/ |
| Andrew Walker | Joined about a month ago | Whitefish, Montana | https://www.facebook.com/1148203372/ |
| Kristin Connelly Shafier | Joined about a month ago | Indiana University Bloomington | https://www.facebook.com/549625888/ |
| Alty Alterson | Joined about a month ago | Works at Keeper of the Sacred Funk | https://www.facebook.com/100066010377050/ |
| Krusty Jonez | Joined about a month ago | | https://www.facebook.com/100064201711294/ |
| Áine Ní Mórdha | Joined about a month ago | Trinity College Dublin | https://www.facebook.com/100054228353841/ |
| James Scott | Joined about a month ago | Retail Sales Associate at Cracker Barrel Old Country Store | https://www.facebook.com/100011329519525/ |
| Renato C. Uzim | Joined about a month ago | Florianópolis, Santa Catarina | https://www.facebook.com/100010214590788/ |
| Harry Lomax | Joined about a month ago | Charles Sturt University | https://www.facebook.com/100006068710820/ |
| Troy Johnson | Joined about a month ago | | https://www.facebook.com/100002048134247/ |
| Daniel Logan | Joined about a month ago | | https://www.facebook.com/1152530354/ |
| Todd Lerfondler | Joined about a month ago | Meanest Man at Waycross, Georgia | https://www.facebook.com/100064205040171/ |
| Emilia Pond | Joined about a month ago | Pripyat, Ukraine | https://www.facebook.com/100063377571173/ |
| Sam Nall III | Joined about a month ago | Traphouse Forman at Selling crack to buy fuel | https://www.facebook.com/100025370580148/ |
| Maksymilian Starzec | Joined about a month ago | | https://www.facebook.com/100013241411288/ |
| Hunter White | Joined about a month ago | Houston County High School | https://www.facebook.com/100002936067249/ |
| Kagiso Brian Tselanyane | Joined about a month ago | | https://www.facebook.com/100002166806594/ |
| Dariel Wimberly | Joined about a month ago | St. Johns River State College | https://www.facebook.com/100001556754332/ |
| Brandon Hall | Joined about a month ago | | https://www.facebook.com/100000134451910/ |
| Alan Sherry | Joined about a month ago | Dublin, Ireland | https://www.facebook.com/702750650/ |
| Dan Teague | Joined about a month ago | | https://www.facebook.com/612113737/ |
| Lee Baxter | Joined about a month ago | | https://www.facebook.com/512016064/ |
| Olivia Blankenship | Joined about a month ago | Works at Platte River Ranch | https://www.facebook.com/100056711474451/ |
| Kathryn Wolf | Joined about a month ago | | https://www.facebook.com/100041049489901/ |
| Lainee Pullen | Joined about a month ago | | https://www.facebook.com/100011754019366/ |
| Carissa Hansen | Joined about a month ago | Portland, Oregon | https://www.facebook.com/100003473629080/ |
| JP Lavell | Joined about a month ago | | https://www.facebook.com/100001172324431/ |
| Thomas Zaposljavanje | Joined about a month ago | Dortmund | https://www.facebook.com/1177490468/ |
| Antonett Ewan | Joined about a month ago | | https://www.facebook.com/770165789/ |
| AW Seller | Joined about a month ago | UCF Knights | https://www.facebook.com/100041770633563/ |
| Emma Plum | Joined about a month ago | | https://www.facebook.com/100035539904614/ |
| Mia Orešnik | Joined about a month ago | Srednja šola za gastronomijo in turizem Ljubljana | https://www.facebook.com/100006120102328/ |
| Andrew Ay | Joined about a month ago | Computers Man at Loo min | https://www.facebook.com/100003660076246/ |
| Josipa Valentić | Joined about a month ago | Zagreb, Croatia | https://www.facebook.com/100002672957294/ |
| Ellie Amanda Boyer | Joined about a month ago | Lycée Roland Garros – Tampon | https://www.facebook.com/100001816232136/ |
| Kane Wills | Joined about a month ago | Kingaroy, Queensland | https://www.facebook.com/100001436409798/ |
| Dylan Nave | Joined about a month ago | Breather at Carbon Based Life Form | https://www.facebook.com/100001283532696/ |
| Francesco Docchi | Joined about a month ago | Cyber Security Analyst e Cyber Security Consultant at [redacted] | https://www.facebook.com/100000885932737/ |
| Nick Moore | Joined about a month ago | | https://www.facebook.com/1089019080/ |
| Alessia Marongiu | Joined about a month ago | Works at Chiosco John Torregrande | https://www.facebook.com/100056287203765/ |
| Amy Kate | Joined about a month ago | Perth, Western Australia | https://www.facebook.com/100009309709219/ |
| Dalton Wilson | Joined about a month ago | Westside High School (Jacksonville) | https://www.facebook.com/100003782662277/ |
| Jake Burton | Joined about a month ago | Salem, Oregon | https://www.facebook.com/100001947496259/ |
| Chris Richardson | Joined about a month ago | FuckUp Fixer Upper at Davis Erecting | https://www.facebook.com/100000256607724/ |
| Mary Bradley | Joined about a month ago | | https://www.facebook.com/1670929491/ |
| Joe Scott | Joined about a month ago | Internal Medicine Physician at Murfreesboro Medical Clinic & SurgiCenter | https://www.facebook.com/1444099319/ |
| Houston Moore | Joined about a month ago | | https://www.facebook.com/1243212076/ |
| Dean Stanford | Joined about a month ago | Belfast, Tennessee | https://www.facebook.com/100061185291122/ |
| Amber Dawn | Joined about a month ago | | https://www.facebook.com/100024230562779/ |
| Gabi Lazar | Joined about a month ago | Works at Xenosys | https://www.facebook.com/100003744707735/ |
| Hayden Foutz | Joined about a month ago | Works at McWane Ductile | https://www.facebook.com/100003715148356/ |
| Joe Borthwick | Joined about a month ago | | https://www.facebook.com/100003074814746/ |
| Rebecca Aintacommie | Joined about a month ago | | https://www.facebook.com/100002693038471/ |
| Myles Anderson | Joined about a month ago | Arvada, Colorado | https://www.facebook.com/100001258307810/ |
| Samantha Wilson-Gimblett | Joined about a month ago | | https://www.facebook.com/1763462320/ |
| Kushinda Perera | Joined about a month ago | | https://www.facebook.com/1519064666/ |
| Angie Lare | Joined about a month ago | Milton, Delaware | https://www.facebook.com/1206902563/ |
| Kent Andrews Shockney | Joined about a month ago | Houston, Texas | https://www.facebook.com/1178539480/ |
| Chris Reichelt | Joined about a month ago | Head Chef at Phoenix Bar & Grill | https://www.facebook.com/1054315316/ |
| Eloise Gunsberd | Joined about a month ago | Admaston, Telford And Wrekin, United Kingdom | https://www.facebook.com/100056491175486/ |
| Chacha Kratos | Joined about a month ago | | https://www.facebook.com/100054125238406/ |
| Veence Ramos | Joined about a month ago | | https://www.facebook.com/100003891835873/ |
| Stephanie Jones | Joined about a month ago | | https://www.facebook.com/100003731872489/ |
| Veronika Stoilova | Joined about a month ago | | https://www.facebook.com/100003039604788/ |
| Adam Holland | Joined about a month ago | | https://www.facebook.com/100000024781980/ |
| Cassandra Lapointe | Joined about a month ago | Fredericton, New Brunswick | https://www.facebook.com/1737061071/ |
| Patrick Francis | Joined about a month ago | | https://www.facebook.com/1381885829/ |
| Melody Lynn Schwartzman | Joined about a month ago | | https://www.facebook.com/684153574/ |
| Samantha Volovski | Joined about a month ago | Wallingford, Connecticut | https://www.facebook.com/657924907/ |
| Jordon Householder | Joined about a month ago | | https://www.facebook.com/100007121623281/ |
| Daniel Wolf | Joined about a month ago | St. James Parish, Louisiana | https://www.facebook.com/100006149837249/ |
| Cameron Marriott | Joined about a month ago | | https://www.facebook.com/100005144418232/ |
| Maikel J Maikel | Joined about a month ago | | https://www.facebook.com/100004267302433/ |
| Silas Tandrup | Joined about a month ago | | https://www.facebook.com/100002386416452/ |
| Shane Meussner | Joined about a month ago | Bridgeville, Pennsylvania | https://www.facebook.com/100001786217460/ |
| Ron Burg | Joined about a month ago | Ann Arbor, Michigan | https://www.facebook.com/100000355661533/ |
| Jessica Pozzani | Joined about a month ago | | https://www.facebook.com/100000271296046/ |
| Francesca Diane Tan | Joined about a month ago | Congressional National High School-Dasmariñas, Cavite | https://www.facebook.com/100000264517802/ |
| Chuck Albertson | Joined about a month ago | | https://www.facebook.com/1322711009/ |
| Prasad Sanil | Joined about a month ago | | https://www.facebook.com/620209625/ |
| Lauren Baker | Joined about a month ago | | https://www.facebook.com/559445223/ |
| Jack Von Der Holle | Joined about a month ago | | https://www.facebook.com/536840227/ |
| Peter Travis | Joined about a month ago | Pepperdine Graduate School of Education and Psychology | https://www.facebook.com/8503467/ |
| Keesha Grover | Joined about a month ago | Works at Creach Greenhouse | https://www.facebook.com/100049258683029/ |
| Kate Lorean | Joined about a month ago | Works at MaMa | https://www.facebook.com/100048719111887/ |
| Nico Rickley | Joined about a month ago | Loveland, Colorado | https://www.facebook.com/100021185706774/ |
| Jérémy Rouvinez | Joined about a month ago | | https://www.facebook.com/100013469561609/ |
| Brian Halem | Joined about a month ago | Vocalist at Secrets of the Crypt | https://www.facebook.com/100012372102381/ |
| Jiří Švrček | Joined about a month ago | Community Organizer at Cashflow Brno | https://www.facebook.com/100010431796349/ |
| Lochlan White | Joined about a month ago | | https://www.facebook.com/100006801071428/ |
| Anamarija Habulan | Joined about a month ago | | https://www.facebook.com/100004374887101/ |
| Anthony Banchieri | Joined about a month ago | | https://www.facebook.com/100003186162263/ |
| Brandon Millerlite Miller | Joined about a month ago | Taylorsville, Mississippi | https://www.facebook.com/100000463093087/ |
| Adrian Sanchez | Joined about a month ago | Sofia, Bulgaria | https://www.facebook.com/100000433357657/ |
| Laura Casey Bir | Joined about a month ago | | https://www.facebook.com/22410664/ |
| Jason R Yanda | Joined about a month ago | | https://www.facebook.com/100027930690762/ |
| Nicola Di Bona | Joined about a month ago | Port Macquarie, New South Wales | https://www.facebook.com/100019393892575/ |
| Brady Crum | Joined about a month ago | Jacobsburg, Ohio | https://www.facebook.com/100012210610072/ |
| Nick Sidney | Joined about a month ago | | https://www.facebook.com/100004067780577/ |
| Belana Bornschier | Joined about a month ago | | https://www.facebook.com/100002707695986/ |
| Andrei Caloi | Joined about a month ago | ASE – Relatii Economice Internationale | https://www.facebook.com/100002569305672/ |
| Shae Roy | Joined about a month ago | Owner/Photographer at Katherine Roy Photography | https://www.facebook.com/100000420432972/ |
| Elizabeth Diaz | Joined about a month ago | | https://www.facebook.com/100000110215321/ |
| Ryan Voyles | Joined about a month ago | Bottom Loader at The Butt Hut | https://www.facebook.com/828293149/ |
| Alice Swentonajourney | Joined about a month ago | | https://www.facebook.com/505427018/ |
| Kaleih Raye | Joined about a month ago | | https://www.facebook.com/100030378225521/ |
| Aldo Tyson Herrera | Joined about a month ago | | https://www.facebook.com/100028909561813/ |
| Tiffany Barta | Joined about a month ago | Bemidji State University | https://www.facebook.com/100017910271389/ |
| Phan Huỳnh Vũ Bão | Joined about a month ago | Founder – Chairman at Phan Ngoc Hien's English Club | https://www.facebook.com/100007948775402/ |
| Dustin Fessenden | Joined about a month ago | | https://www.facebook.com/100002728333071/ |
| Trad Carpenter | Joined about a month ago | Adair High School | https://www.facebook.com/100001147712350/ |
| Laufrin Marie | Joined about a month ago | | https://www.facebook.com/1362274766/ |
| Daniel White | Joined about a month ago | | https://www.facebook.com/1029060600/ |
| Matthew Mossburg | Joined about a month ago | Financial Advisor at Mossburg Wealth Management | https://www.facebook.com/49002655/ |
| Emily Smithh | Joined about a month ago | paramedic at Northern Light Mercy Hospital | https://www.facebook.com/100042351552194/ |
| Sarah Doe | Joined about a month ago | Pembroke Pines, Florida | https://www.facebook.com/100037118619675/ |
| Kate Carbonara | Joined about a month ago | | https://www.facebook.com/100009473792846/ |
| Jennifer Williams | Joined about a month ago | Genetics Lab Technician at Accugen Laboratories | https://www.facebook.com/100007073887938/ |
| Nahid Delić | Joined about a month ago | | https://www.facebook.com/100002453712522/ |
| Jim Bergstresser | Joined about a month ago | | https://www.facebook.com/100001922272622/ |
| Johnathan Pierce | Joined about a month ago | Fayetteville, Arkansas | https://www.facebook.com/100000609844856/ |
| Leigh Caldwell | Joined about a month ago | | https://www.facebook.com/100000274938830/ |
| Austin Lambertus | Joined about a month ago | Coral Springs, Florida | https://www.facebook.com/728512999/ |
| Klaus Howard | Joined about a month ago | Executive Airport Transfer Driver at Barrie's Cars | https://www.facebook.com/705905296/ |
| Marc Sinton | Joined about a month ago | | https://www.facebook.com/634399076/ |
| Desiree Nicole | Joined about a month ago | Pilot Mound, Iowa | https://www.facebook.com/100044582473560/ |
| Dim Risanaka | Joined about a month ago | | https://www.facebook.com/100016874916576/ |
| Easton Roos | Joined about a month ago | | https://www.facebook.com/100009260661045/ |
| Wade Splitty | Joined about a month ago | RMIT University | https://www.facebook.com/100006197703789/ |
| Emily Jones | Joined about a month ago | | https://www.facebook.com/100005836866077/ |
| Morgan Mosell | Joined about a month ago | | https://www.facebook.com/100003496586810/ |
| Lena Tuñón | Joined about a month ago | Universitat de València – UV | https://www.facebook.com/100001318436223/ |
| Amanda Honchel | Joined about a month ago | Flint, Michigan | https://www.facebook.com/100000402130872/ |
| Jake Michael Steven | Joined about a month ago | | https://www.facebook.com/100000107102838/ |
| Jeffrey N Chauna Berry | Joined about a month ago | Woodland, Washington | https://www.facebook.com/100000022253214/ |
| Ali Kaf | Joined about a month ago | Works at Self-Employed | https://www.facebook.com/1026042226/ |
| Tammy Chapman | Joined about a month ago | Waitress/Bartender/Hostess at Phoenix Bar & Grill | https://www.facebook.com/688005394/ |
| Will Henry | Joined about a month ago | | https://www.facebook.com/504744268/ |
| Nick Glowaski | Joined about a month ago | | https://www.facebook.com/100061971399301/ |
| Eirin Postblock | Joined about a month ago | | https://www.facebook.com/100059130759312/ |
| Autumn Paige | Joined about a month ago | | https://www.facebook.com/100053857151752/ |
| Rebeca Pop | Joined about a month ago | FSEGA | https://www.facebook.com/100026459661931/ |
| Tori Alienn | Joined about a month ago | | https://www.facebook.com/100016003393473/ |
| Charlie Bailey | Joined about a month ago | | https://www.facebook.com/100009723756750/ |
| Dan Schildhauer | Joined about a month ago | Owner-operator at Jocko Express, Inc. | https://www.facebook.com/100009400951707/ |
| Maciek Kowalski | Joined about a month ago | | https://www.facebook.com/100004793687090/ |
| Jared Jolly | Joined about a month ago | | https://www.facebook.com/100002888899715/ |
| Dalton Vz | Joined about a month ago | | https://www.facebook.com/100002428797699/ |
| Andriantsilavo Ravelomanantsoa Heritiana | Joined about a month ago | | https://www.facebook.com/100001678986089/ |
| Justin Garman | Joined about a month ago | | https://www.facebook.com/100001121505802/ |
| Kandi Paige Gallup | Joined about a month ago | | https://www.facebook.com/100001026315175/ |
| Russ Smith | Joined about a month ago | Corby | https://www.facebook.com/100000513524453/ |
| Candi Bainbridge | Joined about a month ago | Perth, Western Australia | https://www.facebook.com/787787572/ |
| Ewan Lothbrok | Joined about a month ago | | https://www.facebook.com/654799352/ |
| Heather Shocker | Joined about a month ago | | https://www.facebook.com/100070390112083/ |
| Chris A Bletl | Joined about a month ago | Warren Woods Tower High School | https://www.facebook.com/100023293206480/ |
| Leona Knott | Joined about a month ago | Stanwell School | https://www.facebook.com/100014564190801/ |
| Roy Hartman | Joined about a month ago | Emmen, Netherlands | https://www.facebook.com/100011715219663/ |
| Greg Morin | Joined about a month ago | | https://www.facebook.com/100008045625523/ |
| Grace Emily | Joined about a month ago | | https://www.facebook.com/100007273367398/ |
| Monis Zafar | Joined about a month ago | SZABIST | https://www.facebook.com/100004021935514/ |
| Sarah Evans | Joined about a month ago | | https://www.facebook.com/100003471510462/ |
| Charles Clifford Compton | Joined about a month ago | Asheville, North Carolina | https://www.facebook.com/1442657301/ |
| Petra Posa | Joined about a month ago | University of Helsinki | https://www.facebook.com/830524763/ |
| Rebecca Frank | Joined about a month ago | | https://www.facebook.com/611926219/ |
| Andrew Ryan Stanczak | Joined about a month ago | Menasha, Wisconsin | https://www.facebook.com/513746805/ |
| Martyn Taylor | Joined about a month ago | | https://www.facebook.com/509302234/ |
| Twammy McProstat | Joined about a month ago | | https://www.facebook.com/100059997678002/ |
| Hiraeth | Joined about a month ago | | https://www.facebook.com/100054059223238/ |
| Faith Odulesi | Joined about a month ago | | https://www.facebook.com/100043230798551/ |
| Norman Glazier | Joined about a month ago | Harvard Law School | https://www.facebook.com/100027927673618/ |
| Jamal Huxley | Joined about a month ago | Birmingham, United Kingdom | https://www.facebook.com/100014740783280/ |
| Raven Ann | Joined about a month ago | | https://www.facebook.com/100010616983548/ |
| Christian Pinion | Joined about a month ago | Busboy at Countryside Cafe | https://www.facebook.com/100009450806922/ |
| Sasa Harris | Joined about a month ago | | https://www.facebook.com/100005033685641/ |
| Nicho Ju | Joined about a month ago | | https://www.facebook.com/100003951371824/ |
| Logan Wertz | Joined about a month ago | University of New Hampshire | https://www.facebook.com/100003077415548/ |
| Sofía Ramos | Joined about a month ago | UAM Azcapotzalco | https://www.facebook.com/100002159871968/ |
| Molly Jackson | Joined about a month ago | Irving, Texas | https://www.facebook.com/100000964482921/ |
| Sarah Brindley | Joined about a month ago | Houston, Texas | https://www.facebook.com/100000519888186/ |
| Tawny Ambrum | Joined about a month ago | | https://www.facebook.com/100000515623095/ |
| Diego Roy | Joined about a month ago | | https://www.facebook.com/100000076844490/ |
| David Clark Burtch | Joined about a month ago | | https://www.facebook.com/1541490044/ |
| Antonio Salveta | Joined about a month ago | Senior lecturer of Applied Anthropology at Botolf-almost-Oxford University | https://www.facebook.com/762286336/ |
| A'aMo Merope T | Joined about a month ago | mutant at X-Men | https://www.facebook.com/611635272/ |
| Elizabeth Carney | Joined about a month ago | | https://www.facebook.com/100051095407282/ |
| Kai JB | Joined about a month ago | | https://www.facebook.com/100049953525978/ |
| Angel Ajay Best | Joined about a month ago | Cheney High School | https://www.facebook.com/100030532428533/ |
| Ashley Reilly | Joined about a month ago | UC Davis School of Law | https://www.facebook.com/100020435492976/ |
| Robert Szilamer Benedek | Joined about a month ago | Liceul Pedagogic Mihai Eminescu Tg. Mures | https://www.facebook.com/100010642384090/ |
| Deric Bowles | Joined about a month ago | | https://www.facebook.com/100010280042372/ |
| Chris Cutts | Joined about a month ago | Harvest, Alabama | https://www.facebook.com/100007030867393/ |
| Tracie Knight | Joined about a month ago | | https://www.facebook.com/100006458969944/ |
| Dave McFarland | Joined about a month ago | | https://www.facebook.com/100005026531340/ |
| Ashton Kane | Joined about a month ago | | https://www.facebook.com/100004295625439/ |
| Sophey Lane | Joined about a month ago | | https://www.facebook.com/100002278815492/ |
| Brittany Perry-Struble | Joined about a month ago | Titusville, Florida | https://www.facebook.com/100000513040651/ |
| Ricky Jimenez | Joined about a month ago | | https://www.facebook.com/1034263195/ |
| Aeron Marshall | Joined about a month ago | | https://www.facebook.com/1012930248/ |
| David Egan | Joined about a month ago | Works at OnlyFans | https://www.facebook.com/569648656/ |
| Jen Tucker Farra | Joined about a month ago | | https://www.facebook.com/558364971/ |
| Arwen Woodgate | Joined about a month ago | University Technical College Norfolk | https://www.facebook.com/100034864267521/ |
| Dustin Tice | Joined about a month ago | Vevay, Indiana | https://www.facebook.com/100022830066607/ |
| Michael Stafford | Joined about a month ago | | https://www.facebook.com/100015184084052/ |
| Haley Lyons | Joined about a month ago | Hollins High School | https://www.facebook.com/100013969985557/ |
| Tamoor Hassan | Joined about a month ago | Operations Manager at AIMS Calibration | https://www.facebook.com/100003173392577/ |
| Mubashir Imran | Joined about a month ago | | https://www.facebook.com/100001764571007/ |
| Miguel Valenciano | Joined about a month ago | trucker at Cera Trucking | https://www.facebook.com/100001363411336/ |
| Chesty LaRue | Joined about a month ago | Harrisonburg, Virginia | https://www.facebook.com/100000739452824/ |
| Mary Hays | Joined about a month ago | Owner/ President at The Cat's Miaow | https://www.facebook.com/100000191191489/ |
| Leigh Suh Fields | Joined about a month ago | | https://www.facebook.com/1187217866/ |
| Greg Timmons | Joined about a month ago | | https://www.facebook.com/1009551457/ |
| Casey Rae Halton | Joined about a month ago | | https://www.facebook.com/580957989/ |
| Michelle Thomson | Joined about a month ago | Works at RedRock Tech | https://www.facebook.com/548126203/ |
| Chris Graham | Joined about a month ago | | https://www.facebook.com/513592885/ |
| Becca Boo | Joined about a month ago | | https://www.facebook.com/510047230/ |
| Mihai Gabriel | Joined about a month ago | Universitatea "Alexandru Ioan Cuza" din Iași | https://www.facebook.com/100050754489258/ |
| Gabriel Vladimir | Joined about a month ago | Works at FaZe Clan | https://www.facebook.com/100013784238970/ |
| Sebastian S Sandoval-Wignall | Joined about a month ago | | https://www.facebook.com/100007974286221/ |
| Alex Doody | Joined about a month ago | Cruise sales and service concierge at Cruise118 | https://www.facebook.com/100003251543749/ |
| Geoffrey Gover Sharpe | Joined about a month ago | trainee engineer at WinSpeed Motorsport | https://www.facebook.com/100003089916431/ |
| Ashton Lemon | Joined about a month ago | Works at Marshalls | https://www.facebook.com/100000852733574/ |
| Biff Vandalay | Joined about a month ago | Roswell, Georgia | https://www.facebook.com/100000147026726/ |
| Michael Redden | Joined about a month ago | Woodrow Wilson High School | https://www.facebook.com/100000093592027/ |
| Beckah Mataronas | Joined about a month ago | | https://www.facebook.com/1555873005/ |
| Devin Collins | Joined about a month ago | Electro / Mechanical Technician at Teledyne FLIR | https://www.facebook.com/1233468656/ |
| Crystal Richter Sarcopski | Joined about a month ago | Reedsville, West Virginia | https://www.facebook.com/1144070119/ |
| Retro Vértigo | Joined about a month ago | | https://www.facebook.com/1003332422/ |
| Andre Vincent | Joined about a month ago | | https://www.facebook.com/506588493/ |
| Nicole Odom | Joined about a month ago | | https://www.facebook.com/11820755/ |
| Nathan Johnson | Joined about a month ago | | https://www.facebook.com/100055580240429/ |
| Aenir Xir Fletcher | Joined about a month ago | Hogwarts School of Witchcraft and Wizardry | https://www.facebook.com/100052839669269/ |
| Isa Rae Leah | Joined about a month ago | | https://www.facebook.com/100049290970071/ |
| Bryan G Brown | Joined about a month ago | | https://www.facebook.com/100016561752863/ |
| Zara Grace Santos | Joined about a month ago | Lehigh Carbon Community College | https://www.facebook.com/100009216349330/ |
| Trav Tozier | Joined about a month ago | Geomatics and Vegetation Management Technician at Parks Canada | https://www.facebook.com/100006488230770/ |
| Seven Sixtoo | Joined about a month ago | Works at RedRock Tech | https://www.facebook.com/100005914896528/ |
| Timothy Jones | Joined about a month ago | Noosa District State High School | https://www.facebook.com/100005158848951/ |
| J.R. Stanley | Joined about a month ago | | https://www.facebook.com/100002553495439/ |
| Florian Campoy | Joined about a month ago | | https://www.facebook.com/100002475919433/ |
| Cloie Farris | Joined about a month ago | Waitress at HENNING'S RESTAURANT | https://www.facebook.com/100002036060886/ |
| Joel Bandi | Joined about a month ago | | https://www.facebook.com/100000991598106/ |
| Jackson Fuller | Joined about a month ago | Lead sales, Termite and Pest control tech at T and B Pest Services | https://www.facebook.com/100000937616095/ |
| Mark Hargett | Joined about a month ago | | https://www.facebook.com/100000687692613/ |
| Justin Pedrozo | Joined about a month ago | De La Salle University-Dasmariñas | https://www.facebook.com/100000268000057/ |
| Zsombor Prisznyák | Joined about a month ago | Glasgow, United Kingdom | https://www.facebook.com/100000222148825/ |
| Karl Westerhoff | Joined about a month ago | Math Teacher at U.S. Department of Labor | https://www.facebook.com/1524083016/ |
| Kate Simpson | Joined about a month ago | Cocktail Waitress at Phoenix Bar & Grill | https://www.facebook.com/1411546438/ |
| Nathan Hale | Joined about a month ago | | https://www.facebook.com/817174391/ |
| Brittany Fark | Joined about a month ago | Remote Representative at Phoenix Bar & Grill | https://www.facebook.com/100050269170710/ |
| Joel Lugg | Joined about a month ago | | https://www.facebook.com/100013634280806/ |
| Salma Noureddin | Joined about a month ago | Egypt Japan University of Science and Technology – EJUST | https://www.facebook.com/100002534191623/ |
| Jean Abdelhalim | Joined about a month ago | | https://www.facebook.com/100001503273462/ |
| Brandon Comeau | Joined about a month ago | | https://www.facebook.com/100000504875083/ |
| Mario Alberto Vázquez Rosas | Joined about a month ago | | https://www.facebook.com/100000249534281/ |
| Lawrence Charnow | Joined about a month ago | | https://www.facebook.com/1836912096/ |
| Zach Collester | Joined about a month ago | Homeschooled | https://www.facebook.com/1791730109/ |
| Julie Beverly | Joined about a month ago | | https://www.facebook.com/1714938272/ |
| Shawn M Whitacre | Joined about a month ago | Operations Manager/Coordinator at N.E. Ohio Security Consult… | https://www.facebook.com/1118529019/ |
| Phillip Corlett | Joined about a month ago | Perth, Western Australia | https://www.facebook.com/1060099149/ |
| Leanne Blake | Joined about a month ago | | https://www.facebook.com/817775009/ |
| Shiv Sharma | Joined about a month ago | | https://www.facebook.com/740775284/ |
| Alegría Buendía | Joined about a month ago | | https://www.facebook.com/708028861/ |
| Haidar Sadik | Joined about a month ago | | https://www.facebook.com/526326781/ |
| Michael Smith | Joined about a month ago | Corrections Corporal at Nebraska Department of Correctional Services | https://www.facebook.com/518428404/ |
| Spencer Smith | Joined about a month ago | Potato at Nearly New | https://www.facebook.com/100060269147139/ |
| Bryan JW | Joined about a month ago | | https://www.facebook.com/100041876087118/ |
| Francis Cloutier | Joined about a month ago | Buenos Aires, Argentina | https://www.facebook.com/100032177919080/ |
| Robert Van Dine | Joined about a month ago | | https://www.facebook.com/100009487269325/ |
| Найден Маргов | Joined about a month ago | | https://www.facebook.com/100006146557458/ |
| Jarred Brock | Joined about a month ago | Melbourne, Victoria, Australia | https://www.facebook.com/100003208506843/ |
| Joel Morris | Joined about a month ago | Works at Stanley Black & Decker | https://www.facebook.com/100003164889606/ |
| Andrea Dusek | Joined about a month ago | | https://www.facebook.com/100002381865541/ |
| Bryce Taylor | Joined about a month ago | Mount Pleasant, Michigan | https://www.facebook.com/1787835967/ |
| Steve McDermott | Joined about a month ago | | https://www.facebook.com/1575695792/ |
| Dana Ashley | Joined about a month ago | | https://www.facebook.com/1324483655/ |
| Magenta Wise | Joined about a month ago | | https://www.facebook.com/1293522583/ |
| Brock Becker | Joined about a month ago | Eugene, Oregon | https://www.facebook.com/1230584773/ |
| Danny Risley | Joined about a month ago | Northwood University | https://www.facebook.com/1052701961/ |
| Artemis Dreizehn | Joined about a month ago | | https://www.facebook.com/682893492/ |
| Elle Wyx | Joined about a month ago | | https://www.facebook.com/100061657146894/ |
| Ethan Lowden | Joined about a month ago | Brentwood Bay, British Columbia | https://www.facebook.com/100014836802382/ |
| Damian Mcglynn | Joined about a month ago | Santa Rosa, California | https://www.facebook.com/100008372582812/ |
| Michaela Jean | Joined about a month ago | | https://www.facebook.com/100005669136708/ |
| Alice Marie | Joined about a month ago | | https://www.facebook.com/100003101104208/ |
| Danny Fortuna | Joined about a month ago | | https://www.facebook.com/100001809339823/ |
| Robert Harper | Joined about a month ago | | https://www.facebook.com/100001736258820/ |
| Seán Welch | Joined about a month ago | Amos Alonzo Stagg High School | https://www.facebook.com/100000901651980/ |
| Amber Laureen | Joined about a month ago | | https://www.facebook.com/1439673073/ |
| Nicola Radford | Joined about a month ago | | https://www.facebook.com/700523308/ |
| Leah Leistner | Joined about a month ago | Works at Automated Routing Inc | https://www.facebook.com/604220376/ |
| Billy Macieno | Joined about a month ago | Works at Train Runner | https://www.facebook.com/100045750620504/ |
| Rachel Ilene Aguirre | Joined about a month ago | Moorhead, Minnesota | https://www.facebook.com/100041658271903/ |
| Rachel Ní Niadh | Joined about a month ago | | https://www.facebook.com/100017534231491/ |
| Blaze March-Firth | Joined about a month ago | | https://www.facebook.com/100014007013367/ |
| Thoha Mohamed | Joined about a month ago | Kulhudhuffushi, Kaafu, Maldives | https://www.facebook.com/100009087965797/ |
| Gabriele Uva | Joined about a month ago | Campus Treviso – Università Ca' Foscari Venezia | https://www.facebook.com/100003716370879/ |
| Aulley Larsen | Joined about a month ago | Green Step Freight inc. at Inland Express | https://www.facebook.com/100002841952574/ |
| Jordan Marie Baptist | Joined about a month ago | Tattoo and Body Artist at Bulldawg Tattoo | https://www.facebook.com/100002480728755/ |
| Billy Laurin | Joined about a month ago | electro mechanic foreman at American Foods Group, Green Bay, WI | https://www.facebook.com/100002099321085/ |
| Gabrielle Kuffel | Joined about a month ago | Works at UMR – Unitedhealth Group | https://www.facebook.com/100001245926428/ |
| Remington Chrysler | Joined about a month ago | State Tested Nursing Assistant (STNA) at Crestview Rehabilit… | https://www.facebook.com/100000737048354/ |
| Dylan Crowston | Joined about a month ago | Lincoln, Lincolnshire | https://www.facebook.com/100000477957866/ |
| Joshua Eiben | Joined about a month ago | Wylie, Texas | https://www.facebook.com/1698255351/ |
| Matt Wickemeyer | Joined about a month ago | | https://www.facebook.com/1588772833/ |
| Rose Edge | Joined about a month ago | kvetcher in training at Get off my Lawn Ltd | https://www.facebook.com/1311949905/ |
| Amie Collins | Joined about a month ago | | https://www.facebook.com/509989000/ |
| Greg Lake | Joined about a month ago | | https://www.facebook.com/508128720/ |
| Dazai Osamu | Joined about a month ago | | https://www.facebook.com/100060030136791/ |
| Rosita Niego | Joined about a month ago | | https://www.facebook.com/100015269912466/ |
| Emma Morgan | Joined about a month ago | Cook at Ms Betty's Kitchen | https://www.facebook.com/100008992592071/ |
| Molly Giesbrecht | Joined about a month ago | | https://www.facebook.com/100005928459290/ |
| Sophia Leigh | Joined about a month ago | | https://www.facebook.com/100004641902298/ |
| Alexa Necole Gunter | Joined about a month ago | Straughn High School | https://www.facebook.com/100004250049787/ |
| Brian Ennis | Joined about a month ago | | https://www.facebook.com/100000486229681/ |
| Crystal Cutlack | Joined about a month ago | | https://www.facebook.com/100000183921077/ |
| Brian Kunkel | Joined about a month ago | | https://www.facebook.com/100000093846156/ |
| Justin R. Gabel | Joined about a month ago | | https://www.facebook.com/1795546089/ |
| Micah Yasharahla | Joined about a month ago | | https://www.facebook.com/1094377092/ |
| Ashley Cline-Hampton | Joined about a month ago | | https://www.facebook.com/1026654446/ |
| Rowl Hadrek | Joined about a month ago | | https://www.facebook.com/820708775/ |
| Cody Clark | Joined about a month ago | Lift Truck Operator-Press at LPs Tire-Lift Parts Service | https://www.facebook.com/804954559/ |
| Amora Mendez | Joined about a month ago | Boss Bitch at Entrepreneur Network | https://www.facebook.com/700058406/ |
| Matthew Ebrom | Joined about a month ago | Floresville, Texas | https://www.facebook.com/579911011/ |
| Dustin Scott Smith | Joined about a month ago | | https://www.facebook.com/100009270634155/ |
| Logan Drummond | Joined about a month ago | | https://www.facebook.com/100004729115678/ |
| Ziemowit Zabawa | Joined about a month ago | CXXII Liceum Ogólnokształcące im. Ignacego Domeyki. | https://www.facebook.com/100003991845854/ |
| Shellie Hennings | Joined about a month ago | Environmental, Health, and Safety EHS Officer at RedRock Tech | https://www.facebook.com/100003612250223/ |
| Jake Williams | Joined about a month ago | Gloucester, Gloucestershire | https://www.facebook.com/100001202779165/ |
| Brandon Dubose | Joined about a month ago | | https://www.facebook.com/100000285196704/ |
| Bryce Fisher | Joined about a month ago | | https://www.facebook.com/1587248256/ |
| Frankie Nunley | Joined about a month ago | CAD Product Design Engineer at Viam Manufacturing | https://www.facebook.com/1471352242/ |
| Helena Stopa | Joined about a month ago | Works at Ogólnopolskie Stowarzyszenie Wiedzy o Szczepieniach STOP NOP | https://www.facebook.com/1435893773/ |
| Ivan Alley | Joined about a month ago | | https://www.facebook.com/1095534055/ |
| Joshua Whyte | Joined about a month ago | Oshawa, Ontario | https://www.facebook.com/615651909/ |
| EJ Mathieu | Joined about a month ago | Griswold Senior High School | https://www.facebook.com/591083403/ |
| Erik Sides | Joined about a month ago | Cleverdale, New York | https://www.facebook.com/100053287696308/ |
| Regghie Mainedoza | Joined about a month ago | | https://www.facebook.com/100042071544190/ |
| Angikar Ghosal | Joined about a month ago | | https://www.facebook.com/100035261406561/ |
| Tommy Grooms | Joined about a month ago | E-Girl at OnlyFans | https://www.facebook.com/100034342988727/ |
| Jeff Lowrance | Joined about a month ago | Space cadet at U.S. Space Force | https://www.facebook.com/100033972072023/ |
| Raffy Burany | Joined about a month ago | UW Oshkosh | https://www.facebook.com/100009815776714/ |
| Lindsay Hooper Whetstone | Joined about a month ago | Customer Service Specialist at Puff Tobacco & Vape Rivers Ave | https://www.facebook.com/100009195411134/ |
| Levi Janisch | Joined about a month ago | | https://www.facebook.com/100008258682581/ |
| Jessica Heath | Joined about a month ago | | https://www.facebook.com/100007010593568/ |
| Rain McMellow | Joined about a month ago | | https://www.facebook.com/100005874698826/ |
| Samantha Cotter | Joined about a month ago | Kawerau, New Zealand | https://www.facebook.com/100005131938474/ |
| Rayden Barquist | Joined about a month ago | technician at CCC&R | https://www.facebook.com/100004906608180/ |
| Alex Wilson | Joined about a month ago | Dish/Busser at Providence Sacred Heart and Holy Family | https://www.facebook.com/100004425249085/ |
| Kendall Silvers | Joined about a month ago | Professional Dog Groomer at Tall Tails Grooming Salon LLC | https://www.facebook.com/100002206260146/ |
| LaChelle LaRose | Joined about a month ago | | https://www.facebook.com/100001510840286/ |
| Samantha Connor | Joined about a month ago | | https://www.facebook.com/100000357579618/ |
| Paula Dell | Joined about a month ago | | https://www.facebook.com/1457145331/ |
| Nicky Davies Gwilliam | Joined about a month ago | | https://www.facebook.com/728565667/ |
| Gregorio Irene | Joined about a month ago | | https://www.facebook.com/657328622/ |
| Jonathan Nichols | Joined about a month ago | | https://www.facebook.com/15802334/ |
| Joshua Miller | Joined about a month ago | Dallas, Texas | https://www.facebook.com/100035927239724/ |
| Dexter Draws | Joined about a month ago | Works at Artist | https://www.facebook.com/100024048010932/ |
| Brittany Tarrants | Joined about a month ago | | https://www.facebook.com/100008381356030/ |
| Haziq Mohamed | Joined about a month ago | Thomas Edison High School of Technology | https://www.facebook.com/100006918408202/ |
| Quirin Groenhof | Joined about a month ago | | https://www.facebook.com/100001309102018/ |
| Tanveer T Rafee | Joined about a month ago | | https://www.facebook.com/1808178541/ |
| Sharon Gray | Joined about a month ago | Palestine, Texas | https://www.facebook.com/1396884967/ |
| Oliver Klosov | Joined about a month ago | | https://www.facebook.com/711857141/ |
| Anna Kate | Joined about a month ago | | https://www.facebook.com/683461644/ |
| Aaron Sullivan | Joined about a month ago | Omaha, Nebraska | https://www.facebook.com/100057971604338/ |
| Garrett Murphy | Joined about a month ago | Richmond, Virginia | https://www.facebook.com/100055535732094/ |
| Tristen Clark | Joined about a month ago | | https://www.facebook.com/100045688100088/ |
| Mila Trotacielos | Joined about a month ago | | https://www.facebook.com/100039057741677/ |
| Abe Links | Joined about a month ago | San Diego, California | https://www.facebook.com/100038720269982/ |
| Pratham Katiyar | Joined about a month ago | BITS Pilani | https://www.facebook.com/100004271389333/ |
| Abdullrhman Hany | Joined about a month ago | Qimam El Hayat International School | https://www.facebook.com/100003797090787/ |
| Yuvraj Singh Tenguriya | Joined about a month ago | West Bengal National University of Juridical Sciences | https://www.facebook.com/100002495312293/ |
| Alex Shepherd | Joined about a month ago | Emotionally Abusive Carnival Barker at The Circus | https://www.facebook.com/100000928718768/ |
| Ryan Kane | Joined about a month ago | Instructor at Ray Finkle Kicking Academy | https://www.facebook.com/100000681958242/ |
| Jan Raźny | Joined about a month ago | | https://www.facebook.com/100000054191860/ |
| Dawn Olson Senitz | Joined about a month ago | | https://www.facebook.com/1624595971/ |
| Gabriel Rybij | Joined about a month ago | Hill Park Secondary School | https://www.facebook.com/1538005903/ |
| Miranda Pearcy | Joined about a month ago | Works at Stay at home mom | https://www.facebook.com/1056232133/ |
| Bobby Caldor | Joined about a month ago | | https://www.facebook.com/700878548/ |
| Robb Lozada | Joined about a month ago | | https://www.facebook.com/511106393/ |
| Hadley Liu | Joined about a month ago | | https://www.facebook.com/100046204008155/ |
| Tom Farbmann | Joined about a month ago | Works at ‎בית ספר של מפגרים‎ | https://www.facebook.com/100016731422454/ |
| James Cunningham | Joined about a month ago | | https://www.facebook.com/100015544931921/ |
| Jason Choate | Joined about a month ago | Works at Repcon Inc. | https://www.facebook.com/100005899597983/ |
| John Adamson | Joined about a month ago | Kelty | https://www.facebook.com/100004342096877/ |
| Matteo Tornaghi | Joined about a month ago | | https://www.facebook.com/100002955831205/ |
| Hayden Geltch-Robb | Joined about a month ago | | https://www.facebook.com/100001730636111/ |
| Olivia Madison Dow | Joined about a month ago | Sangerville, Maine | https://www.facebook.com/100000417352325/ |
| Zachary Johnson | Joined about a month ago | Central High School, Memphis, TN | https://www.facebook.com/100000265746794/ |
| Ella Challis | Joined about a month ago | | https://www.facebook.com/1059707526/ |
| Jimmy Bobby | Joined about a month ago | Middlebrook, Missouri | https://www.facebook.com/654772697/ |
| Kelvin Akil Alfred | Joined about a month ago | | https://www.facebook.com/564800200/ |
| Trainy Former | Joined about a month ago | | https://www.facebook.com/100068510736471/ |
| Ivey Brooks | Joined about a month ago | Anime and Manga Society; University of Essex | https://www.facebook.com/100051780823125/ |
| Safwan Zaman | Joined about a month ago | Notre Dame College, Dhaka | https://www.facebook.com/100026444164842/ |
| Hayden Dove | Joined about a month ago | | https://www.facebook.com/100012549796031/ |
| Matilda Read | Joined about a month ago | Melbourne, Victoria, Australia | https://www.facebook.com/100011712025513/ |
| Samantha Ramos | Joined about a month ago | | https://www.facebook.com/100010938273132/ |
| Daisy LaVacca | Joined about a month ago | | https://www.facebook.com/100007460676139/ |
| Evy de Jong | Joined about a month ago | | https://www.facebook.com/100001429222264/ |
| Viktor Kristinn Vilmundarson | Joined about a month ago | | https://www.facebook.com/100000619205672/ |
| Zadok Hines | Joined about a month ago | 2nd shift assembly at Kubota Manufacturing of America Corp | https://www.facebook.com/1826508458/ |
| Bara Darilkova | Joined about a month ago | University of Salford International | https://www.facebook.com/1384421265/ |
| Theo Papagiannopoulos | Joined about a month ago | | https://www.facebook.com/524190144/ |
| Alexandra Tsvetana | Joined about a month ago | | https://www.facebook.com/100045857598097/ |
| Matthew Davis | Joined about a month ago | | https://www.facebook.com/100032636508138/ |
| Takataka Ataliiotangaloa Ono | Joined about a month ago | | https://www.facebook.com/100024642441718/ |
| Аш Соколова | Joined about a month ago | | https://www.facebook.com/100009423551083/ |
| Almas Gadsdon | Joined about a month ago | | https://www.facebook.com/100009119954603/ |
| Athul Sanjeev | Joined about a month ago | Bangalore, India | https://www.facebook.com/100004755244142/ |
| Richard Alan Dawson | Joined about a month ago | | https://www.facebook.com/100004181430712/ |
| Alexandra Avendaño Hernandez | Joined about a month ago | Translator/Interpreter at RedRock Tech | https://www.facebook.com/100002398646139/ |
| Gage Geer | Joined about a month ago | Package Handler at FedEx | https://www.facebook.com/100002121399613/ |
| Hnyilicza Csaba | Joined about a month ago | Szeged | https://www.facebook.com/100001627045858/ |
| LJ Seigworth | Joined about a month ago | Public Relations and Promoting at Phoenix Bar & Grill | https://www.facebook.com/100000633277386/ |
| Robyn Marie | Joined about a month ago | | https://www.facebook.com/100000607386322/ |
| Matthew Brealey | Joined about a month ago | | https://www.facebook.com/667860906/ |
| Rachel Lynn | Joined about a month ago | | https://www.facebook.com/534711213/ |
| Kyle Taylor | Joined about a month ago | | https://www.facebook.com/30701526/ |
| Ritaba Qadir | Joined about a month ago | SMBBMC-Dow University Of Health Sciences | https://www.facebook.com/100024908887624/ |
| Camille Chávez | Joined about a month ago | | https://www.facebook.com/100010606636022/ |
| Abdullah Striker | Joined about a month ago | | https://www.facebook.com/100009438536150/ |
| TJ Slobodan Murray | Joined about a month ago | | https://www.facebook.com/100006149862132/ |
| Jake Lineman | Joined about a month ago | Temple University | https://www.facebook.com/100001089075117/ |
| Daniel Travis | Joined about a month ago | | https://www.facebook.com/100000373831222/ |
| Zack Wilde | Joined about a month ago | University of New Haven | https://www.facebook.com/100000134228382/ |
| Timbra Newbury | Joined about a month ago | | https://www.facebook.com/735424835/ |
| Naomi Elizabeth | Joined about a month ago | | https://www.facebook.com/583782078/ |
| Kharidi Kharidi | Joined about a month ago | | https://www.facebook.com/100065904886925/ |
| Ashe DeDeaux | Joined about a month ago | | https://www.facebook.com/100054893707295/ |
| Imeryth Dunser | Joined about a month ago | | https://www.facebook.com/100052500739080/ |
| Donny Harris | Joined about a month ago | | https://www.facebook.com/100047823904069/ |
| Zoran Cresham | Joined about a month ago | Barman at Richards cheese and winery | https://www.facebook.com/100047807722474/ |
| Emily Smith | Joined about a month ago | paramedic at OHSU Emergency Room | https://www.facebook.com/100011729598673/ |
| Connor Oakes | Joined about a month ago | | https://www.facebook.com/100011160858813/ |
| Guy Nelson | Joined about a month ago | Brisbane, Queensland, Australia | https://www.facebook.com/100009435752915/ |
| Ryan Pfander | Joined about a month ago | Works at Snap-on Tools | https://www.facebook.com/100009398129448/ |
| Nicole Goodman | Joined about a month ago | | https://www.facebook.com/100008109571354/ |
| Toby Mccormick | Joined about a month ago | Lower Hutt, New Zealand | https://www.facebook.com/100004963336523/ |
| Jordan Bladon | Joined about a month ago | New WWE Universal Champ at WWE | https://www.facebook.com/100003600221454/ |
| Maribel Saenz | Joined about a month ago | Topeka, Kansas | https://www.facebook.com/100000529554227/ |
| Kevin Cerny | Joined about a month ago | Monkey #2 at Innovative Renovations Inc. | https://www.facebook.com/100000090835838/ |
| Ali Rae | Joined about a month ago | | https://www.facebook.com/1107510068/ |
| Eddie Cann | Joined about a month ago | Mental Health Technician (MHT) at Salt Lake Behavioral Health Hospital | https://www.facebook.com/1057287068/ |
| Nella Tarasuka | Joined about a month ago | | https://www.facebook.com/100064025446804/ |
| John Gochnauer | Joined about a month ago | | https://www.facebook.com/100057076965476/ |
| Alex Moreno | Joined about a month ago | | https://www.facebook.com/100044793721494/ |
| Kris Fuller | Joined about a month ago | | https://www.facebook.com/100001597585950/ |
| Michelle Lynn | Joined about a month ago | Witch Doctor at Foundations: Holistic Health and Beauty | https://www.facebook.com/100001584657738/ |
| Hugh Munguss | Joined about a month ago | | https://www.facebook.com/1308094447/ |
| Emily Vidsens | Joined about a month ago | New Egypt, New Jersey | https://www.facebook.com/1112803947/ |
| Mitchell K Lipscomb | Joined about a month ago | | https://www.facebook.com/782945407/ |
| Jordan Lee | Joined about a month ago | | https://www.facebook.com/691312784/ |
| Shannan Dobb | Joined about a month ago | | https://www.facebook.com/516307554/ |
| B Emiliano Campos | Joined about a month ago | Works at Local Crack Enthusiast | https://www.facebook.com/100004040994806/ |
| Alfonz George Litan | Joined about a month ago | | https://www.facebook.com/100000366897104/ |
| Red Svars | Joined about a month ago | | https://www.facebook.com/100000257198066/ |
| Lala Alvarez | Joined about a month ago | Sam Houston State University | https://www.facebook.com/1837266492/ |
| Kyal Casimir | Joined about a month ago | Ridge View High School | https://www.facebook.com/1215021274/ |
| Yeldie Dandeneau-Toutant | Joined about a month ago | | https://www.facebook.com/1056604284/ |
| Ana Julia | Joined about a month ago | | https://www.facebook.com/726476026/ |
| Matt Bullman | Joined about a month ago | | https://www.facebook.com/717801672/ |
| Alexander Alexander | Joined about a month ago | London, United Kingdom | https://www.facebook.com/100065508288413/ |
| Omar García | Joined about a month ago | sus at Sussus Amogus | https://www.facebook.com/100060613376965/ |
| Devon Oltmanns | Joined about a month ago | | https://www.facebook.com/100049512160800/ |
| Wilhelm von Einzbern | Joined about a month ago | Works at Self Employed (Business) | https://www.facebook.com/100047619092207/ |
| Jared Ford | Joined about a month ago | Welding Technician at Boris Manufacturing | https://www.facebook.com/100033569258562/ |
| Brandon Merrithew | Joined about a month ago | Administrative Office Assistant at Spartan Security Solutions LLC | https://www.facebook.com/100005651916243/ |
| Jairo Rojas | Joined about a month ago | Tijuana, Baja California | https://www.facebook.com/100002733386344/ |
| Bradley Wedge | Joined about a month ago | Averill Park High School | https://www.facebook.com/100002122754485/ |
| Matt Stahlberg | Joined about a month ago | Billings, Montana | https://www.facebook.com/1339088904/ |
| Juan Luis Ocharan | Joined about a month ago | | https://www.facebook.com/1044153207/ |
| Zucc Jailbird | Joined about a month ago | | https://www.facebook.com/100057467945332/ |
| Younas Hadi | Joined about a month ago | Bloomington, Illinois | https://www.facebook.com/100026503182202/ |
| Jackie Trice | Joined about a month ago | | https://www.facebook.com/100024759913956/ |
| Emily Klein | Joined about a month ago | | https://www.facebook.com/100011278938768/ |
| Lucas Cessna | Joined about a month ago | Indiana, Pennsylvania | https://www.facebook.com/100006253567251/ |
| Edgar Mendez | Joined about a month ago | Cabrillo Senior High | https://www.facebook.com/100004021257473/ |
| TJ Carter | Joined about a month ago | Rowlett, Texas | https://www.facebook.com/100001839946433/ |
| Jack Lee Howard | Joined about a month ago | Blue Springs, Missouri | https://www.facebook.com/100000246764950/ |
| Jessica Elmquist | Joined about a month ago | Austin, Texas | https://www.facebook.com/1027171553/ |
| Greg Murray | Joined about a month ago | IC/QA at Ross Distribution Center | https://www.facebook.com/502213713/ |
| Aiman Fitri | Joined about a month ago | | https://www.facebook.com/100045225951928/ |
| Birdie Bleakney | Joined about a month ago | Bangor, Maine | https://www.facebook.com/100040983303294/ |
| Aaron Pod | Joined about a month ago | | https://www.facebook.com/100024269043492/ |
| Matt Brettell | Joined about a month ago | Apprentice at Westinghouse Nuclear | https://www.facebook.com/100019264152383/ |
| Albert Ashford | Joined about a month ago | Tonopah, Arizona | https://www.facebook.com/100009235256063/ |
| Louise Shannon Cole | Joined about a month ago | | https://www.facebook.com/100002302217395/ |
| Abigail Peacock | Joined about a month ago | Roosevelt High School | https://www.facebook.com/746380952/ |
| Jacqueline Faith St Louis | Joined about a month ago | Works at Jet's Pizza | https://www.facebook.com/672039918/ |
| Nicko Brooks Joinson | Joined about a month ago | | https://www.facebook.com/553121630/ |
| Jessi Mante | Joined about a month ago | | https://www.facebook.com/12111731/ |
| Londra Snells | Joined about a month ago | Tampa, Florida | https://www.facebook.com/100005117946213/ |
| Chloe Kat Sims | Joined about a month ago | Reading, England | https://www.facebook.com/100002837768757/ |
| Carri Capps | Joined about a month ago | | https://www.facebook.com/100002815644759/ |
| Gina Minichiello | Joined about a month ago | UMass Boston | https://www.facebook.com/100002430132828/ |
| Justin Dixon | Joined about a month ago | everything at G.A. West & Co., Inc. | https://www.facebook.com/100000862371135/ |
| Lizzi Allen | Joined about a month ago | | https://www.facebook.com/100000858986081/ |
| TJ Brinkmann | Joined about a month ago | | https://www.facebook.com/100000547278050/ |
| Brittney Newcomer | Joined about a month ago | | https://www.facebook.com/100001535750962/ |
| Duncan Seidel | Joined about a month ago | Rhinelander High School | https://www.facebook.com/100000997968811/ |
| Allan J Holmgreen | Joined about a month ago | | https://www.facebook.com/100000131496753/ |
| Katelyn Evans | Joined about a month ago | | https://www.facebook.com/1569943843/ |
| Paula Ferrari | Joined about a month ago | Works at Unmuted Comedy | https://www.facebook.com/674453337/ |
| Emily Rae | Joined about a month ago | | https://www.facebook.com/513747800/ |
| Vivvy Leigh | Joined about a month ago | | https://www.facebook.com/100064681197021/ |
| Maricruz García | Joined about a month ago | Universidad Metropolitana de Monterrey | https://www.facebook.com/100058339127739/ |
| Chris Jacobs | Joined about a month ago | | https://www.facebook.com/100056789077953/ |
| Kyle Ethan | Joined about a month ago | | https://www.facebook.com/100032278923507/ |
| Lauren Carman-Louden | Joined about a month ago | Retail Assistant at Primark | https://www.facebook.com/100007338457601/ |
| Clayton Hletko | Joined about a month ago | Lake Stevens Senior High School | https://www.facebook.com/1744356711/ |
| Wendy Paxton | Joined about a month ago | Seattle, Washington | https://www.facebook.com/1672655480/ |
| Brian Jones | Joined about a month ago | Douglas, Isle of Man | https://www.facebook.com/100010495720423/ |
| Karim Berninger | Joined about a month ago | Lycée Privé Pôle d'Enseignement | https://www.facebook.com/100008465583305/ |
| Frederick Toby Thomas Jonathan Caractacus Dillingham | Joined about a month ago | | https://www.facebook.com/725923243/ |
| Airies Mullins | Joined about a month ago | Works at Sonic Drive-In | https://www.facebook.com/100048061242801/ |
| Lucy Morgan | Joined about a month ago | University of Hertfordshire | https://www.facebook.com/100027528563262/ |
| Peter Billbright | Joined about a month ago | Covenant Child Academy | https://www.facebook.com/100022474843535/ |
| Madeline Cox | Joined about a month ago | | https://www.facebook.com/100002395018240/ |
| Mathew Lech | Joined about a month ago | | https://www.facebook.com/625193459/ |
| Ethan Anderson | Joined about a month ago | Barista at Nemos Coffee | https://www.facebook.com/100010641724687/ |
| Carlos Estrada Gonzalez | Joined about a month ago | Andress High School | https://www.facebook.com/100008348568350/ |
| Julie Laudon | Joined about a month ago | | https://www.facebook.com/100004541164681/ |
| Devorah Salvay | Joined about a month ago | | https://www.facebook.com/100001577226914/ |
| Tracy Laf | Joined about a month ago | Your Grace at Scion of the royal house of Burger | https://www.facebook.com/711536047/ |
| Mel Kavanagh-h | Joined about a month ago | | https://www.facebook.com/100011414119387/ |
| Brent Robison | Joined about a month ago | | https://www.facebook.com/764670528/ |
| Kusimama Mrefu | Joined about a month ago | | https://www.facebook.com/719820414/ |
| James Allen | Joined about a month ago | Austin, Texas | https://www.facebook.com/100004494137287/ |
| John Murphy | Joined about a month ago | | https://www.facebook.com/100002085491083/ |
| Jennifer Carlson Risner | Joined about a month ago | Goshen High School | https://www.facebook.com/1661352202/ |
| Mat Wenger | Joined about a month ago | Senior Javascript Developer at ProSymmetry | https://www.facebook.com/153001463/ |
| Nikola Topalov | Joined about a month ago | Sofia, Bulgaria | https://www.facebook.com/100004299996476/ |
| Tony Gervasi | Joined about a month ago | | https://www.facebook.com/1256520094/ |
| Vanessa Calvillo | Joined about a month ago | | https://www.facebook.com/1026390721/ |
| Alex Monfilsmabataille | Joined about a month ago | | https://www.facebook.com/100061406463239/ |
| Christian Robert | Joined about a month ago | Welder-Fabricator at ALCOM LLC | https://www.facebook.com/100050793379022/ |
| Ahmed Ibrahim | Joined about a month ago | Kulhudhuffushi, Kaafu, Maldives | https://www.facebook.com/100043452282822/ |
| Kevin Branigan | Joined about a month ago | Holy FAMILY | https://www.facebook.com/100001016254517/ |
| Ella Buckley | Joined about a month ago | | https://www.facebook.com/744567010/ |
| Jennifer Lee | Joined about a month ago | Operations Support Services Manager- Systems & Data at RedRock Tech | https://www.facebook.com/100006965498804/ |
| Amina Kloskina | Joined about a month ago | Crewman at AIU Scumfucks | https://www.facebook.com/100004617692596/ |
| Michael J Oscapinski | Joined about a month ago | Philadelphia, Pennsylvania | https://www.facebook.com/1559411058/ |
| Andrew Edelbrock | Joined about a month ago | Works at Chrysler | https://www.facebook.com/100000590170766/ |
| Matthew Kesterson | Joined about a month ago | | https://www.facebook.com/750677987/ |
| Dan Alling | Joined about a month ago | | https://www.facebook.com/100005178494041/ |
| Claudia Bainbridge | Joined about a month ago | Charles Darwin University | https://www.facebook.com/100025357854198/ |
| Gabe Falk | Joined about a month ago | | https://www.facebook.com/100000882027804/ |
| Justin Freeman | Joined about a month ago | | https://www.facebook.com/1349213513/ |
| Samuel Gillman | Joined about a month ago | Oakland Community College | https://www.facebook.com/1318194847/ |
| JW Grom | Joined about a month ago | Gamer at Tanki Online | https://www.facebook.com/100035424202844/ |
| Brian Rathbone | Joined about a month ago | Masters degree in Hillbilly Angling | https://www.facebook.com/1481234288/ |
| Shannon JailBreak | Joined about a month ago | Commentator at RedRock Tech | https://www.facebook.com/100074112703835/ |
| Spicy-Mike James Broussard | Joined about a month ago | St. George, Utah | https://www.facebook.com/100055163852464/ |
| Darcie Woodhill | Joined about a month ago | | https://www.facebook.com/100001505151997/ |
| Michael Shamus O'Connor | Joined about a month ago | Gamer at YouTube | https://www.facebook.com/100011843448971/ |
| Justin Ray | Joined about a month ago | Cocoa Beach, Florida | https://www.facebook.com/100066659356858/ |
| Özan Yildiraz Altay | Added by  on March 23, 2021 | Istanbul, Turkey | https://www.facebook.com/100022508386407/ |
| Tank Backus | Joined about a year ago | Wellston High School | https://www.facebook.com/100007724681219/ |
| Reynard Aethan Fox | Joined about a year ago | Works at Actor | https://www.facebook.com/1409651302/ |
| Jos Clark | Joined about a year ago | | https://www.facebook.com/622085003/ |
| Karin Rebecca Nation | Joined about a year ago | | https://www.facebook.com/100000108083134/ |
| Lisa Applegate Heider | Joined about a year ago | | https://www.facebook.com/681636453/ |
| Sachini Tashi Dias | Joined about a year ago | | https://www.facebook.com/100011501899867/ |
| Glenn Styles | Joined about a year ago | | https://www.facebook.com/621009606/ |
| Stevie-Rae Bain | Joined about a year ago | | https://www.facebook.com/685369464/ |
| Julie Vargas | Joined about a year ago | Pepe | https://www.facebook.com/676524155/ |
| Dana Westerburg | Joined about a year ago | Franklin Academy | https://www.facebook.com/100034876533238/ |
| Veronica Rego | Joined about a year ago | Airdrie, Alberta | https://www.facebook.com/504852659/ |
| AJ Smit | Joined about a year ago | Regional Financial Manager at Consolidated Store Holdings Pty Ltd | https://www.facebook.com/100051736118988/ |
| Tony Fortner | Joined about a year ago | Virginia Highlands | https://www.facebook.com/100000191166837/ |
| Rachel Shultz | Joined about a year ago | Erlangen, Germany | https://www.facebook.com/553196381/ |
| Cristina Muratova | Joined about a year ago | | https://www.facebook.com/780616251/ |
| Ronald Washington | Joined about a year ago | | https://www.facebook.com/1208424620/ |
| John Eric Vivion | Joined about a year ago | | https://www.facebook.com/1068995488/ |
| Audrey Soto | Joined about a year ago | | https://www.facebook.com/100023343583468/ |
| Amora Rose | Joined about a year ago | | https://www.facebook.com/100062706431351/ |
| Moose Lleidr Coed Pinwydd | Joined about a year ago | Port Republic, New Jersey | https://www.facebook.com/100062043742387/ |
| Timm Hitchcock | Joined about a year ago | | https://www.facebook.com/100056069377717/ |
| Elias De la Terra | Joined about a year ago | | https://www.facebook.com/100050586184576/ |
| Kyle Brown | Joined about a year ago | | https://www.facebook.com/100010291480506/ |
| Nathan Miller | Joined about a year ago | | https://www.facebook.com/100009071400876/ |
| Owen Adams | Joined about a year ago | Dunfermline, Fife | https://www.facebook.com/100007748267251/ |
| Novianto Adzani | Joined about a year ago | | https://www.facebook.com/100004178250617/ |
| JW Perman | Joined about a year ago | | https://www.facebook.com/1596365114/ |
| Dustin Wilson | Joined about a year ago | | https://www.facebook.com/1524774037/ |
| Thomas W Boykin Jr. | Joined about a year ago | | https://www.facebook.com/100057256092027/ |
| Hank Hill | Joined about a year ago | Carpenter/Labor at AAA CONSTRUCTION | https://www.facebook.com/100033586419370/ |
| Stephanie Fierce-Bagby | Joined about a year ago | Quincy, Illinois | https://www.facebook.com/100023018082467/ |
| James Jilhaney | Joined about a year ago | Computer Systems Officer at Crusader Yearbook | https://www.facebook.com/100003506979278/ |
| Edgar J. Price | Joined about a year ago | | https://www.facebook.com/100003240349633/ |
| Chelle Von | Joined about a year ago | | https://www.facebook.com/100052941337164/ |
| Dan Lutzky | Joined about a year ago | Head Custodian at Phoenix Bar & Grill | https://www.facebook.com/100051244670697/ |
| Jacob Johnston | Joined about a year ago | | https://www.facebook.com/100043202824193/ |
| Anne Cane | Joined about a year ago | Works at Phoenix Bar & Grill | https://www.facebook.com/100040496831735/ |
| Miguel Martinez | Joined about a year ago | | https://www.facebook.com/100032219799649/ |
| Nevin Stofko | Joined about a year ago | | https://www.facebook.com/100024501617341/ |
| Siva | Joined about a year ago | Doxxing | #VALUE! |
| Lambert Prémont | Joined about a year ago | Quebec, Quebec | https://www.facebook.com/100010493560717/ |
| Aaron Johnson | Joined about a year ago | | https://www.facebook.com/100009584353283/ |
| Paris de Malmanche | Joined about a year ago | FAHS Feilding High School | https://www.facebook.com/100009181613527/ |
| Justin Brozic | Joined about a year ago | | https://www.facebook.com/100006836108196/ |
| Laura Wagner | Joined about a year ago | President/Founder at Cat Acadamy | https://www.facebook.com/100006179439515/ |
| Andrew Ullrich | Joined about a year ago | | https://www.facebook.com/100005002386213/ |
| Jacob Owens | Joined about a year ago | | https://www.facebook.com/100004091724113/ |
| Thomas Fiedor | Joined about a year ago | | https://www.facebook.com/100003999095890/ |
| Robert Martin | Joined about a year ago | | https://www.facebook.com/100001691514714/ |
| Tj Pullen | Joined about a year ago | Owner/Driver at Pullen Away Rally Team – PART | https://www.facebook.com/100001565792746/ |
| Arief Assiddiqhi | Joined about a year ago | | https://www.facebook.com/100000876140519/ |
| Macallister Maximillion Rossguardian | Joined about a year ago | Digos | https://www.facebook.com/100000490920828/ |
| Christina Dehn | Joined about a year ago | | https://www.facebook.com/100000422153760/ |
| Dave Hickman | Joined about a year ago | | https://www.facebook.com/100000341739922/ |
| Amos Cent | Joined about a year ago | Data/Security technition at IDEAL TECHNOLOGIES | https://www.facebook.com/100000225066815/ |
| Lawrence Estopin Sagaral | Joined about a year ago | San Mateo, Rizal | https://www.facebook.com/100000200471106/ |
| László Poczik | Joined about a year ago | SZTE Állam- és Jogtudományi Kar | https://www.facebook.com/100000039151465/ |
| Jace Alford | Joined about a year ago | Gallatin, Tennessee | https://www.facebook.com/1598225513/ |
| Tom Morehouse | Joined about a year ago | San Bernardino, California | https://www.facebook.com/1450389312/ |
| Madysen Reye | Joined about a year ago | | https://www.facebook.com/1259383968/ |
| Mike Howell | Joined about a year ago | | https://www.facebook.com/1139274347/ |
| Amanda Krech | Joined about a year ago | | https://www.facebook.com/816170136/ |
| Stephanie Rhodes | Joined about a year ago | | https://www.facebook.com/694770934/ |
| Boudicca Marley | Joined about a year ago | | https://www.facebook.com/661475624/ |
| Jeff Howell | Joined about a year ago | | https://www.facebook.com/571282762/ |
| Joe Gadsby | Joined about a year ago | Works at Yoyodyne Propulsion Systems | https://www.facebook.com/49401972/ |
| Susan Koerperich | Joined about a year ago | | https://www.facebook.com/46106512/ |
| Dylan Cash | Added by  on February 1, 2021 | | https://www.facebook.com/100000966337154/ |
| Aaron Powell | Added by  on February 1, 2021 | | https://www.facebook.com/100017400935973/ |
| Jeff Wood | Added by  on February 1, 2021 | | https://www.facebook.com/100000030502794/ |
| Chris Backus | Added by  on February 1, 2021 | | https://www.facebook.com/100005162283227/ |
| Justin Fowler | Created group on February 1, 2021 | | https://www.facebook.com/100007760046369/ |
| James Moss | Invited by  on Friday | San Clemente High School | https://www.facebook.com/100040106203446/ |
| Conner Ward | Invited by  on Friday | Saddleback College | https://www.facebook.com/100035525678383/ |
| Omar Nazzari | Invited by  on Friday | ‎El Gam3a – الجامعه‎ | https://www.facebook.com/100001799215242/ |
| Theodosious Keondre Murphy | Invited by  on Friday | South Houston High School | https://www.facebook.com/100053528252482/ |
| Autumn Gerst | Invited by  on Friday | | https://www.facebook.com/100000634937611/ |
| Jeff B Bridges | Invited by  on Friday | | https://www.facebook.com/1662799797/ |
| Bobby Cuomo | Invited by  on Friday | Garden Manager/Compliance Officer at Sticky Fingerz Garden | https://www.facebook.com/1566364280/ |
| David A Jones | Invited by  about a month ago | | https://www.facebook.com/1602339342/ |