Joey Gibson (DOB 11-8-1983) and his organization Patriot Prayer.
"I will now no longer be practicing non-violent resistance."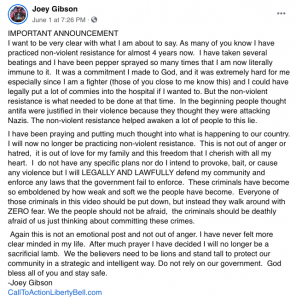 Well Joey, we all make choices. Yours are typically worse than most.
The link below contains some photos, his friends list from Facebook (PDF) – Friends list also hosted
here
, link below including all URLS, Names, and screen capture of his entire friends list in image format. Also included are his Twitter account (PatriotPrayerUS) Friends, Followers, Tweets and Likes.
Related Articles: