Meet Jason A. Hunter (DOB: 07-21-1996) of Florida's chapter of League of the South; an SPLC designated hate group and wanna be rent-a-cop.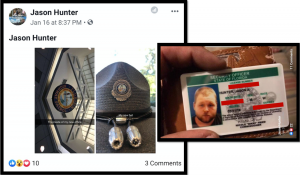 #BlackLivesMatter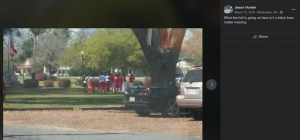 We are going to start this dossier a bit differently than status quo. To understand context, this video is key.
Toward the end, you can see Jason A. Hunter nonchalantly lift his pepper spray, and release it directly into the victim's face.
CONTENT WARNING: Hate, Violence, Physical assault.
Archive of N2S Video evidence (Source – FAIR USE)
Here is a screen shot, originating from Facebook three days after Unite the Right.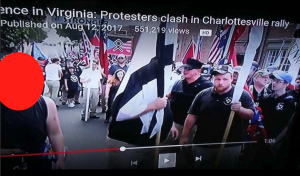 Unite the Right was a white supremacist and neo-Nazi rally held in Charlottesville, VA on August 12th, 2017.Counter protester Heather Heyer was murdered by a neo-Nazi member of Vanguard America at this rally.
In the week after Unite The Right, Jason posted photos glorifying the League of the South and showed no remorse for anything that happened.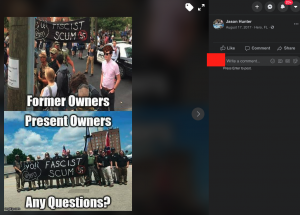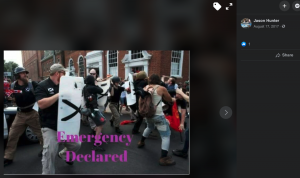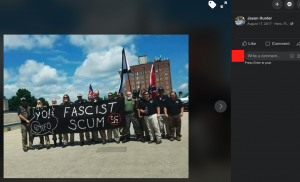 Several other Florida LoSers, including Jason, mocked a woman pushed into a group of LoS henchmen at Unite the Right. She was punched in the face repeatedly by one member, pushed to the ground by another and callously pepper sprayed at close range by Jason (after seeming to pose no danger to any).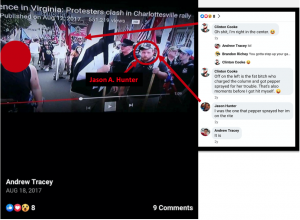 The comments appear under a news screenshot posted by Tampa Bay's League of the South Chairman, Andrew Tracey. Those commenting on the post are well known, and relatively well documented LoS White Supremacists: Clinton McCook, Brandon Richie, Andrew Tracey, and now, Jason A. Hunter.
On October 28, 2017 Jason shared photos he took at the white supremacist rally in Shelbyville, TN. It's clear that 10 weeks out from Unite The Right he was willing to spend time and money to make a daylong trek each way for another potentially violent white supremacist gathering.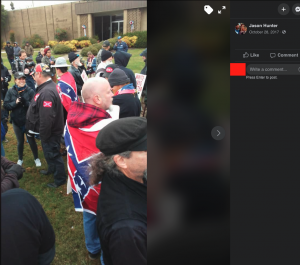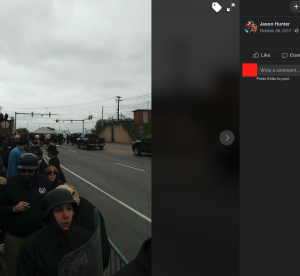 Here is Jason telling his FB friends to get on a League of the South live stream (in June 2016)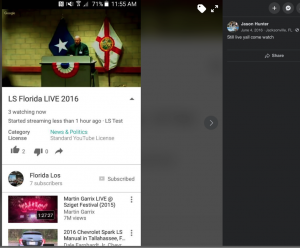 Here is Jason's pick-up truck, which frankly, isn't hard to spot.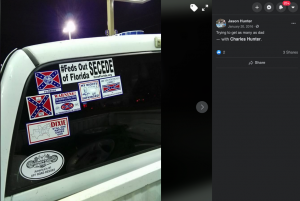 More to come, soon. Our biggest question is – how did Jason get licensed (which we verified) in the state of Florida to become a security guard, after this was sitting plain as day on his public Facebook Profile?
You know that old saying about Cops and Klan? Names change. That hasn't.